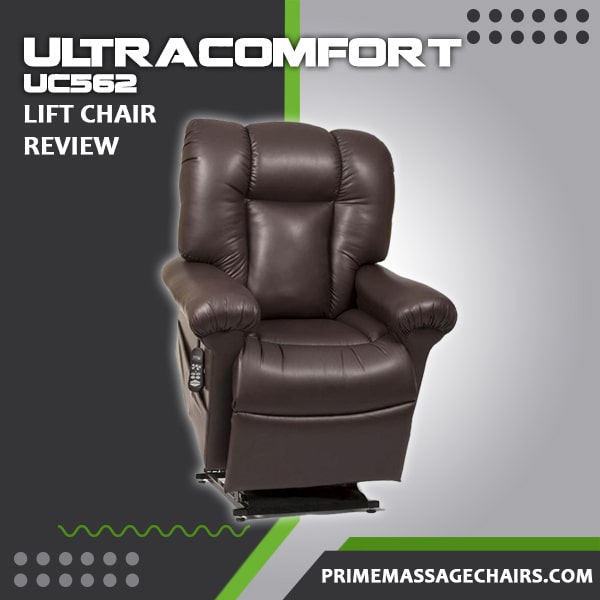 UltraComfort UC562 Lift Chair Review
Most recliners only have one or two settings—you push a button to lift the footrest, turn the handle to recline the chair back, and that's about it. For some people, that's all they need. But if you have back problems or want a more customized experience, a traditional recliner might be a waste of money. That's why we recommend the UltraComfort UC562 lift chair as a potential option for anyone who wants a versatile chair that meets their needs.

Despite the advanced features, this chair looks just like an ordinary recliner, so it won't stand out among the rest of your furniture.
It's made from high-quality materials and even comes with a light-up remote that you can use in the dark. This UltraComfort UC562 review has more information about what you can expect with this chair.
What Are the Benefits of Buying an UltraComfort UC562?
At first glance, the UltraComfort UC562 looks like a regular recliner. But when you pick up the remote, you'll find a wealth of features and settings that help you relax, relieve back pain, and improve your circulation. Here's a look at what the UC562 has to offer.
The UltraComfort UC562 comes with eight different positions. You can figure out which position is right for you or use all of them at different times of the day. To start, the UltraComfort UC562 has the standard upright position. You can also lean this chair back and raise the footrest like a traditional recliner.

Beyond the usual settings, the UltraComfort UC562 has six additional positions that raise your feet, straighten out your back, and support your back and shoulder muscles. You can recline this chair all the way back and use it like a bed or choose zero gravity mode for a weightless experience.
This chair comes with innovative Eclipse Technology that raises the bottom of the chair, providing more flexibility with the different settings.
To operate your UltraComfort UC562, simply push a few buttons on the remote attached to the chair. You can adjust the position with a single press of a button.
If you're operating this chair in the dark, you can also use the lighted feature to make the buttons more visible. Use the extra buttons to turn Eclipse mode on and off or adjust the chair's positioning.
Diagnostic System
Every UltraComfort UC562 lift chair comes with a diagnostic system that lets you know if your chair has any issues. If something's not working right, you can call technical support and give them the information that your chair provided. This makes it easy to resolve issues and get your chair back in working order again.
The UltraComfort UC562 isn't just relaxing—it can also help you improve your health and well-being. If you suffer from back pain, the UltraComfort UC562 can support your muscles and help you straighten out your posture. This chair also elevates your feet to improve blood circulation.
UltraComfort UC562 Lift Chair Pros and Cons
Pros:
Offers eight different positions for maximum comfort
Uses Eclipse Technology to create more advanced chair settings
Remote includes a "lights out" feature for use in the dark
Offers an adjustable headrest
Comes with a diagnostic system that lets you know about potential system issues
Comes with back-up battery
Adjustable lumbar

Durable fabrics that test well above the industry standard for wear and tear

Made in the USA

Arrives fully assembled

User Height Range: 5'3" - 5'11"
Weight Capacity: 375 lbs.
Cons:
User cannot be taller than 5'11" or shorter than 5'3"
User cannot weigh more than 375 lbs.
Conclusion
To be clear, this isn't a massage chair—if that's what you're looking for, you should check out another product. Rather, the UltraComfort UC562 is a lift chair that encourages you to recline, raise your feet, and even lie in a near-flat on your back position for a truly relaxing experience.
Instead of a complicated digital touch screen remote, this chair comes with a simple push-button remote that anyone can use, even if they're not technologically savvy.

While other types of chairs tend to stand out in your living room, the UltraComfort UC562 looks just like an ordinary recliner. Your friends and relatives can even use it like a regular recliner if that's all they need.
Of course, they'll probably feel differently when they try the Eclipse Technology for the first time. If you need a reliable chair that doesn't offer a lot of frills but gets the job done, you might want to invest in a UC562 for your household.
We hope you've enjoyed our UltraComfort UC562 Review and found it useful. If you have any questions you can reach us at 800-566-2798. Thank you for reading!