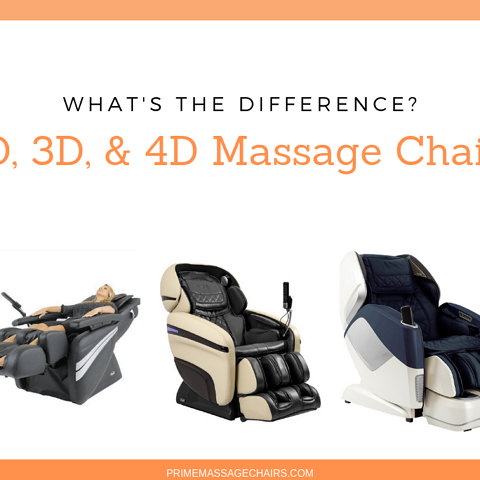 2D, 3D, & 4D Massage Chair Differences

It's important to know the difference between 2D, 3D, & 4D massage chairs because you want to make the correct purchase the first time. Massage chairs are a great way of relaxing after a stressful day at work. But there are so many choices, which one is best for you? This article will outline the three types of massage chairs on the market. These types are 2D, 3D, and 4D.
By the end of this article, you should be able to make an informed decision on which massage chair is best for you.
2D Massage Chairs
Let's start with the simplest and most common massage chair on the market, the 2D, or two-dimensional chair. When massaging, the rollers in the chair move up and down and left and right. You can adjust the speed to have as vigorous a massage as you would like. The effect is like what you can get using a massage roller.
Although the most basic form of massage chair, they are effective at providing relaxation. Their simplicity also makes them one of the most affordable types of massage chairs and should be great for people on a budget.
However, for those willing to spend a little more money, to get a more high-quality relaxing massage a 3D massage chair is definitely an option worth considering.
3D Massage Chairs
The next type of massage chair are the three-dimensional or 3D massage chair. Like the two-dimensional massage chair, this chair has rollers that can move left and right and up and down. However, these rollers also move in and out, to make it feel like a massage delivered by a human.
These rollers can go several inches deeper than the two-dimensional rollers. Like the two-dimensional chairs, you can adjust the intensity to make the massage as vigorous or as gentle as you would like. This adjustability suits households where more than one person would be using the chair.
These chairs are becoming increasingly popular because they feel like receiving a massage from a real person. Though they are more expensive than the 2D chairs, they offer a more relaxing experience for those willing to spend a little more. They are far more adjustable than 2D chairs, so just one chair can service a whole household, providing excellent value for your money.
However, the 4D chairs are the latest chairs on the market and are definitely worth investigating for those wanting the most relaxing massage chair experience currently available.
4D Massage Chairs
The four-dimensional or 4D massage chair often causes the most confusion amongst consumers. What do these chairs offer that 3D chairs don't? In a four-dimensional massage, the rollers can go faster or slower, automatically, to focus on tense muscles.
When developing the concept of the 4D massage chair, thousands of therapists were consulted to make the experience as close to receiving a massage from an actual therapist as possible. They also have the ability to massage legs, glutes, and hamstrings.
There is a lot of debate about how different a four-dimensional massage differs from an advanced 3D massage chair. So, 4D chairs do exist with functionality that separates them from 3D chairs, though it's not as different as the name might suggest. This poses the question, are 4D chairs worth the investment?
The most expensive massage chairs on the market currently, are likely to be 4D chairs. However, are they actually worth the additional money? Well, that depends on who you ask. Some people will tell you that this cutting edge of massage technology is an excellent investment and the chairs do things the 3D chairs can't. However, the extent to which they actually differ is still up for debate.
Though, they clearly do have benefits over the 3D technology. Perhaps the best determinants of whether you should buy a 4D chair are your budget and how much you will use it. If you can afford to purchase one and will use it regularly then it will make a good investment.
However, if you are more comfortable with the 3D prices, or don't feel you will use it often enough, then you are probably better off getting a high-quality 3D massage chair.
This short video from Osaki gives a great explanation of 2D, 3D & 4D massage chairs:
Conclusion
This article has explained the basics of massage chair rollers, but for a more in-depth look at the features you should consider reading our Massage Chair Buying Guide. In this article we've discussed the differences between 2D, 3D and 4D massage chairs and the pros and cons of each.
Regardless of the model you eventually decide to purchase, it's hoped that you will enjoy the ability to get a relaxing massage from the comfort of your home and that you will get many hours of use from the right chair.
We hope we painted a clear picture for you about the differences between 2D, 3D, & 4D massage chairs. It's important to understand the differences so when you are ready to purchase a massage chair you pick the right chair the first time.
We also hope that when you are ready to buy a massage chair that you consider shopping with us at PrimeMassageChairs.com. Free Shipping, No Sales Tax in Most States and our industry-leading 6 Month Low Price Guarantee are just a few benefits of shopping with us.
Thank you for stopping by and we hope to speak with you soon!