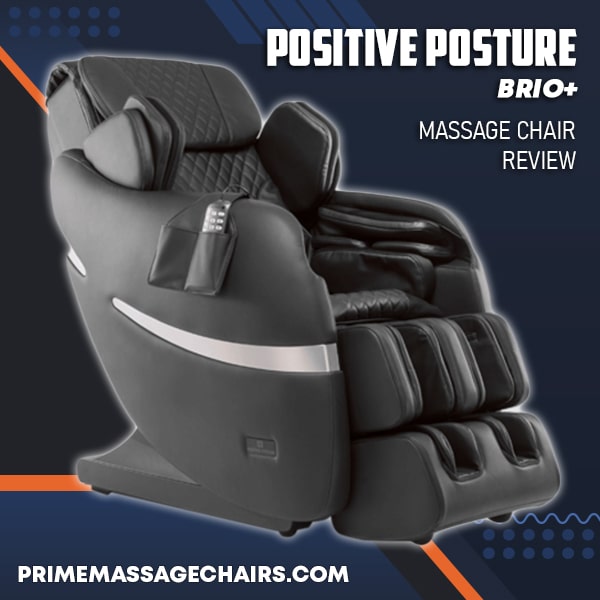 Positive Posture Brio+ Massage Chair Review
If you're in the market for a new massage chair that has plenty of features but doesn't overwhelm you with unnecessary gadgets, the Positive Posture Brio+ may be right for you. This chair offers "intelligent" 4D massages, so it certainly has the most up-to-date industry tech. Yet, its attractive and straightforward design makes it an ideal fit for any home or salon.

What can you expect to get from the Brio+? Let's go over its key features as well as its pros and cons in this Positive Posture Brio+ massage chair review.
What Features Does the Positive Posture Brio+ Massage Chair Offer?
The Brio Plus is an updated version of the original Brio, the successful first-generation model that has been phased out.
Brio+ is priced slightly lower than Positive Posture's other high-end massage chair, the Brio Sport. While the Sport model is aimed more toward fitness training and recovery, the Plus is designed more for general home use.
That being said, Brio+ has more than enough features to help your muscles recover and relax. It's an L-track chair that provides a true head-to-toe massage, touching on many areas that other chairs miss. Here are some of the top features that make the Positive Posture Brio+ stand out from other massage chairs.
Intelligent 4D Massage
The Positive Posture Brio+ massage chair comes with gentle massage rollers that are created to mimic human touch. Positive Posture calls this "intelligent" 4D — you get all the functionality of 3D plus the ability to adjust the roller speed.



These rollers can help soothe your body from your neck down to your gluteus muscles. If you are looking for a chair that feels like a human masseuse, the Brio+ may be just what you need.
Full-Body Air Massage
A full-body air massage function on the Brio+ massage chair will massage your hands, arms, shoulders, hips, calves, and feet. This feature works by delivering air compression movements via inflating and deflating airbags in those particular areas. Since it involves airbags, you will get a gentle yet effective massage that's perfect for sore arms and legs.
True Zero Gravity
The Brio Plus comes equipped with popular Zero Gravity reclining which can really help you take a load off at the end of a long day.

Aside from being relaxing, this position may help relieve pressure and can potentially help with the circulation of blood. You will need roughly 4 to 5 inches of clearance from the back of the headrest to the wall to be able to fully recline.
Heated Lower Back, Calves and Feet
The Brio Plus has heat for the calves, feet, and lower back areas. The infrared heat can help relax stiff and achy muscles. It may also help enhance your blood circulation. Some chairs only have lower back heating which is better than nothing, but the Brio+ goes above and beyond with infrared heating that you are sure to enjoy.
Automatic Body Scan
When the Positive Posture Bio+ massage chair starts up, it will automatically perform an automatic body scan. It does this so as to customize the massage it will give you to your exact height and body type.


The chair will accommodate users between a height range of 5'0″ to 6'5″, with a weight limit of 265 pounds. The large user height range is great if your family or place of business has a wide range of users.
10 Pre-Programmed Sessions
Using Brio's intuitive remote, you can access 10 pre-programmed massage sessions. The auto programs are easy to pull up and get started on the user menu. All last about 15 minutes, aside from the Quick session, which lasts approximately 8 minutes:
Quick
Stretch
Full Body
Neck & Shoulders
Refresh
Low Back
Relax
Full Body Air Massage Function
Meditate
If you prefer a more targeted massage and don't mind adjusting settings, the manual sessions will do the trick.
Positive Posture Brio+ Pros and Cons
Pros:
4D Massage Rollers for optimal control
L-track design for maximum massage roller range
Full body airbag massage
Heated back massage rollers
Heating for your feet and calves, as well as your lower back.
Chromotherapy (light therapy) to calm your mood
Has a USB port for plugging in your smartphone
Zero gravity recline to mimick weightlessness
Space saving technology
Comes with easy-to-use controller
Automatic reclining function
Diamond stitch upholstery for those that like a luxury look
User Height Range: 5'0" - 6'5"
Maximum User Weight: 265 lbs.
Cons:
Not a real deep tissue chair, which isn't necessarily a con but could be if that's what you need.
Only three colors to choose from (black, brown, beige)
User cannot be taller than 6'5" or shorter than 5'0" 
User cannot weigh more than 265 lbs.
Conclusion
Based on our Positive Posture Brio Plus review, this chair is multi-faceted and can produce a high-quality massage experience. It offers plenty of versatility from its list of automatic programs, so you are sure to find a massage therapy selection that's perfect for your needs.
The Brio Sport may be the route to go if you live an active lifestyle and need additional recovery choreography. However, the Brio+ is a worthy next-generation upgrade that can give you relaxing massages over and over again.
We like the fact that the Brio+ comes from a well-known and respected company that takes care of their customers. Positive Posture is located in Colorado and should you need a replacement part for your Brio+ in the future they're known to have them in stock and ready to go.
We hope you've enjoyed our Positive Posture Brio Plus review and found it useful. If you have any questions feel free to live chat or give us a call at 800-566-2798. Thank you for reading!