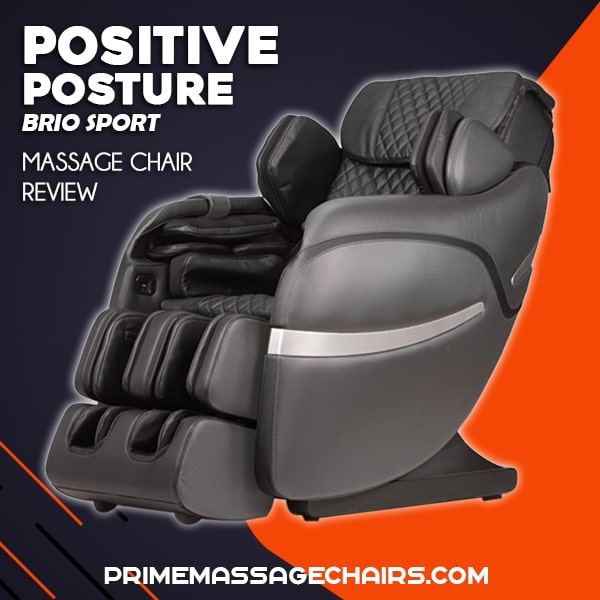 Positive Posture Brio Sport Massage Chair Review
Massage chairs go beyond simply being a luxury in your home. They can become a regular part of your personal care regimen. Not only can they help loosen tight muscles, but they can also help put you in a positive frame of mind.
This is why so many athletes and people who live active lifestyles seek high-quality massage chairs. The Positive Posture Brio Sport was designed with exercise recovery in mind.
The Brio Sport is more than a simple chair with rollers in the back that travel up and down your back. Rather, this chair boasts a variety of ways to tend to the tense parts of your body, including rolling, kneading, tapping, pulse, and heating.
Discover below how the Brio Sport can help meet your needs as you read through our Positive Posture Brio Sport massage chair review. 
Key Features of the Positive Posture Brio Sport
You can easily get a simple massage chair from a local retailer, but as you know, you get what you pay for. Nice things cost more and the Brio Sport is no different. It doesn't have a higher end price tag so it's seen as a bargain because of the robust feature set and stellar manufacturer warranty.
4D Intelligent Massage
This massage technology offers so much more than a simple roller moving up and down your spine. You'll enjoy the capabilities of the 4D massage rollers and the adjustability they offer you.
Sit down, choose your program, and let the Brio Sport massage the stress and soreness out of your tired body and mind.
Manual Massage Sessions
In addition to the auto massage programs, the Brio Sport has several manual massage sessions for you to choose from. Get just the treatment you need with methods that include kneading, delta kneading, tapping, pulsing, knead and tap, knead and pulse, or rolling.
Heat Therapy
The Positive Posture Brio Sport offers heated massage rollers as well as heat under the seat and behind the calves.
Heat after a strenuous workout is a critical part of your recovery. Your muscles often remain sore and fatigued because of a lack of oxygen and other nutrients flowing to your cells.
The heat helps to dilate your vascular system, allowing more blood to get to your muscles, and delivering more nutrients and oxygen to them.
Automatic Acupressure Point Locator
The Brio Sport's automatic acupressure point locator scans your back to adjust how it massages based on your shape and size.
This allows the chair to deliver effective massage techniques that are meant for you and your body, and not some general "one size fits all" approach. Customized comfort meant just for you.
Pinpoint Calf Massage
In addition to the precise adjustments for your back, the Brio Sport focuses on your calves to help relieve soreness and tension.
True Zero Gravity
Regardless if you're an active, athletic type of person or not, the zero gravity position has several benefits and is an ideal way to wind down after a long day.
With the zero gravity position, the Positive Posture Brio Sport massage chair is thought to help improve blood circulation and help alleviate pressure on your joints. This is thought to be the most beneficial position to enjoy a massage.
Chromotherapy (Color Therapy)
The Brio Sport provides so much more than a simple massage, with the chromotherapy feature offering evidence of its attention to your overall well-being.
The soothing colors emitted from the remote during chromotherapy sessions help relax your mind and achieve the psychological state required to reach your peak performance.
Space Saver Design
One of the problems with many reclining massage chairs is the amount of space needed to actually recline. The Positive Posture Brio Sport needs only 4 inches between the wall and backrest to fully recline.
Maybe you aren't short on space, but it's definitely a nice feature to have in a massage chair and we think you'll appreciate it.
USB Charging
In addition to recharging your body after a workout, the Positive Posture Brio Sport massage chair offers a USB charger. This allows you to recharge your phone or tablet so that when you're done recharging your body after a workout, your device is ready to go, too.
Programmed Sessions
One of the most impressive parts of the Brio Sport is the variety of various massage programs it offers. This massage chair offers everything from full-body massages to ones that focus on specific areas that need attention. You'll have 11 different programs to choose from.

Focused Programs
Neck & Shoulders
Low Back
Glutes & IT Band
Programmed Sessions
Sport Massage
Core Rotation
Recovery
Warm Up
Cool Down
Full Body Air
Visualize
Stretch
Beyond the massage programs that use the physical massage mechanism, the chair offers these four manual air sessions:
Shoulder & Arm
IT Band
Legs & Feet
Full Body Air 
Positive Posture Brio Sport Pros and Cons
Pros:
4D massage
L-shaped track for longer massage roller reach
Heat therapy
Space-saving design
Focuses on recovery, especially for those who live an active lifestyle
Wide variety of programs
Acupressure Point Locator
Zero gravity recline
Full body air massage
Foot rollers
Chromotherapy (color therapy)
Easy to use controller
Comes with USB charging port
User Height Range: 5'0" - 6'5"
Maximum User Weight: 265 lbs.
Cons:
Only 2 colors to choose from
No Bluetooth speakers
User cannot be taller than 

6'5" or shorter than 5'0"

User cannot weigh more than 265 lbs.
Conclusion
Overall we think the Brio Sport is a very nice massage chair from a reputable brand and should be considered if you're in the market. It has a broad user height range to accommodate most household adults and a maximum user weight of 265 pounds.
We also like the fact the Brio Sport is a 4D massage chair with an L-track design for more massage roller coverage, and has heat in multiple locations.
While it doesn't have Bluetooth speakers like some other massage chairs, we like the fact that this chair puts the focus on recovery and not on unnecessary extras. Of course, it will depend on your wants and needs but it isn't a dealbreaker for us.
We hope you've found our Positive Posture Brio Sport review helpful and if you have any questions feel free to live chat or give us a call at 800-566-2798. As always, thank you for reading!