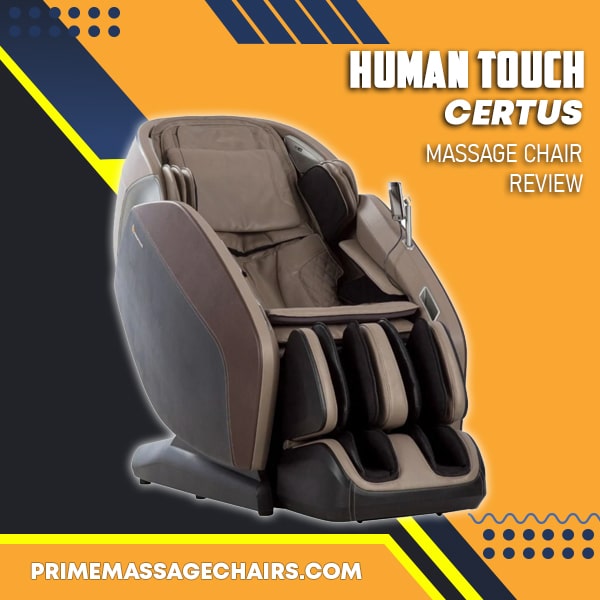 Human Touch Certus Massage Chair Review
Today we're reviewing the Human Touch Certus massage chair. The Certus is available in several colors and is nicely equipped with some of the latest features. The Certus has a unique look and was engineered to be beneficial to a wide range of users. The touch screen tablet controller even has 4 language display options (English, Chinese, Korean, or Vietnamese).
Equipped with quality bluetooth-capable speakers, foot rollers, heat therapy, zero gravity reclining and more, we feel the Certus is well positioned to serve most users.
In this Human Touch Certus review, we'll cover this massage chair's top features and evaluate the pros and cons.
Human Touch Certus Massage Chair Review
Zero Gravity Reclining
The Certus is equipped with zero gravity reclining that puts you in a reclined position designed to mimmic weightlessness.
This is considered to most effective position to enjoy a massage and is a popular feature.
A Chair That Doesn't Take Up the Whole Room
Thanks to the innovative space-saving technology, users of this chair get the most out of the area they're working with. Requiring almost zero wall clearance from the back of the headrest, this economy of space is for those who have limited room - or just those who enjoy a neat, tidy, efficient setup.
Heat to Melt Away the Tension
The Certus is equipped with heated lumbar to assist with loosening those sore muscles. Lower back pain is often difficult to overcome, and this heat function could potentially help with pain and tension relief.
Rolling the Feet to Relaxation
The Certus is equipped with reflexology foot rollers. The foot rollers can assist with pain and stress relief.
These foot rollers are great for people who are on their feet all day long, whether they're standing, walking, or just generally staying active.
Adding Another Dimension to the Experience
The Human Touch Certus features 3D massage rollers. With the 3D massage rollers you can adjust the strength/intensity. This is ideal because your body will get used to a certain strength over time and you may want to increase it.
The massage rollers start in the neck area and work their way down to the thighs, which is especially helpful for those who spend much of their time sitting.
Plenty of Auto and Manual Programming Options to Enjoy
Auto-wellness programs, such as full-body, stretch, energize, and recovery massage, take care of the work for you, allowing you to become as relaxed as possible.
You can also use the manual massage function. Simply select one of the following modes and enjoy: percussion, knead, tap, rolling, knead and percuss.
SL Track for Maximum Coverage
The SL-track allows the massage rollers to start around your neck area and work their way down to your thighs, unlike some other S-track models that make the rollers stop at the lower back.
The massage rollers work together with the massage airbags to truly provide a full body massage experience.
An Immersive Audio Experience
If music is what helps you get into your perfectly relaxed state, the Certus has you covered there as well. An Altec Lansing Premium Sound System is built right into the chair and is easy to use.
The Bluetooth-capable speakers are positioned to surround you with sound, and the intuitiveness of the sound system gives you total freedom to let your playlist pull you into your quiet, happy place.
With Bluetooth capabilities, this chair is perfect for lovers of any type of audio media, be it audiobooks, their favorite songs, or meditative nature sounds. For many people, in order to fully ease the muscles, it is first necessary to relax the mind.
The built-in USB port will keep your device charged throughout your massage session.
Human Touch Certus Pros and Cons
Pros:
3D massage rollers
Immersive sound system w/ Bluetooth
Zero gravity reclining
SL-track design
Foot Rollers
Extending foot and calf massager
Space-saving technology
Heated lumbar
Airbag massage
Touchscreen tablet controller
User Height Range: 5'0" - 6'3"
Maximum User Weight: 285 lbs.
Cons:
Mid to higher price point
Assembly is required (unless white glove delivery is purchased)
User cannot weigh more than 285 lbs.
User cannot be taller than 6'3" or shorter than 5'0"

Conclusion
For anyone who needs a massage chair that saves on space and facilitates a full body massage experience, the Human Touch Certus massage chair could be an excellent choice. It's hard to find any significant flaws with this chair that would stand out to most massage chair buyers.
Some minor cons with this chair include the fact that it lacks wireless smartphone charging, and it doesn't show up at your door already put together (unless you upgrade to white glove delivery).
Overall though, the Certus is another fine massage chair brought to you by the good people at Human Touch. Is this the right massage chair for you? The only way to know for sure is to try it before buying it.
Thank you for taking the time to read this and we hope you found our Human Touch Certus massage chair review helpful. If you have any questions feel free to call us at 800-566-2798.