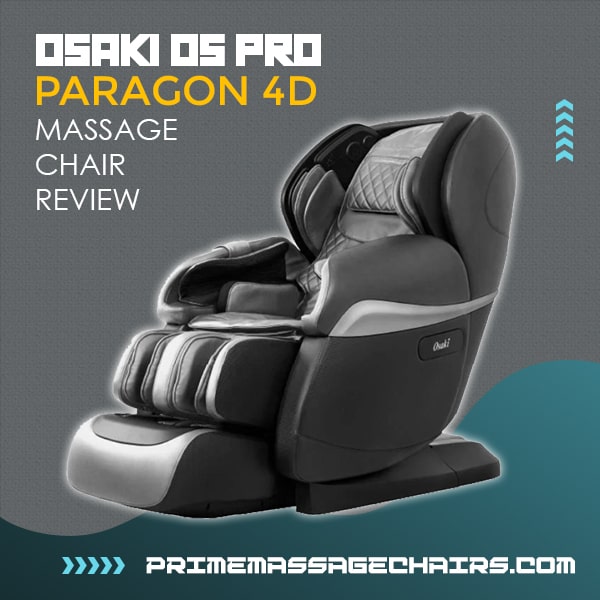 Osaki OS Pro Paragon 4D Massage Chair Review

If you're looking for 4D massage capabilities at a reasonable price point, consider the Osaki OS Pro Paragon. The Osaki OS Pro Paragon 4D hits all the marks with its state-of-the-art rollers.

Since it can also recognize your voice, there is no need to fumble with buttons when getting treatment. After you enjoy your massage, you'll walk away relaxed and ready to handle whatever life throws your way.
What Features Does the Osaki Paragon 4D Massage Chair Offer?
When you order this Osaki OS Pro Paragon massage chair, you are investing in a full suite of tools that work together to create the ultimate home massage experience. This Osaki OS Pro Paragon massage chair review will go over some of the product's features.
Voice Recognition
A tiny speaker allows you to use your voice to tell the massage chair what you want it to do. It recognizes nine voice commands so that you can easily create your own tailored massage experience. Those phases are:
Speech recognition mode on
Chinese massage
Pain relief
Body stretches
Experience
Relaxation
Zero gravity start
Voice off
Massage chair off
L-Track Massage System
The Osaki Paragon features an upgraded L-track massage system. This system is broader and longer than what was in previous Osaki massage chairs, so you get a better overall experience. By comparison, the L-track massage system offers coverage of about fifty percent more area than the standard S-track chair.
Body Scan Technology
With its body scan technology, this massage chair ensures that you can get a customized treatment. The scan determines your shoulder level, and then the chair bases its massage on your body's measurements.
Spinning Reflexology Rollers
The spinning reflexology rollers located on the covered footrest provide healing foot reflexology. The rollers warm up, which helps you relax more deeply during your massage. The roller's design provides soft to firm pressure in the right areas.
Zero Gravity
This Paragon massage chair has a healing zero gravity feature. This feature brings the knees higher than your chest, which forces you to put all your weight on the chair's backrest. With this zero gravity sensation, you can get a much deeper treatment.
Bluetooth Speakers
You can use the multiple Bluetooth speakers built into this chair to listen to your favorite tunes while getting your massage. Since these speakers surround the headrest, you can feel totally immersed in your audio.
LED Remote Control
In addition to controlling the Osaki OS Pro Paragon with your voice, you can use the LED remote to customize your massage. You can manage the heat, adjust the zero gravity feature, select the type of massage you want, and turn the massage function on and off using the remote. Easily see what the massage chair is doing using the display screen.
The remote also allows you to set the massage's length in five-minute increments up to thirty minutes.
Automatic Leg Extensions
This massage chair has automatic leg extensions. While this chair isn't as flexible for height differences as some others in the same price range, it can extend up to 8.75 inches to accommodate taller people.
Air Compression Massage
Enjoy a full-body air compression massage when sitting in this chair because it has airbags located throughout. These airbags provide soft compression to the areas where you need them the most.
Space Saving Feature
While this massage chair provides plenty of space for everyone, it does not take up much room. It only needs to be placed 3.15 inches away from the wall. Its space-saving design requires less than 9 inches when it is in the zero gravity position.
Which Programs Come with the Osaki Paragon 4D Massage Chair?
This Osaki massage chair comes with 13 unique programs. You can select programs helping you to calm down, recover, get relief, stretch, renew, or get a soft massage all over your body.

Choose the refresh or relax programs after a long day at work. If you need a quick pick-me-up in the middle of the day, select the energy program. Alternatively, if you need more even more energy, choose the active program. There is also a healing program.
Osaki OS Pro Paragon Pros and Cons
Pros:
Comes with 13 various massage programs so that you can customize your experience.
Comes with voice recognition technology..
Multi-angle L-track system that covers up to 50% more area.
Great price for a chair with 4D capabilities.
Features Bluetooth speakers so that you can listen to your favorite music.
Body scan technology.
Zero gravity positioning.
Space saving technology.
Heated back and foot rollers.
Comes with USB charging port.
User height range: 5'0" - 6'2"
Maximum user weight: 280 lbs.
Cons:
This chair takes approx. 1 hour to assemble.
User cannot be taller than 6'2" and shorter than 5'0".
Maximum user foot size: US Men's size 13
Conclusion
One of the few downsides of this Paragon chair is that there is no heated seat, but you do get some good heating action in the foot rollers. If you'd like to see the top of the line Osaki chair, take a look at our Osaki Maestro LE review.
Fortunately, this chair has many features that you will love. It scans your body so that it can customize the massage to your body's height. The L-track technology covers about fifty percent more of the body than chairs with S-track technology. Plus, the 13 massage programs allow you to choose the one that fits your needs the most.
Using this space-saving massage chair is easy because you can control it with your voice, a downloadable app, or the remote. The chair comes in four different colors: black, beige, grey, and brown.
The Paragon is priced as a mid-level chair but is outfitted with some impressive features that are usually found in some of our very best massage chairs.
We hope you enjoyed this Osaki OS Pro Paragon Review and found it useful. If you have more questions feel free to call us at 800-566-2798.