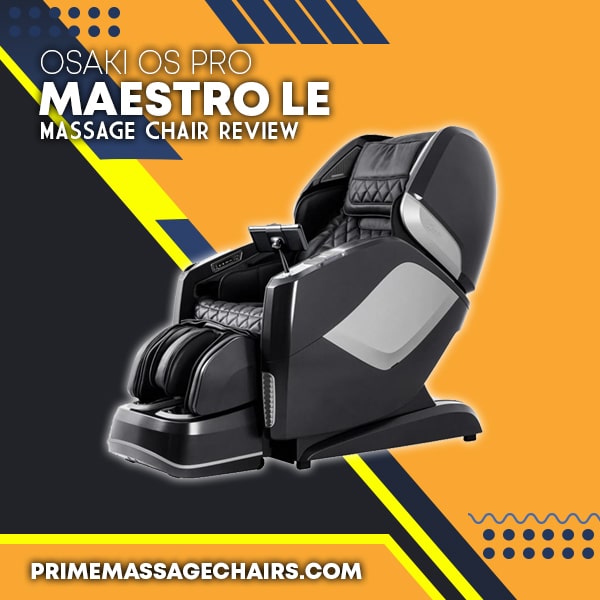 Osaki OS Pro Maestro LE Massage Chair Review
The Osaki OS Pro Maestro LE massage chair takes everything you loved about the original Maestro massage chair and upgrades it with state-of-the-art technology. When you sit in the Osaki Maestro LE, the full-body scan makes the chair conform to your body. You'll enjoy a relaxing massage that hits your major pressure points and drains the stress and tension from your body.

The Maestro LE is the top of the line massage chair from Osaki and is loaded with features. We felt it was time to do an Osaki OS Pro Maestro LE massage chair review, with that being said let's get into the details.
Osaki OS Pro Maestro LE Review
Preprogrammed Massages
The Pro Maestro LE comes with eight preprogrammed massages, each performing a specific function. If this is your first time in the Maestro LE, try the demo massage to test out all the new features.
Some massages help you relax while others offer a full-body massage that kneads the pressure points in your shoulders, legs and back. You can even use this chair to stretch out your muscles with the stretch massage. Although, if you're looking for a great stretch this wouldn't be the chair we'd recommend.
4D Massage Rollers
One very nice feature about the Maestro LE is the fact that it's outfitted with 4D massage rollers. Osaki massage chairs have many impressive options to choose from in their lineup, but we feel this is their best chair.
There are 8 levels of 4D adjustment, 5 strength adjustments, 5 intensity adjustments, and 5 speed adjustments. So you should have no trouble finding the optimal strength or pressure from the rollers that feel best to you.
If you want the best massage chair and have a higher-end budget, then we feel the Osaki Pro Maestro LE should be taken into consideration before you make a purchase. This is simply because of the useful features and nice massage it provides. Ultimately you'll want to compare chairs and choose the chair that will work best for you, and we'd be happy to help you.
Manual Massages
If you're looking for a more customized experience, you can choose the manual massage option to activate different parts of the chair. The manual massage function allows you to choose the type of massage as well as the area of your body that you want to focus on.
The manual massage choices are kneading, tapping, shiatsu and rolling. Each type of massage has multiple modes, allowing you to customize your experience even further.
Zero Gravity Recline
If you have trouble relaxing when you're sitting upright, the Pro Maestro LE comes with a zero gravity function that allows you to recline the chair backward with your knees above your chest.
This position is thought to help improve circulation and makes it easier to fully relax during the massage.
Body Scanning Technology
There's no single massage program that works for everybody. The Maestro LE scans your body when you sit down in the chair, and it then adjusts target pressure points and ensures that the chair conforms to your body. This helps to ensure a custom massage just for you.
Heated Rollers
If you're having trouble relaxing, turn on the heated rollers. You'll feel a pleasant heated sensation as the rollers massage your back, neck and shoulders.
Foot Rollers
Treat yourself to a foot massage with the Osaki Maestro LE. The rollers stretch and massage your feet while the air bags knead your calves and upper legs.
Touch-Screen Remote
No more fiddling with a tiny remote. The large touch screen allows you to change the settings and personalize your massage with ease. 
You can also download a smartphone app that allows you to control the chair with your Android or iPhone.
Smartphone Charger
Charge up your device while you're enjoying a massage. The Maestro LE comes with a wireless charger on the left armrest that powers your device during the session.
Osaki OS Pro Maestro LE Pros and Cons
Pros:
Available in three different colors: black, brown and beige
Offers eight preprogrammed massages that utilize different features
Comes with extensive customization options that allow you to personalize your experience
Optional heated back massage rollers make it easier to relax and unwind
Offers a full-body massage with strategically placed air bags that knead your back, neck, shoulders and legs
Massage roller track starts at your neck and massages all the way down to your thighs
Comes with foot rollers for an added foot massage
You can charge your smartphone while you relax
Offers a large touch-screen remote for easy access
Zero gravity provides a better way to enjoy your massage
Comes with an app that you can connect to your iPhone or Android
Only takes approximately an hour to assemble
User height range of 5'0" - 6'3"
Maximum weight capacity of 260 pounds

Cons:
Assembly is required (unless white glove delivery is ordered)
Maximum user foot size of US men's size 13 (due to enclosed foot massager design)
Might not be the best option if you are on a tighter budget

Conclusion
The Osaki Pro Maestro LE massage chair is one of the most advanced massage chairs on the market. It's loaded with features and comes with the popular zero gravity mode. You can even charge your smartphone during your session.

There are many preset and customization options to choose from with the Pro Maestro LE, so you can find just the right massage when you want it. This is a high end massage chair that was built to provide long lasting relaxation in any home.
If you'd like to talk to us about the Osaki OS Pro Maestro LE feel free to give us a call at 800-566-2798. Thank you for reading and we hope you enjoyed this review!