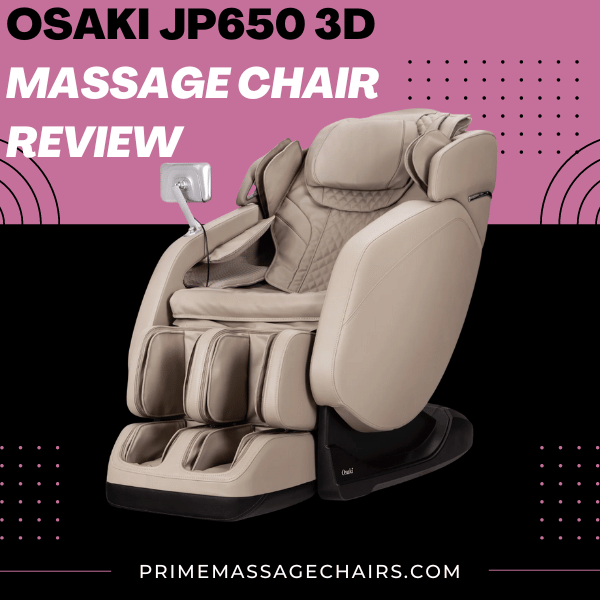 Osaki JP650 3D Massage Chair Review
Welcome to our detailed review of the Osaki JP650 3D massage chair. This high-tech massage chair, crafted in Japan, is designed for ultimate relaxation and rejuvenation. In this review, we'll discuss the top features, pros, cons, and several other things you'll want to consider to determine if the JP650 is the right massage chair for you.
Table of Contents:
Top Features
3D Massage Mechanism
The Osaki JP650 3D massage chair is equipped with a 3D massage mechanism that allows the massage rollers to protrude further from the chair, adjusting to the user's body shape. With 10 levels of intensity, it provides a deeper and more targeted massage. 
Touch Screen Navigation
The JP650 includes a touchscreen controller for convenient navigation and adjustment settings, making it user-friendly and easy to customize your massage experience.
Zero Gravity Reclining and Space Saving
Experience relaxation in a feeling of weightlessness with the JP650's three-stage zero gravity reclining. This technology, originally developed by NASA, allows you to feel as if you're floating, enhancing the massage experience. Plus, with Space Saving Technology, you can place your massage chair just 7 inches from the wall and achieve a full recline even in a smaller space.
Lumbar and Calf Heating
The JP650's lumbar heating system helps improve circulation and promote relaxation. These dual infrared heating coils warm and relieve tensions in the lower back and calves, adding an extra layer of relaxation to your massage.
Foot Massage Rollers
The JP650's Specialized Foot Rollers activate multiple acupuncture points by using scientifically designed reflexology ridges. The foot rollers contain three rollers for each foot, reaching the entirety of the foot from toes to heels.
Body Scan Technology
The Osaki JP650 3D massage chair is equipped with advanced body scan technology. This feature allows the chair to map the user's body and adjust the massage rollers to the user's unique shape and size. This ensures a personalized massage experience that targets all the right areas.
Automatic Programs
The JP650 comes with a variety of automatic programs. These programs are designed to provide different types of massages, such as a relaxing massage, a rejuvenating massage, or a deep tissue massage. This allows users to easily select a program that suits their needs and mood at any given time.
Manual Control
For those who prefer to have more control over their massage, the JP650 offers manual control options. Users can manually adjust the position and intensity of the massage rollers, the type of massage, and the areas to be massaged. This allows for a fully customized massage experience.
Air Massage System
The JP650 also features an air massage system. This system uses airbags strategically placed throughout the chair to provide a full-body massage. The airbags inflate and deflate in a sequence that mimics the hands of a professional masseuse, providing relief to the arms, shoulders, hips, calves, and feet.
Adjustable Settings
The JP650 offers a wide range of adjustable settings, allowing users to customize their massage experience to their liking. The chair's speed, intensity, and heat can all be adjusted according to the user's preference. This means that whether you prefer a gentle, relaxing massage or a more intense, deep tissue massage, the JP650 can accommodate your needs.
Easy Assembly
The Osaki JP650 3D massage chair is designed for easy assembly. The chair comes with a detailed instruction manual that guides you through the assembly process step by step. This means that you can have your new massage chair set up and ready to use in no time.
Osaki JP650: A Long-Term Investment
While the initial cost of the Osaki JP650 3D massage chair may be high, it's important to consider the long-term benefits. Regular massage therapy can help to reduce stress, relieve chronic pain, improve circulation, and promote overall well-being. When you consider the cost of regular visits to a professional masseuse, the JP650 can be seen as a cost-effective solution.
User Experience
The Osaki JP650 3D massage chair is designed to provide a user-friendly experience. The touch screen controller is intuitive and easy to use, even for those who are not tech-savvy. The chair is also easy to assemble, with clear instructions provided.
Value for Money
While the Osaki JP650 3D massage chair comes with a higher price tag compared to other massage chairs on the market, it offers excellent value for money. The advanced features and the high-quality massage it provides make it a worthwhile investment for those who value their health and well-being.
High-Quality Materials
The Osaki JP650 3D massage chair is built with high-quality materials to ensure durability and longevity. The chair is upholstered with premium synthetic leather that is both soft and durable. The frame is sturdy and designed to withstand regular use. This ensures that the chair will last for years, providing countless hours of relaxation and relief.
Comfort
The Osaki JP650 3D massage chair is designed with user comfort in mind. The chair's ergonomic design ensures that users can sit comfortably for extended periods. The chair's backrest and seat are padded with high-density foam that contours to the body, providing support where it's needed most. 
User Height Range & Max Weight Capacity
The Osaki JP650 3D massage chair is designed to accommodate a wide range of users. It can comfortably fit users with a height range of 4'10" – 6'1" and a maximum weight capacity of 260 lbs.
Osaki JP650 Pros and Cons
Pros:
Advanced 3D massage mechanism
User-friendly touch screen navigation
Zero gravity reclining for ultimate relaxation
Lumbar and calf heating for improved circulation
Specialized foot rollers for comprehensive foot massage
Bluetooth-capable speakers
Space saver
User Height Range: 4.10" - 6.1"
Maximum User Weight: 260 lbs.
Cons:
User cannot weigh more than 260 lbs.
User cannot be taller than 

6.1" or shorter than 4.10"
Conclusion
In conclusion, the Osaki JP650 3D massage chair is a top-tier massage chair that offers a range of advanced features and a high-quality massage experience. Whether you're looking for a way to relax after a long day, relieve chronic pain, or improve your overall health and well-being, the JP650 is a great choice.
We hope this detailed Osaki JP650 3D review has been helpful in your decision-making process. Remember, investing in a massage chair like the Osaki JP650 is not just about buying a piece of furniture. It's about investing in your health and well-being.
The chair's advanced 3D massage mechanism, user-friendly touch screen navigation, zero gravity reclining, lumbar and calf heating, and specialized foot rollers provide a comprehensive and relaxing massage experience. With its high-quality materials, adjustable settings, and easy assembly, the JP650 offers excellent value for money.
Whether you're looking to alleviate chronic pain, reduce stress, or simply enjoy a luxurious massage at home, the Osaki JP650 3D massage chair is a fantastic option. Its combination of advanced features, high-quality construction, and user-friendly design make it a standout choice in the world of massage chairs.