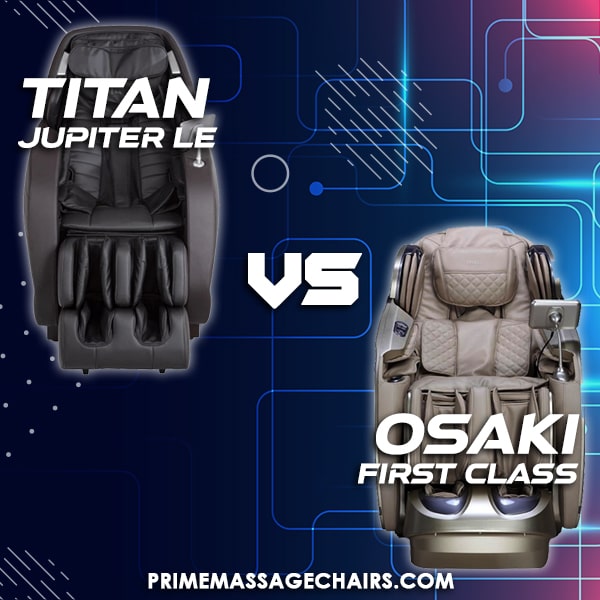 Massage Chair Comparison: Titan Jupiter LE vs Osaki First Class
Today we're comparing the Titan Jupiter LE and Osaki OS Pro First Class massage chairs. Both of these chairs are loaded with desirable features such as zero gravity reclining, bluetooth speakers, foot rollers, 3D massage technology, heat therapy, and much more.
The Jupiter LE and First Class have different user height ranges and maximum weight capacities, as well as very different looks and features that make each chair a standout in their respective price ranges.
Follow along as we discuss the top features as well as the pros and cons of each of these massage chairs.
What are some Top Features of the Titan Jupiter LE Massage Chair?
Body Scan Technology
The Jupiter LE will scan your body so your massage will be customized to your body's natural shape. The body scan will be at the beginning of each session and will help to deliver a more accurate massage.
3D Massage
The Jupiter LE from Titan features multiple speeds and intensity levels, and the chair has large massage rollers that apply steady and even pressure throughout your massage.
L-Track Design
The L-Track design cradles your spine and lower back for an ideal fit when you sit in the chair. The ergonomic L-Track guides the 3D massage rollers and remains in constant contact from your neck to your glutes.
Compression Airbags
There are 80 airbags that inflate and deflate during your massage so that you can enjoy a full body airbag massage.
Heat Therapy
Heat therapy can help improve your circulation, ease tension and give additional relief for chronic pain. The heated rollers apply mild heat and the heat in the waist, seat, and leg area makes for a soothing heated massage session.
Voice Activation
The Jupiter LE massage chair's voice-activated input offers the user hands-free operation and there are several commands that can be used.
Bluetooth Audio Connectivity
A built-in Bluetooth connection enables you to connect your smartphone or mobile device directly to the chair's surround sound system. You can enjoy your favorite songs or ambient music to accompany each massage session.
Touchscreen Remote Control
The touchscreen tablet-style controller lets you select programs and make adjustments easily. The bigger controller is sometimes preferred by users due to its size and being easier to read than some smaller controllers.
Which Programs Come With the Jupiter LE Massage Chair?
The Jupiter LE features 10 automatic massage programs:.
Vitality- This preset is designed to help you recharge and revitalize at the end of the day.
Senior- This provides you with a senior-friendly, low-impact massage to gently massage aging joints and muscles and improve circulation.
Power- An intense massage session for users looking for a more powerful massage.
Recovery- A great overall program to help you recover from a workout.
Pain Relief- The pain relief program applies deep targeted pressure to common trouble areas that may help relieve some of your pain.
Burmese Massage- The Burmese program offers deep relaxation as it works the muscles and tendons to massage away stress and anxiety.
Sleep- The sleep program is a perfect way to wind down at the end of the evening and get a good night's worth of restful sleep.
Blood Circulate- You can use this program to get your blood flowing at midday with 20 minutes of vigorous medium-intensity massage.
Waist Massage- Up to 20 minutes of massage to stretch your waste area.
Stretch- A good stretch is a great way to improve your posture and even appear a little bit taller. This massage preset helps you stretch your muscles and loosen up your joints.
Titan Jupiter LE Pros and Cons
Pros
Zero gravity positioning
3D massage
Voice control
Space saving technology
Bluetooth capable speakers
Extendable footrest
Tablet remote
Heat therapy
L-track technology
User Height Range: 5'2" - 6'6"
Maximum User Weight: 280 lbs.
Cons
Only a few colors to choose from
Can't accommodate users taller than 6 feet 6 inches or shorter than 5 feet 2 inches
User cannot weigh more than 280 lbs.
Takes approximately 1 hour to assemble
What are some Top Features of the Osaki First Class Massage Chair?
3D Massage Rollers
The Osaki's 3D massage rollers can be adjusted to five different intensity levels. This is good because over time you may want to increase the strength.
Automatic Body Scan
The chair will detect your size and shape, and automatically adjust for a custom fit after the body scan is complete. The body scan can adjust the chair to accommodate users between 5 feet and 6 feet tall.
Ergonomic L-Track
The L-Track cradles the spine for a custom fit, and the 3D massage rollers will glide from your neck to your glutes and upper hamstrings.
Air Bag Massage
The Osaki First Class has 24 air bags that have been strategically placed to ensure maximum effectiveness. The air bags will work with the massage rollers to ensure a full body massage experience.
Reflexology Foot Rollers
Foot rollers will massage your fee and stimulate your foot's reflexology pressure points. Due to the enclosed foot massager design on the First Class, please keep in mind that the maximum user foot size is a US mens size 13.
Zero-Gravity Operation
The zero gravity reclined position is generally thought to be the most effective position to enjoy a massage. You can shift your chair into your choice of two zero-gravity positions to elevate your feet and simulate weightlessness during your massage.
Extendable Footrest
This extendable footrest can add up to 5.5 inches in length to accommodate users with longer legs. You'll also enjoy the calf massage as well as the foot rollers.
Space Saver Design
The First Class from Osaki has been designed to maximize your living space while still being able to fully recline. This is ideal for those that are overly-concerned about having room in their home to fully utilize one of these chairs.
Bluetooth Speakers
You can enjoy your favorite music by pairing your bluetooth-capable smart device to the speakers built into the First Class.
Touchscreen Remote
The touchscreen LCD remote will let you browse through available massage programs and make adjustments. The chair also includes an easy access side controller in the right armrest.
USB Port
Your armrest panel also includes a built-in USB connection so that your smartphone or mobile device will charge up as you relax.
Lumbar Heating
Two heated lumbar pads will apply gentle and even heat to ease muscular tension and relieve your chronic pain.
Air Ionization Therapy
A built-in air ionizer will supply you with a steady supply of clean air to help you better oxygenate your blood cells.
Shoulder Massage
Push the shoulder pads inward to custom fit them to the width of your shoulders. 
Which Programs Come With the Osaki First Class Massage Chair?
The Osaki First Class Massage chair includes 23 massage programs arranged into four categories:
VIP- Stress relief programs for office workers and busy executives
Healthcare- Potential pain relief specifically designed for users who have chronic pain or spend a lot of time on their feet at work.
Special- Massage programs designed for your maximum relaxation.
Relaxation- Programs designed for relaxation and recovery to help you unwind at the end of a busy day at the office.
Osaki First Class Pros and Cons
Pros
3D massage rollers
Automatic body scan
2-Stage zero gravity
Space saving technology
Bluetooth capable speakers
Touchscreen LCD remote
USB connector
Extendable footrest
Adjustable shoulder width
User Height Range: 5'0" - 6'0"
Maximum User Weight: 260 lbs.

Cons
Maximum weight capacity is 260 pounds
The user cannot be taller than 6 feet or shorter than 5 feet
Maximum User Foot Size: US Mens Size 13

Conclusion
The Titan Jupiter LE and Osaki OS Pro First Class massage chairs both come loaded with features and are offered at a nice price point.
The Jupiter LE can accommodate a larger-sized user and offers more airbags than the Osaki, but the First Class has more massage presets to offer and air ionization therapy.
The First Class has an enclosed foot massager design whereas the Jupiter LE does not. The enclosed design can be an issue for people with bigger feet.
The Jupiter LE features heated back rollers and heat on the waist, feet, and legs compared to the First Class that only has a heated lumbar area.
Be sure to review the features of both models carefully to select the massage chair model that best suits your needs.
We hope you enjoyed this massage chair comparison and found it useful. If you have any questions give us a call at 800-566-2798. As always, thank you for reading!