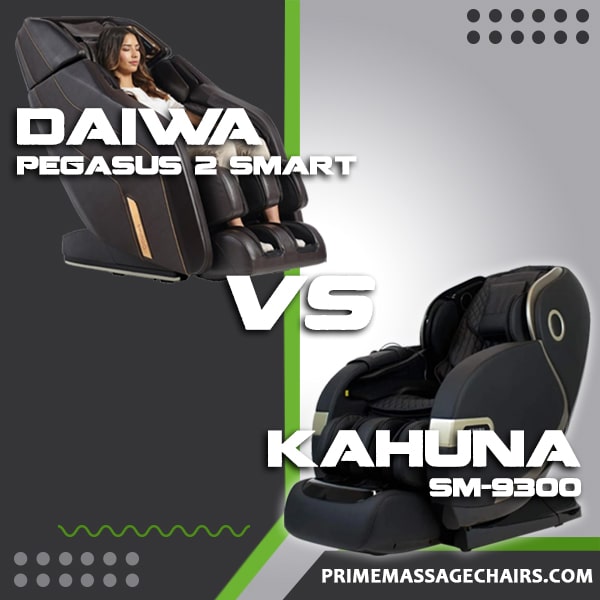 Massage Chair Comparison: Daiwa Pegasus 2 Smart vs Kahuna SM-9300
When shopping for a massage chair, the features that are most important to you should be your top priority. Of course, it also helps if the product is stylish, with appealing and reliable features, fitment, and your budget will also play a role in your decision. Our comparison of the Daiwa Pegasus 2 Smart and Kahuna SM-9300 massage chairs will help guide you to which model is right for you.

These chairs have several things in common. They both offer an immersive experience with full-body massage options. Both feature space-saving designs, which come in handy for buyers who can't dedicate an entire room to their massage chair.
Best of all, they're equipped with cutting-edge technology that takes them to the next level. How do they differ? Let's take a closer look at each model to answer that question.
Daiwa Pegasus 2 Smart Massage Chair
Below, we'll discuss the specific features and benefits of the Daiwa Pegasus 2 Smart Massage Chair.
Zero Gravity Recline Function
This feature imitates the sensation of weightlessness, which helps relieve pressure on the joints. It also allows you to find the angle that works best for you, thereby earning high marks in the comfort category.

Two zero gravity positions are available. Position one simply tilts you back to release any muscle or joint strain, while position two puts you in full recline with your legs raised slightly.
Voice Activation
The Pegasus 2 Smart is programmed to do exactly what you tell it to do—literally. The system is equipped with Smart-Listen Voice Control, meaning you can start one of the massage functions just by saying the words aloud.

You can awaken the Smart-Listen feature by speaking the words "Hello, Daiwa." The chair will offer a response in turn. From there, you'll have fifteen seconds to make your command before the feature switches off automatically. The list of commands is extensive yet simple, ranging from "turn on" to "royal treatment." Note that the function is available in multiple languages including Chinese.
Shiatsu Wave Calf Massage
Unlike some similar chairs, on which the massage functions are restricted to the upper body, the Pegasus 2 Smart by Daiwa includes a leg massage option. The design neatly encloses the calves. Built-in airbags in the calf and foot segments can be activated to undulate in wave-like movements, which helps relieve muscle tension.
Therapeutic Heat
The heating function is limited to the lumbar region. This could be a drawback to buyers who prefer a foot or leg warmer. However, its placement does help to relieve pain and discomfort caused by arthritis, lower back injuries, or general muscle soreness.
Wall Hugger Design
The space-saving feature allows the chair to fully recline even if it's placed just a quarter inch from the wall. Be forewarned that the chair itself still has generous dimensions.
It measures sixty-three inches long, thirty-one inches wide, and forty-nine inches high when upright, and extends to seventy-five inches long when fully reclined. You need to make sure the room is large enough to accommodate it before making a purchase.
Auto Body-Scanning System
The chair maps out the contours of your back before the massage program kicks in. This allows the L-shaped massage track to target the correct areas, delivering a thoroughly personalized experience as it moves from the upper shoulder region to your thighs.
Daiwa Pegasus 2 Smart Pros and Cons
Pros:
Voice-activated massage system
Heat therapy
Wall-hugger design (space saver)
Automatic leg extension
L-shaped massage track
Zero gravity positioning
3D massage rollers
Surround sound bluetooth capable speakers
USB charging station
Comes with  3/4-inch-thick soft chair pad, remote pocket, and foot pads
User Height Range: 4'8" - 6'6"
Maximum User Weight: 300 lbs.
Cons:
Takes approximately one hour to assemble
User cannot be taller than 6'6" or shorter than 4'8"
User cannot weigh more than 300 lbs.
Kahuna SM-9300 Massage Chair
Let's find out what sets the Kahuna SM-9300 apart from Daiwa's model.
4D Massage Rollers
While the Daiwa offers 3D massage rollers, the Kahuna model is equipped with 4D rollers. This allows you to fine-tune the speed variations and gives you more control overall. The ability to calibrate the massage to this degree gives the Kahuna the edge here.
Automatic Body Scan
This is a feature that the SM-9300 shares with the Daiwa chair: the ability to accurately read your body shape, thereby personalizing the massage. Once the system has processed this information, the eight massage rollers can deliver just the right amount of pressure to the areas that need it most.
Automatic Leg Extension
The Kahuna SM-9300 offers a leg extension function to help improve the accuracy of the massage. The Daiwa model has a similar feature, but the Kahuna pays closer attention to the leg region.
Infrared Heating System
The chair delivers infrared heat therapy to various areas to help stimulate blood flow & relax sore muscles. In addition to providing soothing relief, this helps to expedite the healing process. The foot roller massage area is heated as well, which should make this unit appealing to buyers who are on their feet a lot.
Zero Gravity Positioning
This model offers a multi-level system that allows users to dictate how far back they'd like to recline. When it's in the zero gravity position, it improves blood circulation while relieving pressure on the spine.
Voice Recognition Technology
The SM-9300 can follow voice commands, a feature it shares with the Daiwa Pegasus 2 Smart. When you say, "Activate Kahuna," it will respond with, "Ready for massage." It's programmed to understand many other commands as well. What's more, the Bluetooth speakers make it easy for you to enjoy your favorite tunes while the chair does its work.
Space-Saving Design
This model can fully recline when the headrest is positioned at least three inches from the nearest wall. This allows you to use the massage chair in some smaller spaces. The design is so low-key that it should harmonize with many interiors.
Kahuna SM-9300 Pros and Cons
Pros:
4D massage rollers
Auto body scan
Infrared massage system
Multiple zero gravity positions
Space saving technology
Bluetooth capable speakers
Voice recognition
Auto leg extension
Removable headrest cushion
User Height Range: 5' 1" to 6'3"
Maximum User Weight: Under 350 lbs.
Cons:
Takes approximately one hour to assemble
User cannot be taller than 6'3" or shorter than 5' 1"
User cannot weigh 350 lbs. or more

Conclusion
As you can see, the Daiwa Pegasus 2 Smart and the Kahuna SM-9300 are both sophisticated massage chairs with many interesting features. While each model has its strong points, they have subtle differences that should help with your buying decision.

For example, the Daiwa model offers a heating feature for the lumbar region. If you suffer from lower back pain, this might be sufficient. On the other hand, if you prefer a massage chair that provides soothing heat to your feet and calves as well, the Kahuna SM-9300 would be a better choice.

When it comes to choosing the right massage chair, there's no such thing as too much information. Once you've learned as much as you can about the available products, you can feel confident in your purchase.
Another thing, it's always best to try a chair before buying if possible. These articles can be helpful but they aren't substitutes for actually sitting in a chair and trying it for yourself.
We hope you enjoyed this comparison and found it helpful. If you have any questions feel free to call us at 800-566-2798. Thank you for reading!