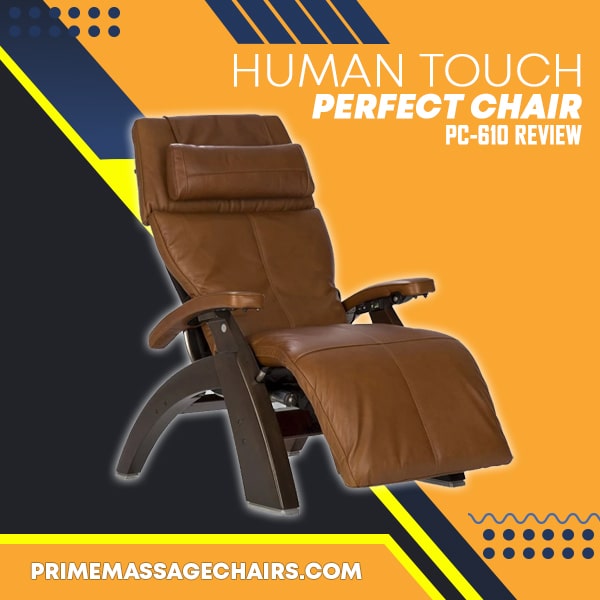 Human Touch Perfect Chair PC-610 Review
In a world full of bulky recliners, the Perfect Chair PC-610 offers a minimalist design that looks like a piece of modern art. This chair might be simple, but that doesn't mean it's not effective—you can recline this chair all the way back into zero gravity mode and feel the effects of a long day melt away.
You can also choose from a number of different positions to pick the recline that's right for you. And if you don't feel like reclining, the Perfect Chair PC-610 also makes a great piece of stylish furniture.

For extra personalization, you can choose from multiple wood finishes and several upholstery colors with different packages that have their own set of features. You'll get all the basic features with the Comfort Package, but the Performance and Supreme packages offer even more customization options.
Every package comes with adjustable armrests and a five-year warranty. If you're in the market for a new electric reclining chair that's not a heavy, bulky recliner, this Perfect Chair PC-610 review might help you make your decision.
What Makes the Perfect Chair PC-610 So Unique?
With most chairs, your customization options are limited to choosing the color that you want. The Perfect Chair PC-610 Zero Gravity Recliner offers multiple packages and customization options that make each chair "your own," not just a standard chair from a warehouse. Here's some of the exciting features that the Perfect Chair PC-610 offers.
Adjustable Recline
With the controller, you can adjust this chair to the perfect recline angle. If you want to go all the way back, you can activate zero gravity mode. This mode allows you to lie on your back and feel weightless like you're floating through space. People who have trouble relaxing might benefit from trying out zero gravity mode.

Of course, you're not limited to a straight-back chair and zero gravity mode. You can use the controller to choose virtually any position between those two options. You can recline all the way, lean back just a little, or find the perfect midway point that helps you relax in the middle of the day, which are just a few of the benefits of zero gravity chairs.
Convenient Extended Armrests
Close your eyes and relax with the extended armrests that support your arms no matter how far back you recline. The armrests are fully upholstered with the same material as the chair for added comfort.
Multiple Wood Finishes
No matter which package you select, you can choose from three wood finishes for the base of the chair: matte black, walnut, or dark walnut. This makes it easier to choose a chair that matches your existing décor. Each finish has a polished wood design that makes your chair stand out from traditional fully upholstered recliners.
Three Package Options
With the Perfect Chair PC-610, you can choose how much you want to pay for your chair, which will depend on which upholstery package you choose.
Comfort Package:
The Comfort Package comes with everything you need, including a supportive headrest, extended armrests, and adjustable recline settings. Like the other chairs, the Comfort chair supports up to 400 pounds and comes with a five-year warranty.

Performance Package:
If you want more advanced features, you can invest in the Performance Package. This chair has everything you get with the Comfort package, plus memory foam technology and an adjustable lumbar system. This system makes it easier to adjust your chair to the perfect settings.

Supreme Package:
For the most features, order the Supreme Package for your home or office. This chair comes with jade heating stones, weight distribution technology, and a control panel that makes it easy to change the settings. Plus, the back of this chair is upholstered to make it look more attractive.
Minimalist Design
If you've always wanted an electric recliner but don't like bulky chairs, the PC-610 is the zero gravity chair you've been waiting for. This chair is comfortable to sit in and doesn't take up a lot of space. You'll feel like you're relaxing in a breezy lawn chair instead of getting smothered by thick upholstery.
Human Touch Perfect Chair PC-610 Pros and Cons
Pros:
Smooth electric operation helps recline to virtually any position
Comes with full support head pillow with articulating headrest
Comes with three wood-finish options
Made from tough materials like steel and wood from the rubber tree
Comes with extended armrests that support you even in zero gravity mode
Offers three different upholstery packages for people who want more customization
Cons:
Takes approx. 1 hour to assemble
Maximum Load Weight: 400 lbs.
Conclusion
There aren't many chairs like the Perfect Chair PC-610 on the market. Unlike most recliners, the PC-610 is light, sleek, and airy. This chair is perfect for houses that have modern or minimalist decor. You can even choose a wood finish to match the rest of your furniture.
If you really want to treat yourself, you can pay for a Performance or Supreme package that comes with some of the top features in the recliner industry.

This isn't the best option for people who prefer a traditional recliner. However, despite the unconventional design, this chair has everything you'd expect from a large living room recliner.
You can tilt the chair back and even go into zero gravity mode. Try something a little different with the Perfect Chair PC-610 zero gravity recliner.
We hope you've enjoyed our Human Touch Perfect Chair PC-610 review and found it useful. If you have any questions you can reach us at 800-566-2798. Thank you for reading!