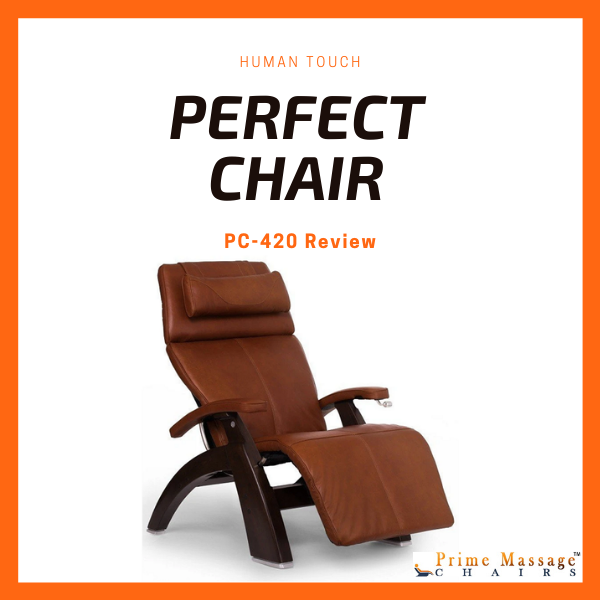 Human Touch Perfect Chair PC-420 Review

Hello, my name is Keith and I want to talk to you about one of our best-selling zero gravity recliners, the Human Touch Perfect Chair PC-420. This is the manual version of the Perfect Chair and we've been offering it to our customers for a while now. They really seem to enjoy it, so I figured it was time for a Perfect Chair PC-420 review.
My wife tried this chair and felt relief from her lower back pain once she reclined to the zero gravity position. She was hooked and I knew she would love to have one at home.
I planned on surprising her on her birthday with the PC-420 and waited until Human Touch was having one of their promotions. They happened to be offering a free premium leather back cover and free weighted blanket as a Christmas-time promotion, so that's when I pulled the trigger and bought one.
I decided on the Cognac premium leather with Dark Walnut base. The Cognac is a gorgeous color and the Dark Walnut matches some of the wood trim in our home.
Delivery Day
The delivery company called to let me know they were on their way. I had some other project I was working on that day, so I was pre-occupied when they arrived. My wife was at home when they got there, and I didn't do a good enough job of keeping her away from the delivery truck and she read the writing on the box and saw what it was.
I was a little disappointed that I didn't get to surprise her like I wanted to, but she was so happy to finally have her own Perfect Chair that it still worked out.
Pre-Assembly
The Cognac leather pad set and the Dark Walnut base each arrived in separate boxes as shown below.
Once we opened those two boxes this is what we had:
One issue we had was attaching the leg extension to the frame because we had issues reaching the screw holes easily.
If you elect to go with the Jade heat kit like we did, you'll want to assemble that first before putting on the pad set.
PC-420 Optional Accessories
Jade Heat Kit
While the free weighted blanket and free premium leather back cover was greatly appreciated, I wanted her to be totally thrilled with her new Perfect Chair, so I added the Laptop Desk and Jade Heat Kit.
I thought she would appreciate the Jade Heat Kit that's optional with the PC-420 (premium leather only). I'm glad I decided to go with the heat, as it really makes a difference in the overall enjoyment of the chair. 
There are 3 different settings, low, medium, & high. It takes a few minutes to get warmed up but is well worth the wait.
Here's an image of the Jade Heat Kit installed on our PC-420:
We like the sleek look of the control and it's very easy to use as well.
Laptop Desk
She uses her laptop daily so I thought she would enjoy the laptop desk that's an optional add on. I'm a desktop guy but she loves her laptop and I knew she would get some use out of it.
It's handy to have and you can easily move it out of your way if you're not using it and you can also adjust the height.
What we like to do is turn the heat on, let it warm up for a couple minutes then sit in it and recline.
If you're wanting to take a nap it isn't hard to fall asleep in this chair, especially with the heat on. If you need to get some work done or whatever that's when the laptop desk comes in handy.
Assembly & First Use
Assembly wasn't bad at all. This chair came with all the tools we needed, and we were done in a little over an hour. It took us a little longer because of all the pictures we took.
You'll want to assemble the chair in the room you want it in. We initially assembled this chair in our living room, only to find out that it was too wide to fit through our bedroom door. We then had to take the arms back off to get the chair through the door.
The End Result
We absolutely love the looks of the Cognac premium leather with Dark Walnut base and the chair adds value to the overall look of the room.
With the PC-420 you can recline in multiple positions, but the most popular position is zero gravity.
And this is one happy wife under her new weighted blanket. 😊
She really enjoys the weighted blanket and it's now a mainstay on our bed because she sleeps much better with it than without.
She still says the only true relief she gets from her lower back pain is when she's in the zero gravity position in her Perfect Chair…and that alone was worth the cost to me.
Conclusion
It doesn't take long to notice how well this chair is made and the fact that it comes with a 5-year warranty is icing on the cake for me.
As previously mentioned, this is the manual version of the perfect chair. Some of you may want the other versions with electric motors. I did consider it but ultimately elected to go with the PC-420 instead. The only electric cord we have is for the heat kit and we like it that way.
An important thing to note is I'm 6'2" tall and my wife is 5'2" tall, and except for my feet hanging over the end an inch or two, we both fit nicely. This was another deciding factor, I wanted to be able to use it too (if she would let me) and it turns out that's not a problem.
Overall, we're thrilled with the Perfect Chair PC-420 and highly recommend this chair. Thank you for reading and we hope you got some value from this review!