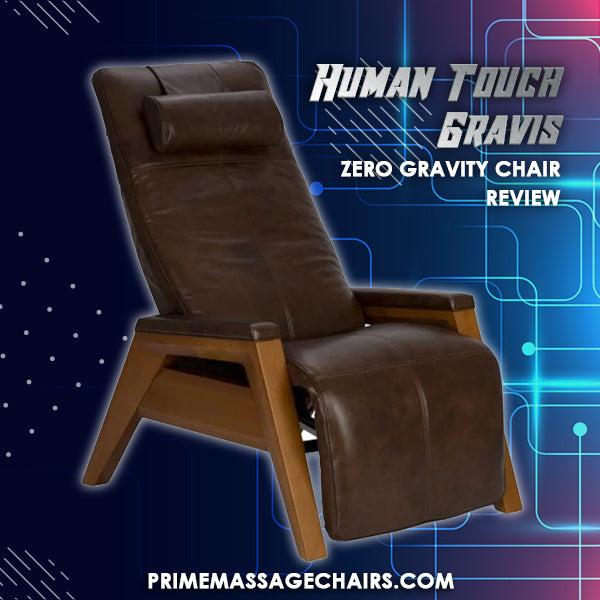 Human Touch Gravis Zero Gravity Chair Review
Some massage chairs offer one or two zero gravity modes, but they focus more on other features that you don't necessarily need. The Human Touch Gravis Zero Gravity Chair is made for people who want more control over their experience.
With the touch of a button, you can activate zero gravity mode and lie back in the seat with your legs elevated. You can also adjust the headrest, footrest, and backrest to your exact specifications.
The Human Touch Gravis Zero Gravity Chair is essentially a sleek, stylish recliner that comes with a multitude of features. Read this Human Touch Gravis Zero Gravity Chair review to get to know the chair.
For some people, zero gravity mode is all they need to relax. However, you can enhance your experience with air massage and multiple heating options.
This chair is so sleek and minimalist that it's hard to believe that it comes with so many features. That's why it's great for people who want to place a recliner or massage chair in their living room but don't want a bulky piece of furniture that looks out of place.
You can even choose from multiple color options, so your chair matches the rest of your home decor. If you're thinking about investing in a new chair, you can weigh your options with this Human Touch Gravis review.
What Are the Main Features of the Human Touch Gravis Zero Gravity Chair?
The Human Touch Gravis Zero Gravity Chair comes with several unique features that set it apart from other chairs on the market. Here's a look at what the Human Touch Gravis offers.
One-Touch Zero Gravity Mode
Forget about spending ten minutes adjusting your chair. With the Human Touch Gravis, you can press a single button to activate zero gravity mode. The chair automatically reclines to a horizontal position and elevates your feet to improve circulation throughout your body.
You can either enjoy the position by itself or turn on the air massage. If this position isn't quite to your liking, use the remote to adjust different parts of the chair.
Air Massage
For extra relaxation, you can use the air massage function while you sit back in your Human Touch Gravis recliner. The air massage feature comes with three different programs for your back muscles. Use the remote to select the Stretch, Massage, or Lumbar program.
Three Heat Zones
If you're feeling stiff, you can loosen up and relax your sore muscles with the three heat zones strategically placed in your Human Touch Gravis. These three individual heat zones target your back, seat, and legs. You can use them all at once or turn on each zone separately.
Mobile App
The free Human Touch Gravis mobile app comes with additional functions like the ability to save your programs. You'll also find buttons for extra settings like an automatic TV recline. To take advantage of these features, download the app to your iPhone or Android when you receive your new Human Touch Gravis.
Adjustable Settings
You don't have to choose between a straight-backed chair and zero gravity mode. With the remote, you can easily adjust the backrest, footrest, and headrest of the chair. You can adjust each zone individually to find the perfect position for your needs.
This chair is great for napping, relaxing, watching TV, reading a book, or enjoying an air massage. Plus, the various options make it easy for people with different body types to enjoy this chair.
Human Touch Gravis Pros and Cons
Pros:
Activates zero gravity mode at the touch of a button
Offers three different air massage programs for even more comfort
Multiple heat zones
Fully adjustable headrest, backrest, and footrest for optimal support. 
Comes with a battery backup function that moves the chair back to the upright position if the power goes out
Downloadable App
Comes with remote control
User Height Range: 5'0" - 6'2"
Maximum Weight Capacity: 400 lbs.
Cons:
Takes approx. 1 hour to assemble
User cannot be taller than 6'2"
Use cannot weigh more than 400 lbs.

Conclusion
The Human Touch Gravis Zero Gravity Chair is great for people who want to recline, lie back, or experiment with zero gravity mode. While it has an air massage program, it's not the best option for people who want a massage chair. Instead, it's designed with everyday use in mind. You can watch TV, read a book, take a nap, or relax with a pet in this versatile chair.

For deeper relaxation, try the zero gravity mode that allows you to lie in a horizontal position. It's different from lying on a bed: Instead of lying flat on your back, you'll elevate your feet over your chest. Zero gravity mode is a unique experience that a chair like the Human Touch Gravis Zero Gravity Chair can provide.
We hope you enjoyed this Human Touch Gravis Zero Gravity Chair Review and found it useful. If you have any questions feel free to call us at 800-566-2798.