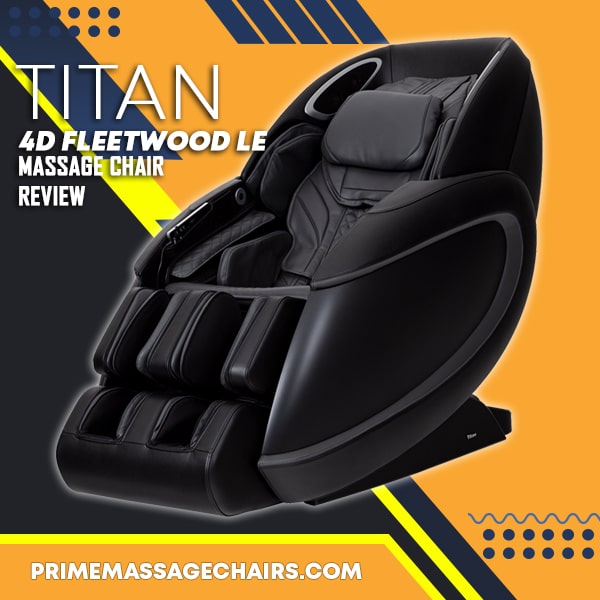 Titan 4D Fleetwood LE Massage Chair Review
The Titan 4D Fleetwood LE is a luxury massage chair featuring innovative technology that can deliver a soothing experience every time. Just sit down in the chair and let it perform a quick scan to customize your massage. Once your massage starts, you'll be able to slip into a reclined zero-gravity position and enjoy a massage from your neck to your feet.

The Fleetwood LE features an SL-track to guide the massage rollers along your body's natural curves and contours, and the chair features a host of other great comfort features as well.
Below is our Titan Fleetwood LE review so you can learn more about some of the top features of this impressive massage chair.
What are some Top Features of the Titan 4D Fleetwood LE Massage Chair?
4D Massage

The Fleetwood's 4D massage technology combines massage rollers and compression air bags for a massage experience that you're bound to enjoy. This impressive chair has many intensity adjustments so you can tailor the strength of the massage to your liking.

Advanced Body Scan
The Fleetwood LE features state-of-the-art body scanning technology to help you get a custom fit for each session. The chair will automatically measure the dimensions of your body and then provide an individualized massage that conforms to your body's natural contours.
Ergonomic SL-Track
The Fleetwood was designed with your comfort in mind. As you sit in the chair, the SL-track will guide the massage rollers and keep them in steady contact with your body.
The 4D massage rollers will glide along the SL-shaped track to help conform to the natural curvature of your body for maximum effectiveness.
Acupressure Air Massage
The Fleetwood LE includes 50 air compression massage cells that combine with the massage rollers to provide you with a full body massage experience.
Manual Operation
The Fleetwood LE massage chair includes your choice of kneading, knocking, tapping, shiatsu, sync, and 4D shiatsu massage styles. You can manually adjust the speed and roller intensity settings using the remote.
Zero Gravity Mode
The Fleetwood offers a zero gravity mode that can recreate the sensation of weightlessness. You can enter the zero gravity mode with just a touch of the button and elevate your feet to improve blood flow throughout your body.
Space Saving Technology
This luxurious massage chair only requires one inch of wall clearance to slip into a fully reclined zero gravity position, which makes this massage chair a great option for users in small apartments and condos if space is an issue for you.

Armrest Shortcut Panel
The convenient built-in shortcut panel allows you to quickly adjust settings such as your reclining position, heat therapy, and auto programs with the touch of a button.
Heat Therapy
The Fleetwood's heat therapy functions can help promote healthy blood circulation and enable your muscles to relax as it applies gentle and even heat to your back and legs.
Easy Reach Remote Pocket
The Titan Fleetwood massage chair includes a convenient pocket for the remote control and a USB port so you can charge your phone as you relax.
Bluetooth Audio System
Connect your mobile device to the Fleetwood LE's dual surround sound bluetooth-capable speakers and listen to your favorite music or podcast during your massage.
Extendable Massaging Footrest
At the beginning of each
massage therapy
session, the Fleetwood will scan your body and automatically extend the footrest to accommodate users between 5 feet and 6 feet 2 inches tall.

The calf massager will help soothe your sore muscles and provide an even more enjoyable experience.
Which Programs Come With the 4D Fleetwood LE Massage Chair?
The Titan 4D Fleetwood LE Massage Chair includes 12 automatic massage programs for your relaxation and comfort.
Chair Yoga- The chair yoga program is a great low-impact massage that uses moderate kneading and stretching techniques.
Wake Up- This focused shoulder and back massage program is a great way to start the day. The program wakes up your stiff muscles and joints by easing you into a short program to wake up your body and help you face the day relaxed and energized.
Relaxation- This is a nice all-around massage program that showcases the chairs capabilities.
CEO Comfort- This unique massage preset uses high-intensity massage techniques for working professionals on the go.
Queen Special- This mild shiatsu, kneading, and pressing massage program is ideal for boosting vitality and relieving fatigue.
Senior Priority- This gentle massage will relax the lower back and hips.
Neck & Shoulder- It should come as no surprise that many people carry excess tension in the neck and shoulder regions, and this program applies kneading, pressing, and lifting therapy to relieve pain and stiffness in the neck and upper back region.
Back & Spine- It provides deep tissue therapy for the lumbar, spine, and upper back.
Waist & Hip- This will give you deep tissue therapy for the waist, hips, and lumbar region
Morning Zap- This short program will wake up your body and help you get a great fresh start.
Refreshing Nap- This is a soothing full-body massage to help you recharge your batteries before finishing the day strong.
Sweet Dreams- This will give you a gentle massage to prepare the body for a full night of restful sleep.
Titan 4D Fleetwood LE Pros and Cons
Pros
4D massage
Advanced body scanning
Ergonomic SL-track
Zero gravity recline positioning
Space saving technology
Armrest shortcut panel
Bluetooth speakers
Calf massage
Foot Massage
Heat therapy
Extendable footrest
Maximum User Weight: 260 lbs
User Height Range: 5'0" - 6'2"
 Cons
Assembly is required

Only a few colors to choose from

Can't accommodate users under 5 feet or over 6 feet 2 inches

260-pound weight limit


Conclusion
The Titan 4D Fleetwood LE massage chair comes loaded with great comfort features, and the advanced body scanning technology ensures that you'll always receive a massage customized to your body's natural shape.
This high end massage chair will allow its owners to get a luxurious massage at their leisure and has a contemporary look that will compliment any home.
The bluetooth-capable speakers will let you enjoy your favorite music while immersing yourself in your favorite massage program. The heat will help loosen your muscles and help you unwind after a long day.
We hope you've enjoyed our Titan 4D Fleetwood LE massage chair review and found it useful. You'll want to be sure to review the features, watch the videos, and do your homework before making your purchasing decision. We're not here just to sell you a chair, we want to get you in the right chair.
If you have any questions feel free to give us a call at 800-566-2798. Thank you for reading!