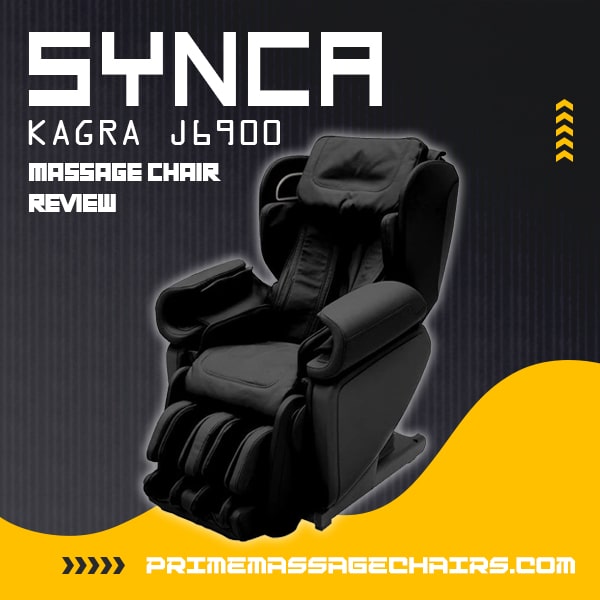 Synca Kagra J6900 Massage Chair Review
The Synca Kagra J6900 4D massage chair is designed to provide a fully immersive experience. In fact, this chair isn't just a massage chair—you could also make a few adjustments and use it as a recliner.
You might use the Synca Kagra J6900 like a regular recliner during the day and enjoy a relaxing massage at night. As for the massage itself, the Synca Kagra J6900 utilizes a whopping seventy-eight massage techniques to give you a complete experience that can be better than going to the spa.

For added immersion, the Synca Kagra J6900 comes with Bluetooth speakers that you can use to play your favorite music. This chair also features an adjustable heating pad that can warm your back or front as well as your hands.
Plus, the streamlined design helps the Synca Kagra J6900 blend in with the rest of your furniture. If you're looking for a new massage chair, read this Synca Kagra massage chair review to see if this is the right chair for you.
What Makes the Synca Kagra J6900 a Quality Massage Chair?
The Kagra by Synca has features for virtually every part of your body. Here's a rundown of the major features that it provides.
Adjustable Heating Pad
Most massage chairs have a heating pad for your lumbar region, but the Synca Kagra J6900 has an adjustable heating pad that you can use to warm your back or your front.

The heating pad also features pockets just for your hands. You can warm up on a cold winter evening or simply loosen up your muscles after a long day.
Bluetooth Speakers
With the wireless Bluetooth speakers, you can use your smart devices to stream music, nature sounds, soundscapes, guided meditations, or anything else that helps you relax. You can also store your phone or tablet in the pocket attached to the chair.
Custom Massage Settings
If the automated programs aren't adjusted to your liking, you can use the settings to create your own customized massage program. Save your custom massage programs, then access each one with the push of a button during your next session.
Reversible Footrest
The Synca Kagra J6900 comes with a footrest that swaddles your feet and massages your calves during massage sessions. You can flip this footrest over to reveal a regular footrest that turns your chair into a recliner. Relax, watch TV, read a book, and even sleep in this chair.
4D Massage Rollers
The Synca Kagra comes equipped with 4D massage rollers that help ensure you get the massage you're looking for.
The Kagra was built to provide an ultra-enjoyable massage in your home and on your schedule.
Adjustable Positions
Whether you're using the Synca Kagra J6900 as a massage chair or a recliner, you can adjust the backrest and footrest to find the perfect recline angle.
This chair also comes with zero gravity mode that makes you feel weightless in your seat.
Body Sensors
The Synca Kagra J6900 uses body-sensor technology to adjust the massage to your specific body type.
You can choose from eight pre-installed programs, a foot massage program, or programs that stretch your muscles.
Synca Kagra J6900 Pros and Cons
Pros:
Uses 4D rollers to give you the most realistic massage experience
Bluetooth capable speakers
Real body sensing
Zero gravity positioning
Adjustable and rotating footrest
Comes with storage pocket to place your phone or tablet.
Precision neck massage
Triple-region heat system
Pulsing shiatsu foot massage
78 massage techniques
User Height Range: 5'0" - 6'2"
Maximum Weight Capacity: 300 lbs.
Cons:
User cannot be taller than 6'2" or shorter than 5'0"
User cannot weigh more than 300 lbs.
Takes approx. 1 hour to assemble

Conclusion
The Synca Kagra J6900 isn't the type of chair that only focuses on your lower back. Instead, this chair aims to treat virtually every part of your body. You'll sink into the relaxing chair, turn on the immersive Bluetooth speakers, and warm your body to improve your mental health and wellness.
The stretching programs loosen the muscles in various parts of your body, while the massage programs use a variety of tried-and-true techniques. Overall, your entire body can feel loose and relaxed when you get out of the chair.

What sets the Synca Kagra J6900 apart from some other chairs is that it also functions as a recliner. If you don't feel like getting a massage, flip over the footrest and sit back while you binge-watch your favorite show. The Kagra rivals some of our higher end massage chairs as far as features go and is a great value overall.
This chair even looks similar to a regular recliner, so your friends might not be able to tell the difference. Our verdict in this Synca Kagra review: It's a great option for anyone who wants a nice mid-level massage chair with 4D technology.
If you would like to talk to us regarding the Synca Kagra J6900 please give us a call at 800-566-2798. Thank you for reading!