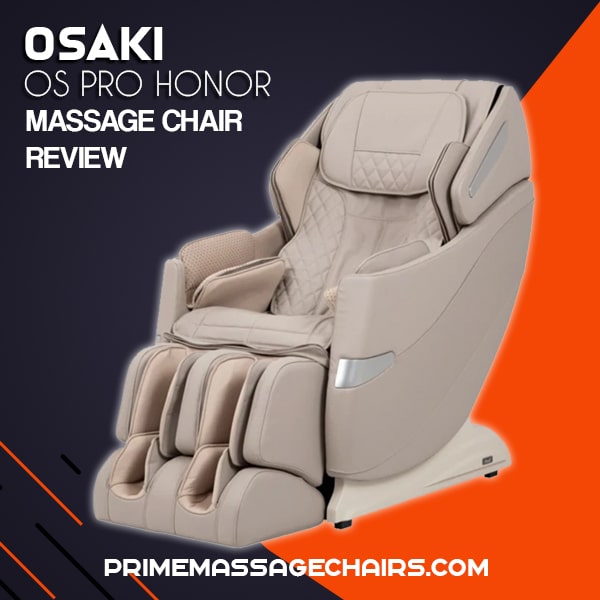 Osaki OS Pro Honor Massage Chair Review
Massage chairs seem to be getting more and more popular. Maybe this is because more people are working from home, or maybe it's because they don't want to have to deal with booking an appointment and driving into town to get a massage.
Whatever the reason, it's our job to educate you about these chairs and that's exactly what we aim to do in this Osaki OS Pro Honor review. These chairs can provide a fantastic experience for people who are interested in having a massage on demand in the comfort of their home. With that being said it's important that you take a deep dive into the features of the chair you're interested in.
Will it fit you? Are you too tall or short? Is it in your budget? These are all things to take into consideration as you're looking at different chairs.
There are many massage chairs available at different price points, and that's why it is so important to have a good idea of what kind of chair will work best for you.
The Osaki OS Pro Honor massage chair comes with numerous features and can be extremely beneficial to its users. In this Osaki Honor review, we'll discuss some of the top features of this massage chair.
What are some Top Features of the Osaki OS Pro Honor?
3D Massage
One very nice feature on the Osaki OS Pro Honor is the 3D massage rollers.
The 3D rollers can extend and retract, giving you the ability to adjust the strength or pressure of the massage rollers which can make the massage feel much more personalized and effective.
Advanced Body Scan
The Osaki Honor has a three-core processor for enhanced accuracy, giving you a better overall massage.

The body scan will ensure a consistent amount of pressure is applied which will result in optimal performance.
SL-Track
The Osaki Honor features an SL-track roller system. This fifty-two-inch track runs the length of your back from your neck to your hamstrings.
Zero Gravity
The Honor offers a zero gravity recline position which will lift your knees above your chest, ensuring your blood flows back to the core of your body.
The zero gravity position is thought to be the most comfortable and effective position to enjoy a massage.
Save on Space
Massage chairs can be bulky, but the Osaki OS Pro Honor offers space-saving technology which only requires a minimum of 4.5" away from a wall to be able to fully recline. Please see the image below as a reference.
Space-saving technology is a nice perk and can make a big difference if you are limited on space in your home.
Airbags
The chair comes with fourteen built-in airbags located throughout the body—shoulders, arms, lower back, feet, and calves. The airbags offer compression massage, which promotes better circulation and muscle relaxation.
Reflexology Foot Massage
Need relief after a long day on your feet? The Osaki OS Pro Honor comes with two reflexology foot rollers that offer a kneading-style massage to your feet which will help soothe those sore muscles.
Built-in Programs
The Osaki Honor comes with six built-in programs to give you the massage you are looking for. These programs include relax, sleeping, recover, strengthen, Thai, & neck/shoulder.
Osaki OS Pro Honor Pros and Cons
Pros:
3D massage
Body-scan technology
SL-track
Zero gravity positioning
Space saving technology
Lumbar heat
Comes with an easy-to-use remote control
Fourteen airbags located throughout the chair, offering compression massage to most of your body
Features six different massage technique options, including Swedish, clapping, rolling, shiatsu, kneading, and tapping
User Height Range: 5'0" - 6'2"
Maximum User Weight: 260 lbs.
Cons:
Takes approx. 1 hour to assemble
User cannot be taller than 6'2" or shorter than 5'0"
User cannot weigh more than 260 lbs.
Conclusion
The Osaki OS Pro Honor offers some very nice value for your money. It's a 3D/L-Track chair which has been a very popular combination.
The auto programs, body-scanning technology, massage rollers, and airbags are all in place and ready to provide a nice soothing massage.
If you're looking for a massage chair that offers a nice way to wind down after a stressful day as well as look good in any environment, the Osaki Honor may be the chair for you. However, the only true way to know if this is the right chair for you is to physically sit in the chair and try it for yourself; there's just no substitution for actually feeling what the chair has to offer.
Also, if you have any pre-existing medical conditions you'll want to get your doctors approval before using a massage chair. It's better to be sure that it's ok for you to use one before purchasing.
We hope you've enjoyed this review and found it useful. If you have any questions feel free to call us at 800-566-2798. Thank you for reading!