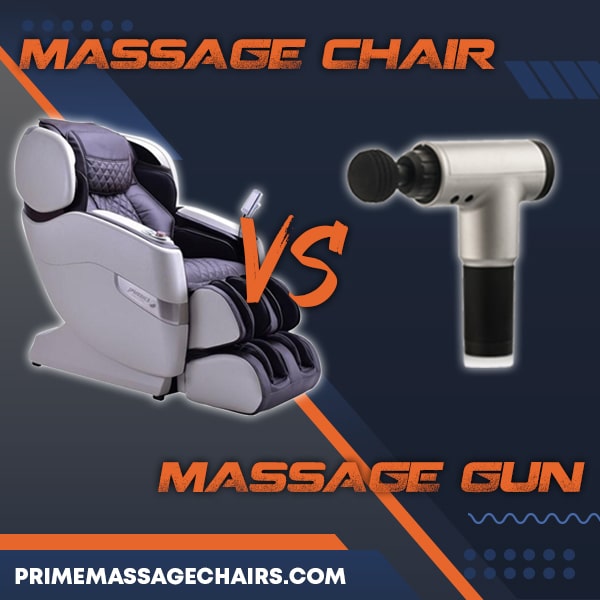 Massage Chair vs. Massage Gun

For some people, a massage is a reward that they use to treat themselves after a long day. For others, a massage is a necessary part of their workout routine that helps them relieve pain and stimulate their muscles.
An increasing number of people are looking for massage tools that they can take to the gym to ease muscle soreness after their workout. Instead of buying a massage chair for their house, some people are investing in massage guns that provide a deep-tissue massage wherever they go.

Massage guns are smaller, portable, and much less expensive than massage chairs. But can they truly replicate the intensive, full-body massage that you get when you lounge in a massage chair? Below is a rundown of the massage gun pros and cons.
Massage Chair & Massage Gun Comparison
What Is a Massage Gun?
A massage gun is a hand-held tool that creates a vibrating sensation that stimulates the feeling of a deep-tissue massage.
Massage guns are popular among people who want to relieve muscle soreness after a long workout. Some people also use massage guns before their workout to stimulate their muscles and get the blood flowing.


To use a massage gun, turn on the device and hold it over your muscles for a few minutes at a time. You might need to ask a friend to apply it to hard-to-reach areas like your back and shoulders. A deep-tissue percussion massager can have positive short-term effects, but experts caution against using a massage gun for a long period of time.
What Are the Pros of Massage Guns?
Cheaper than massage chairs
Can take them anywhere
Provide a quick deep-tissue massage
Can use them on virtually any part of the body
Hand-held design makes them easy to use
Good for stimulating muscles before and after a workout
One of the biggest advantages of massage guns is that you can take them just about anywhere. Bring it to work, take it with you on the bus, or throw it in your gym bag before you start your nightly workout. Massage guns are a quick way to relieve soreness and help you relax after a strenuous night at the gym.
What Are the Cons of Massage Guns?
Require more effort than massage chairs
Hard to reach your back and shoulders
Massage gun overuse can lead to increased pain and injuries
Don't provide a full-body massage
Shouldn't use them for more than a few minutes at a time
Don't come with massage chair features like Bluetooth capabilities and zero gravity mode
Not recommended for children
Most massage chairs come with automated programs and various benefits that make them well-worth owning. You might be able to choose your own massage settings, but the risk of injuring yourself with a massage chair is fairly low. With a massage gun, there's nothing stopping you from using the gun until you injure yourself. If you have any pre-existing medical conditions you should consult your doctor and get approval before using a massage chair or massage gun.
Many people buy massage guns without realizing that they should only use them for a minute or two at a time. They beat their muscles with the massage gun until they're stiff and sore, increasing their pain and making it harder to get a full workout.
Massage guns are also much less relaxing than massage chairs. When you buy a massage chair, you can simply sit down, choose a program, and enjoy the deep-tissue massage that caresses your entire body. Massage guns require you to hold the gun against your muscles for a period of time. You'll have to perform the entire massage manually—and if you think that washing your back in the shower is difficult, try hitting your back muscles with a massage gun.

Overall, you should use a massage gun sparingly. A massage gun can be a helpful tool after a workout, but it won't replicate the effectiveness of a massage chair or the expertise of a licensed massage therapist.
Conclusion
If used properly, a massage gun can be a useful tool in your workout arsenal. You can take it to the gym, stimulate your muscles before you hit the weights, relieve pain and soreness afterward, and try it out at home when you need a little extra boost of pain relief. Some people also use it when they need a quick massage to work on problem areas. If you don't have the time to sit down in a massage chair for fifteen minutes, a massage gun can relieve tension in only a minute or two.

However, a massage gun isn't a replacement for a massage chair. These guns don't provide the soothing, luxurious experience of sitting in a massage chair and letting the rollers knead your back muscles. In fact, using a massage gun for an extended period of time can be dangerous. Overuse can cause nerve damage, numbness, and other chronic health issues. For this reason, use massage guns just a few times a week for no more than a few minutes at a time.

Massage chairs are also much more versatile than massage guns. Your massage gun might have a few settings, but massage chairs come with many settings & benefits that rival a session with a massage therapist. The features can vary across different models, but a massage chair could include heating elements, zero gravity modes, foot rollers, and other options.
A massage gun typically gives you one specific type of massage while a massage chair usually gives you many types of massages in one handy device. Overall, massage guns can be useful in certain situations, but don't assume that they're a replacement for a massage chair.
We hope you've enjoyed this massage chair & massage gun comparison and we hope you've gotten some good information.
If you have any questions feel free to call us at 800-566-2798. Thank you for reading!