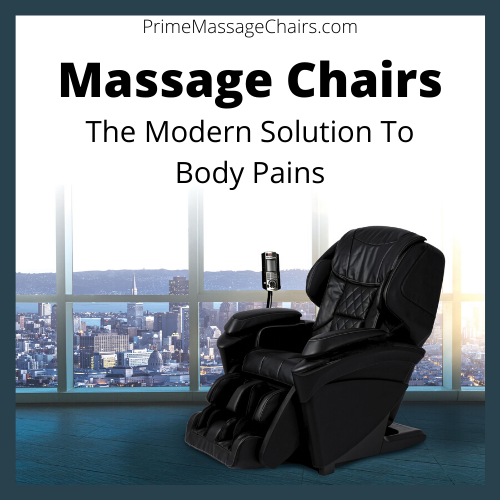 Massage Chairs: The Modern Solution To Body Pains

A long day at work means sore muscles and stiff neck for a lot of people. If you are a busy professional, visiting the nearest massage therapist can be time-consuming. Hence, consider investing in a massage chair instead. This electronic device can soothe your aching body and provide relief to chronic pains. More and more people are buying these chairs due to the benefits that they can offer. 
However, the prospect of buying this device can be daunting, especially if you are a first-time buyer. Is it a good investment? For the answer to be a resounding yes, there are factors that you need to consider first. Knowing the qualities of an excellent massaging chair will help you make a wise decision.
How to Choose a Good Massage Chair?
The benefits of massage chairs can be many, as the higher end models are typically loaded with the latest features. There are hundreds, if not thousands of models in the market today. You need to choose a chair that will suit your body's needs. To narrow down your choices, here are the following factors to consider:
Choose space-saving technology
Space is a common issue with first-time buyers. If your space at home is limited, consider buying a model that offers space-saving technology. This innovative design allows you to recline the chair while only needing a handful of inches away from a wall. Space-saving features make it easier for you to set up the chair even in smaller rooms.
Consider app & bluetooth functionality
Are you tech-savvy? Then you should consider buying a massage chair with app functionality for improved user experience. Most manufacturers nowadays incorporate integrated speakers and synching technology into their massage chairs. While getting massaged, you can listen to relaxing music or your favorite audiobook without ease.
Pairing your phone to the chair is convenient. Some models even come with app functionality, allowing you to control the device and customize programs with just a few clicks. Setting it up is easy. After downloading the application to your phone, connect your device to the chair, and it's ready to use.
Check the intensity settings
Different people like different massages. The variety of intensity is also crucial in choosing a home massage chair. Make sure to look for a chair that lets you adjust the intensity, position, speed, and massage length. These settings should be able to provide you with a personalized and unique massaging experience.
A high-end electric massage chair can provide a gentle massage to medium-strong intensity. Keep in mind that the intensity levels also vary in brands. The goal is to choose a chair that features an intensity for the type of massage you want.
The best body massage chairs use heat for effective massage delivery. If you want a more relaxing massage session with your chair, look for heating options. Infrared heat offers relaxation to your aching muscles.
Inspect massage functions
The goal of this chair is to give you a personalized and unique massaging experience that will suit your needs. Hence, inspect the massage functions before buying. You need a chair that offers more than a rolling massage and vibration. 
There should be a wide variety of features that aims to put your body at ease. High-end chairs have pre-programmed massages, make use of heat, and offer Zero Gravity positioning.
Add essential massage positions
Another essential feature that you shouldn't miss is the massage positions. Every massaging chair offers different positions, but what separates it from the best is its wide selection. It should not be limited to your neck and back. Your chair must also cater to other parts of your body, such as arms, wrists, legs, and feet. 
The chair will deliver massages to these area points by rollers, airbags, or massage heads. Some high-end chairs offer a thumb-like massage head for an optimal massaging experience. 
What are the Available Massage Programs?
Electric massage chairs aim to provide you with complete relaxation and wellness. Fortunately, there is a wide selection of massages that you can program and enjoy. Here are some of them.
As the name implies, this type of massage focuses on the deep muscles and joints. It is an effective treatment for chronic pains and sore muscles in the lower back, shoulders, and neck.
This type of massage provides relaxation, but it can be intense. The strokes are designed to knot muscles that are difficult to reach with normal massaging techniques. It also provides relief to the muscle tension after the massage. This type of massage is only ideal for people who have high pain tolerance.
The strokes are longer and focus on releasing muscle tension. It is ideal for people who have medium pain tolerance. 
Swedish massage provides relief to chronic pain and improves blood circulation. It is relaxing reflexology that you can enjoy before going to bed and is designed to improve your sleep quality.
This type of massage is also known as finger pressure. It aims to reduce stress and release muscle tension. The viewpoint of this massage is anchored to directing the life energy in your body. It works by unblocking channels to provide relief.
Several chairs now offer Shiatsu massage. It is ideal for people who want to try to alleviate their chronic pain and relax after a long day at work. 
FREQUENTLY ASKED QUESTIONS:


How much is a massage chair?

They usually go for $2000 - $10,000 depending on the quality of the product. The new and high-quality products come with different features that customers enjoy, whereas the low-quality ones are usually products that are outdated.


Do massage chairs really work?

Yes, a good massage chair with a full-body feature offers different kinds of mental, emotional, and physical health benefits. If you notice any sign of back and neck pains, we recommend getting one after you've consulted and received approval from your doctor.
Even cheaper ones can be worth the price, especially when compared to a massage therapist. The cost of weekly or monthly massages can cost you more in the long run.


Are massage chairs worth the money?

Yes, especially if you have frequent back pains that don't seem to go away. As we've said before, personal massages can cost you more in the long run. Massage chairs will last for years especially if taken care of.
Also, you don't have to schedule an appointment with a massage chair, you can use it anytime you want in the comfort of your home.


Why Buy a Massage Chair?
Here are some of the benefits of buying a massage chair.
It can reduce the level of stress in your body.
It can increase your productivity.
It can help to balance your mood.
It can help improve the quality of your sleep.
It can help improve blood flow.
It can reduce lower back pain.
It can help with chronic pain.
It can boost your immunity.
It can improve your flexibility.


Massage chairs aren't cheap. It's only natural that you choose the best chair to provide you with the best massage experience. Covering all bases and knowing what to look for can help you make the right decision. For people with an existing health condition, make sure to consult your doctor first before buying a massage chair.
If you would like to speak to one of our chair experts feel free to give us a call at 800-566-2798. We would love to be given the chance to earn your business!