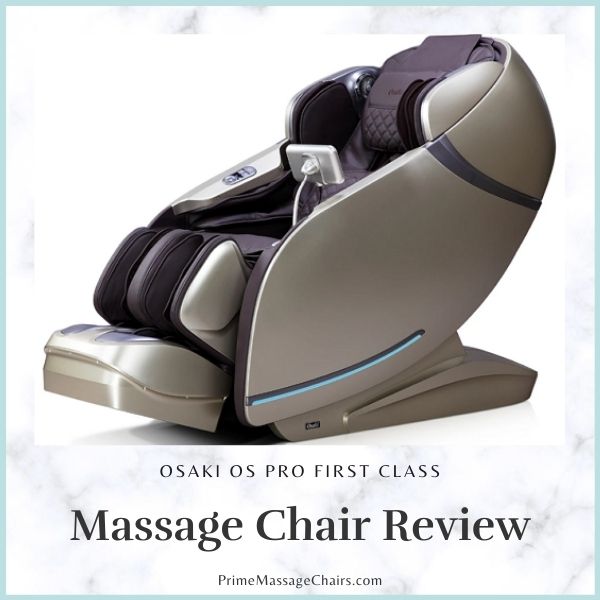 Massage Chair Review: Osaki OS Pro First Class
If your goal is to relax and find relief without the hassle of leaving the house, the right massage chair can be just what you're looking for. In this article, we review the Osaki OS Pro First Class massage chair, one of Osaki's most popular models.
Osaki is one of the largest massage chair brands in the United States and they've been around for a long time. They have the experience that newer brands just don't have and that's what you want when you're spending thousands of dollars on something you'll be using often.
Massage chairs can be one of the most worthwhile investments you can make due to the convenience and many benefits. These chairs genuinely can be part of the solution to body pain issues, stress relief, and in general a great way to wind down and relax.
Of course if you have any pre-existing medical conditions we always recommend getting approval from your doctor before using a massage chair.
The Osaki First Class is a full-body, luxurious massage chair that features an L-Track System, Zero Gravity positioning, 3D Massage Rollers, a Touch-Screen Remote, 23 Auto Programs, and a lot more which you'll see below.
It also has two convenient ways of operation, namely the touch-screen remote and the side controller. This massage chair has a lot of features that need to be elaborated on so without further ado lets get started.
Osaki Pro First Class Review:
3D Massage
Because of the 3D Massage Rollers outstanding range and flexibility, you can easily adjust them based on your massage preferences.
The 3D interface helps you control the length of rollers that reach out from the backrest, enabling you to have a deeper tissue massage where you need it most and lighter massage in the more delicate places.
Foot and Calf Roller Massage
There are rollers behind the calves which help provide relief. In manual control, you can monitor the calf kneading massage by three levels of pressure. It triggers acupressure points when the rollers spin. 
Whenever the airbags inflate, much deeper pressure is produced along the bottoms of your feet. The Osaki OS Pro First Class LE also has an ankle grip feature, which keeps your feet in place. In addition to this, this massage chair has an extendable footrest that comes down an additional 5.5 inches.
L-Track Massage
This chair's roller system massages the neck area and moves on to the lumbar region, much like an S-Track does. It also takes care of the glutes and upper leg muscles as well. 
This augmentation still follows the human spine inclination but extends its massage past where an S-Track would end.
Full-Body Airbag Massage
The airbags have been masterfully placed throughout the chair and provide a good better body massage experience. The First Class offers 24 airbags distributed around areas of the shoulders, neck, lower back, feet, and calves. This compression therapy helps ease discomfort and stress by improving circulation. 
Two-Stage Zero Gravity
The Zero Gravity pose is influenced by NASA and is the ideal position for the ultimate massage session. When put in Zero Gravity mode, the backrest will support the weight of your back.
In this posture, you can maximize the blood supply as the knees are raised above the chest to relieve the body further. In turn, it would help to enhance the massage intensity and reduce the tension in the spine.

Extendable Footrest and Adjustable Calf Position
The Osaki OS Pro First Class massage chair has a configurable footrest that can be stretched to a height of 5.5 inches to accommodate the people that are relatively bigger than the average. The area of the calves can also be shifted separately, which is a great touch.
Auto Massage Programs
The First Class has 23 different applications for auto massage, separated into four different divisions. You can choose from the categories VIP, Healthcare, Special, Relaxation, and each category has five to six auto programs.
Five Massage Styles
This luxurious massage chair comes with a detailed manual mode where you can generate your ideal massage based on your needs. You can choose between Kneading, Flapping, Swedish, Grasping, and Shiatsu. You can also aim at a particular area on your back, or sections of your body.
Manual Massage Settings
As expected from one of the top massage chairs, it comes with manual mode, so you can try a different massage or focus entirely on a particular area when you want.
The manual mode for the OS Pro First Class also allows you to monitor the massage position, roller width, speed, and 3D. Each category has many adjustable choices. Upper-Air, Foot Roller, Lower Air, Calf Knead, and Foot Roller are all controllable.
Variety Setting - Customization
This massage chair provides multiple options for each user to get the best treatment possible. You can select the language, sound, screen off timer setting, and brightness.
Space Saving Feature
The creative design team at Osaki has developed a space-saving technology which slides the chair forward as it reclines back. As a result, when wholly reclined, the OS Pro First Class needs just 1.5 inches from the wall, making it an excellent option for those with limited space.
Built-in Bluetooth Speakers
The First Class is equipped with Bluetooth technology that will allow you to listen to your favorite tunes and take phone calls through quality speakers. Bluetooth speakers are one of its most convenient features if you're a busy person. You can just connect the Bluetooth to your smart device before your massage session, so if there is a notification on your phone, you'll hear it right away.
Convenient Touch Screen LCD Remote
The First Class LE remote has an easy-view display with a magnetic holder to lock the remote in place.
You can choose the style, intensity, speed, and position of the massage from the remote. These functions can also be run separately in Manual Mode.
Convenient Side Controller
A convenient and straightforward side controller gives you the power to control, change the chair angle, try out the various modes of auto massage, leg extension, and foot extension.
USB Connector
Experience a massage in which you'll find your smartphone, iPad, or another gadget close by. Thanks to the built-in USB connector in the chair armrest, there's no need to get up to recharge anything.
Heat Therapy - Lumbar
The Osaki OS Pro First Class massage chair has two heating pads in the lumbar region which help to improve circulation and your overall massage experience. It's hard to imagine who wouldn't want a gentle heated massage on their lower back, right?

Manual Calf Kneading Control
There are rollers behind the calves that help to bring you relief. In manual mode, you can monitor the calf kneading massage with three levels of intensity.
Negative Ions
The Pro First Class is built with the incorporated negative air ionization therapy. The treatment uses air ionizers to treat seasonal affective disorder and mild depression as a non-pharmaceutical treatment.
Adjustable Shoulder Width
This Osaki massage chair allows you to change the width of the shoulders on the chair by simply pressing them inwards. A very convenient feature that allows a broad-shouldered individual to fit in the chair, or if your shoulders aren't so broad you can make that adjustment too.
Custom Settings
Will different people be using this chair? If so, there are 3 user memory settings that can be utilized. Just save your favorite settings for next time.
Auto Body Scan
The OS Pro First Class will conduct a body scan to map essential neck and back areas to ensure the maximum amount of pressure exerted during the treatment. The scanning software can detect the shoulders' height and be re-calibrated once the analysis has been completed.

Conclusion

We hope you've enjoyed this Osaki Pro First Class massage chair review and found it useful. This chair stacks up well against some of the best massage chairs and is priced very reasonably.
If you still have questions feel free to give us a call at 800-566-2798, we're happy to help and look forward to serving you.