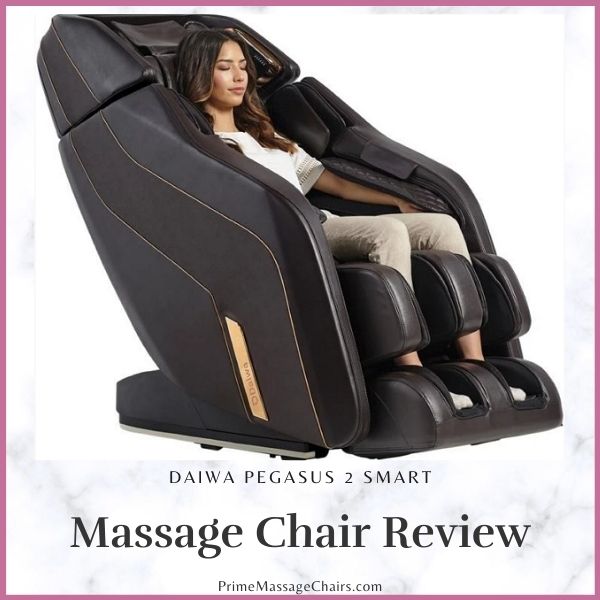 Massage Chair Review: Daiwa Pegasus 2 Smart
Daiwa is another one of the leading brands that manufacture some of the best massage chairs. Their collection includes chairs with the latest features, using state-of-the-art technology in space-friendly designs, with the Pegasus 2 Smart massage chair currently leading the way. Their chairs have premium upholstery, luxurious finishes, furniture-like structures, and worldly accents that look great in a home.
Daiwa Pegasus 2 Smart Review
The innovative design of the Pegasus 2 Smart enables it to take up as little space as possible while providing the widest collection of features. The design of the Wall-Hugger uses a pivot-base system so you can nearly put it up against a wall and still experience the full recline position. The zero gravity position places the body at an ideal angle that relieves pressure on the joints and provides a relaxed, weightless feel.
Let's take a look at some of the main features below:
Zero Gravity
Yes, the Daiwa Pegasus 2 Smart is a zero gravity massage chair. This chair can recline into the zero gravity position for even distribution of your body weight to reduce pressure on your joints, spine, and organs.
The zero gravity position is generally recognized as the healthiest way to sit.
Voice Activated Massage System
The Daiwa Pegasus 2 Smart massage chair is Daiwa's first chair with Smart-Listen Voice Control technology, allowing you to activate a massage program or adjust accordingly without having to lift a finger. Your Pegasus 2 Smart is a fantastic listener at the end of a hard day, delighted to welcome you in harmony with your favorite music with a calming shoulder massage.
It understands English, Spanish, Chinese, Korean, Japanese, and Vietnamese (traditional or simplified).

3D Massage Rollers
The next-generation 3D Massage Rollers showcase some of the Pegasus 2 Smart's abilities. The 3D rollers move in different directions that help them follow the normal curvature of the body. For the ultimate full-body massage you can select 5 levels of intensity.
Full Body Air Compression
In the Daiwa Pegasus 2 Smart, there are 48 airbags intact that rhythmically inflate and deflate during your massage session.
Air compression helps increase circulation, keeps the body in position, and also improves the experience by enhancing the sensation altogether. This massage chair also offers:
Undulating Airbag Foot Massage
Powerful airbags inflate and deflate around the calves and feet in an alternating fashion to ease discomfort and enhance mobility as the ankles are carefully held in place by built-in grips.
Auto Body Scanning
The Auto Body Scanning charts the back to ensure the precision and efficiency of the massage. This process provides a massage that is contoured to your spine's unique curvature, therefore, making the massage more effective.

L-Shaped Massage Track
The L-shaped massage track is developed to massage the back with excellent accuracy and preserves the proper curvature of the spine. The track extends below the lower back and hits the glutes, an area that isn't reached by the typical S-shaped massage track.

Shiatsu Wave™ Calf Massage
The Pegasus 2 Smart has the most cutting-edge leg stimulator that adds Shiatsu rollers to the back of the calves and provides a total massage of the calves. Not only do airbags rhythmically expand and contact on the feet and calves, but they are also now moving in a wave-like motion which will help revitalize weary calf muscles.

Shoulderfit™​ Technology
The Pegasus 2 Smart massage chair has by far the most sophisticated shoulder carriage framework with adjustable technology.
The chair itself will expand or contract to make it more spacious and appropriate for those with a broader shoulder frame to address your body's needs effectively. This feature is truly a groundbreaking achievement in the massage chair industry.
Heat Therapy
The Daiwa Pegasus 2 Smart massage chair's therapeutic heat feature is centered around the lumbar area, offering calming relief from constant lower back pain. Heat therapy can help decrease stress and tension, relieve arthritis pain, and heal muscle fibers that are sore. Heat also makes the muscles loosen up during the massage, making it more comfortable. 
Space-Saving Wall Hugger Design
The gliding recline mechanism of the Pegasus 2 Smart takes up far less space than most other massage chairs on the market, allowing the chair to fully recline even when placed less than an inch from a wall!
This feature is especially useful if you're limited on space and let's be honest, we all want to be as efficient as possible with our living area.
Rocking Rotation Technology
The Daiwa Pegasus 2 Smart massage chair rocks softly back and forth to create the feeling of a traditional rocking chair. You can enjoy this feature with any of the massage functions as an alternative, or enjoy it alone.
Bluetooth Surround Sound Speakers + Smartphone Charging Station
Using Bluetooth, the Pegasus 2 Smart App links to the chair's wireless communication. Use the app to access control systems such as manual and fully automated massage programs, target massage to various parts of the body, or vary the type and intensity of the massage.
Bonus Pads
The soft chair pad is 3/4 inch thick, and this allows you to enjoy the chair as a recliner without even any massage treatment. If you choose, you can relax and sleep in the massage chair without even turning it on because of how comfortable it is.
Luxurious Saffiano PU Leather
Luxury purse manufacturers have created the Saffiano design to give the leather surface a crosshatched look that is sleek, sturdy, and easy to keep clean. A further differentiating factor, the Daiwa Pegasus 2 Smart features Saffiano PU leather.
Multi-Language User-Friendly Hand-Held Remote
The Daiwa Pegasus 2 Smart massage chair controller is straightforward to use and operate. To create the perfect relaxation experience, you can intuitively choose from 9 different auto programs with three different timer settings (27 total) or seven customizable manual programs.
A handy pocket helps to keep your controller protected and within reach. The remote contains a broad range of languages, including English, Spanish, Chinese (Traditional), Chinese (Simplified), Korean, Japanese, and Vietnamese. You can also switch between the relaxation programs quickly and smoothly without disruptions.
Easy-To-Use Auto Programs
You can choose from 27 auto programs (nine automatic programs with three different timer configurations) or 6 adjustable manual programs with the Daiwa Pegasus 2 Smart massage chair's easy-to-operate handheld controller. The Tapping feature is designed to eliminate chronic pain by stimulating blood flow that may be exhilarating for some or others too intense.
Royal Treatment:

a medium-high intensity therapy that focuses on soothing muscle pain and tension; supports a positive and healthy mentality. 

Stress relief:

a wide range of mild muscle massage techniques to warm the muscle fibers; promotes pleasant and relaxation to the Body.

Gentle Care:

Gentle relaxation session; eases back, stomach, and hip muscles; promotes flexibility and recuperation. 

Relax:

Smooth, all-over massage relaxing with various techniques; promotes stress relief to prepare for deep relaxation.

Recovery:

Induces all-over massage using different 

methods; invigorates and encourages a positive mindset.
Extend:

All-over therapeutic massage using different techniques;

 relieves stress and refreshes the body. 
Lower Body:

a mixture of clinical practice for deep tissue massage; focusing on muscle fibers along the spine, upper and lower back, and lumbar. 

Upper Body:

a mixture of medical methods with deep tissue massage; works on the tissues in the spine, shoulders, and upper back. 

Refresh:

a combination of therapeutic approaches for massaging deep tissue; focuses on the lumbar, waist, thighs, and around the hip joints.
The plethora of useful massage programs in the Pegasus 2 Smart will allow you to find your ideal massage.
Conclusion
We hope you've enjoyed our Daiwa Pegasus 2 Smart review and found it useful. This massage chair is just loaded with useful features and has a look that anyone would be proud to showcase in their home.
We think it's safe to say the Pegasus 2 Smart is one of the best massage chairs on the market. Feature for feature, it stacks up pretty well against most of our other massage chairs.
If you have any questions feel free to call us and talk with one of our experts at 800-566-2798 or you can Live Chat with us. Thank you for reading and we'd love the opportunity to earn your business!