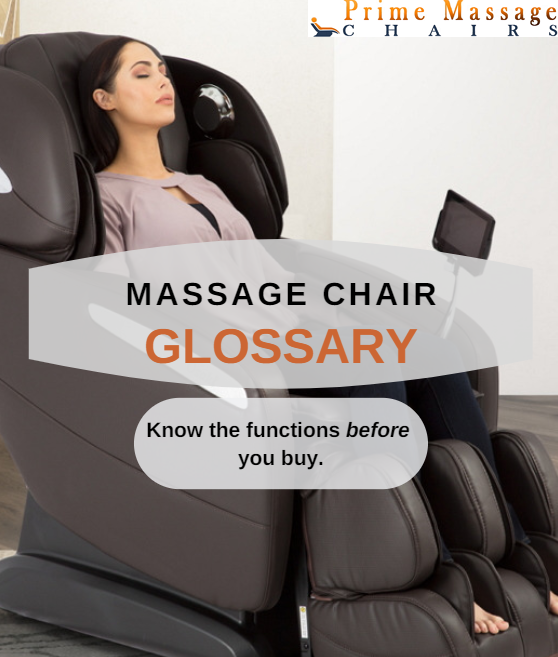 Massage Chair Glossary
Introduction
1. 2D Massage
A massage chair equipped with 2D massage has rollers in the chair that move up and down and left and right. 
2. 3D Massage
With a 3D massage chair, the rollers in the chair move up, down, left, right, and in and out for a more effective massage.
3. 4D Massage
With 4D massage, the rollers in a massage chair can do everything that the 3D rollers can do in terms of motion, but can go faster or slower.
4. Acupressure
Think Acupuncture but without the needles. Acupressure is the application of pressure with thumbs or fingertips to the same discreet points on the body stimulated in Acupuncture that is used for its therapeutic effects according to meriam-webster.
5. Acupuncture
First practiced in ancient China, Acupuncture involves the use of needles placed at various points throughout your body. Acupuncture is mainly used for treating pain.
6. Airbag Massage
With Airbag Massage, airbags are placed strategically throughout the massage chair for maximum effect. When the airbags compress they help loosen up tense muscles.
7. Computer Body Scan
A massage chair equipped with computer body scan technology is able to adapt the massage to many different body types after scanning the body. This is to ensure that each user gets the correct massage in the right areas.
8. Clapping
The Clapping technique consists of stimulating short rounds of alternating strength to relax a person's body. It's like having your loved one massage your back with the side of their hand closed.
9. Compression Massage
Compression massage uses a firm but gentle pressing and irregularly rubbing action to special sections of each body.
10. Deep Tissue Massage
Deep Tissue specializes in certain areas rather than general areas. This is to allow for a deeper massage in the areas that are needed most.
11. Heat Therapy
Heat Therapy is just another term for a warm massage. Heaters are placed in different areas of a massage chair if the chair is equipped with heat. Heat Therapy allows for a more relaxing massage.
12. Kneading Massage
The Kneading massage technique uses the fingers and the thumb to make a pinching simulation which is great for blood circulation.
13. Massage Chair Rollers
Massage chair rollers work along the track and typically service the upper and lower back region.
14. Massage Chair Tracks
The track that the rollers travel on. You'll see different terms like S-Track, L-Track or SL-Track when doing your research on massage chairs and they're appropriately named after the shape of the track.
15. Reflexology
Reflexologists believe that applying pressure to specific points of the feet, hands or ears will help reduce stress levels. Those points are considered to be linked to organs and systems all through the body, supplying treatment to them. It can be applied by pinching or using a deep pushing in motion.
16. Shiatsu Massage
Shiatsu massage is one of the Japanese methods that involve the fingers, palms, and thumbs of your hands to make the muscles stretch throughout the body.
17. Swedish Massage
Swedish massage does a different therapy that consists of stretches and multiple styles. This involves lengthy strokes, kneading, and resistance to different muscle groups in addition to joints. This technique is great for full body massage.
18. Stretch Massage
There are 2 types of stretch massage in massage chairs. The most common stretch massage will inflate in the feet and calves and pull down stretching your lower back. The other type of stretching massage is where the rollers go up and down along your spine causing your back to do a reverse "C", stretching the vertebra.
19. Tapping
The Tapping technique uses a deep muscle massage through imitating fist patting on your shoulders and back muscles. This really helps with releasing stress in these areas.
20. Vibration Massage
Vibration massage offers a well-balanced shaking effect which can vary in intensity and speed. It's not only gentle but relaxing also.
21. Zero Gravity
The Zero Gravity position transitions the body to allow the feet to be elevated higher than the heart. This idea originated from NASA and is believed to be the most relaxing position to enjoy a massage.
Conclusion
Massage Chairs aren't something people typically buy on a whim and we understand that. You should fully understand what you're buying so you get the best massage chair for your needs, and that's where our massage chair buyers guide comes in handy. 
We hope you've enjoyed this article and found it useful!
If you're ready to buy a new massage chair why not shop with us? Free Shipping, No Tax in most states, and an industry-leading 6 Month Low Price Guarantee!
Have questions? You can speak with one of our helpful massage chair experts at 800-566-2798.