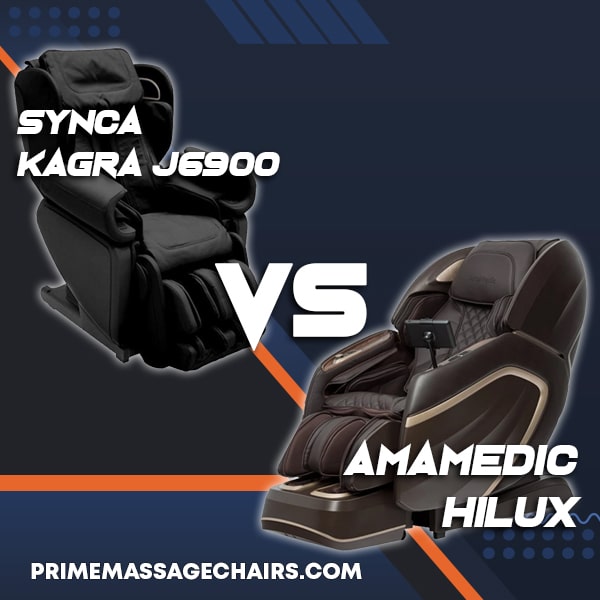 Massage Chair Comparison: Synca Kagra J6900 vs AmaMedic Hilux
Picking out a new massage chair is a lot easier said than done. Some of them look nice but do not provide a whole lot of relaxation. The Synca Kagra J6900 massage chair and the AmaMedic Hilux massage chair are two upscale chairs that offer many benefits. But is one of them better for you than the other?

Truth be told, both massage chairs offer comprehensive, personalized massages. Each one offers an array of manual and automatic massage programs and other features that are helpful for alleviating stress and coping with chronic pain. If you are considering purchasing a massage chair, read on to learn more about these two high-end chairs.
Top Features of the Synca Kagra J6900 Massage Chair
Whether you want an intense full-body massage or a shiatsu foot massage with pulsating vibrations, the Synca Kagra J6900 has the functions you need to help you relax. Its seventy-eight massage techniques cater to your various needs, and the triple-region system ensures that heat reaches all the parts of your body you want it to.

In particular, you might like the adjustable heating pad, 4D massage rollers, adjustable positions, Bluetooth-capable speakers, and body sensors. Let's take a closer look at each of these.
Adjustable Heating Pad
Unlike your average massage chair, the Synca Kagra has an adjustable heating pad that covers more than just your lumbar region. This heating pad can be adjusted to warm your front or back. There are even pockets in which you can warm up your hands. This feature is perfect for use on a cool winter night or after a long day that inflicted wear and tear on your body.
The Synca Kagra J6900's 4D massage rollers have a full range of motion. This means that the rollers can penetrate more deeply into your muscle tissue, massage more gently, and move in a variety of directions. They offer greater penetration and precision. These rollers are able to turn about and hit problem areas that 2D or 3D rollers might not.
Adjustable Positions
The Synca Kagra J6900 can be used as a recliner and a massage chair due to its adjustable positions. The backrest and footrest can both be adjusted in order to find the optimal reclined angle. Since it also has zero gravity mode, you can feel weightless while you sit and relax in this chair.
Bluetooth-capable speakers are built into the Synca Kagra J6900. Simply pair your smartphone with these wireless speakers to stream your favorite tunes, soundscapes, nature sounds, guided meditations, or anything else that helps you get comfortable. A pocket built into the side of the chair can house your smartphone or tablet while you kick back and enjoy a massage.
Body Sensors
Every individual has a different body shape, right down to the length of the spine. Some chairs do not acknowledge that. Body sensors are built into the Synca Kagra J6900 massage chair. These sensors detect your unique body shape and adjust your massage settings in order to cater specifically to it.
Synca Kagra J6900 Pros & Cons
Pros:
Precise 4D technology
Real body scanners
Bluetooth-capable speakers
Zero gravity positioning
Comes with adjustable and rotating ottoman
User Height Range: 5'0" - 6'2"
Maximum Weight Capacity: 300 lbs.
Cons:
Takes about an hour to assemble
Not meant for anyone weighing over 300 pounds
User cannot be taller than 6'2" or shorter than 5'0"
Top Features of the AmaMedic Hilux Massage Chair
Now, let's switch over to the AmaMedic Hilux massage chair. This massage chair has a lot of features for the price and is covered by a generous warranty. With its space-saving and zero gravity technology, the Hilux is a chair that you can relax in whenever you want.

Key features on the Hilux include two-stage zero gravity, an advanced 4D massage, SL-track massage, an adjustable shoulder massage, and a wireless charger and USB port. Now, let's take a deeper look at these handy features.
Two Zero Gravity Modes
Speaking of zero gravity, this chair has two different modes. This helps to give you that weightless feeling as you get a massage. You can choose how far back you would like for your chair to recline automatically, or you can manually adjust it by using the remote.
This technology is inspired by NASA, distributing pressure and weight evenly in order to alleviate tension from muscle groups in the back.
Advanced 4D Massage
The 4D L-track massage has been improved recently to provide you with a deeper, wider, and more precise massage than your average 2D or 3D massage rollers.
This technology was built to emulate the hands of a masseuse, and you get eight levels of 4D intensity to choose from. Enjoy plenty of adjustments, including those for roller speed and air massage intensity.
SL-Track Massage
The Hilux is designed with an SL-track massage system. This is a combination of the L-track and S-track designs that are popular on other massage chairs.
The S-track rollers form to the natural curvature of your spine, and the L-track goes from your neck down to your glutes. This design covers fifty percent more massage area than the S-track alone.
Touch Screen Remote Tablet
The AmaMedic Hilux's remote gets a seriously tech-savvy upgrade to a touch screen remote tablet. This user-friendly viewing screen shows you the functions of the Hilux. Its easy-to-use interface has a very short learning curve, allowing you to easily adjust the chair's settings at your whim.
Also, you can lock the touch screen remote tablet into place with a magnetic holder. You can still use the side panel controller that is built into the arm of the chair if you prefer.
Wireless Charger and USB Port
Not all massage chairs come with USB ports or wireless chargers. The AmaMedic Hilux has both. Simply place your phone on the wireless charger located at the top of the armrest when you need to charge it. There is also a USB port that you can use if you prefer.
AmaMedic Hilux Pros & Cons
Pros:
Advanced 4D massage
Heated rollers
Two-stage zero gravity technology
Touch screen remote tablet
Wireless charger and USB port
SL-Track
Space saving technology
Comes with side panel controller
Bluetooth HD speakers
User Height Range: 5'0" - 6'3"
Maximum User Weight: 270 lbs.
Cons:
Maximum user weight of 270 pounds
User cannot be taller than 6'3" and shorter than 5'0"
Maximum shoe size is U.S. men's thirteen
Available Programs
Having your pick of a lot of different programs can help customize your massage experience. There are a whopping seventy-eight massage styles to choose from on the Synca Kagra J6900, plus five levels of massage intensity, three air strength levels, and a built-in ottoman.
On top of that, this chair comes with eight automatic massage programs, multiple stretch options, and options for foot massages. You can stretch any or all of your key body parts: hips, legs, lower back, chest, shoulders, and neck.

The AmaMedic Hilux massage chair comes with a variety of programs, many of which have been upgraded for the current model. Calf, bridge, and knee & heel massage are all new for this chair. Its twenty different auto massage programs are divvied up into four massage area categories: neck & shoulder, lower back, manual, and advanced.
Conclusion
Take advantage of the real body sensing and adjustable heating features of the Synca Kagra J6900 to melt the day's stresses away. You can't go wrong with this chair's enhanced software and wealth of available programs.
For more coverage, however, you may prefer the SL-track of the AmaMedic Hilux. The touch screen and side panel controllers make it easy for anyone to access all of this chair's features.
Whether you choose the Synca Kagra J6900 or the AmaMedic Hilux, you can expect some high end features and a chair capable of relieving your physical and emotional stress. Kick back and relax in one of these massage chairs, sync up your favorite sounds, and allow the 4D massage rollers to relieve your aches and pains.
We hope you enjoyed this comparison and found it helpful. If you have any questions feel free to call us at 800-566-2798. Thank you for reading!