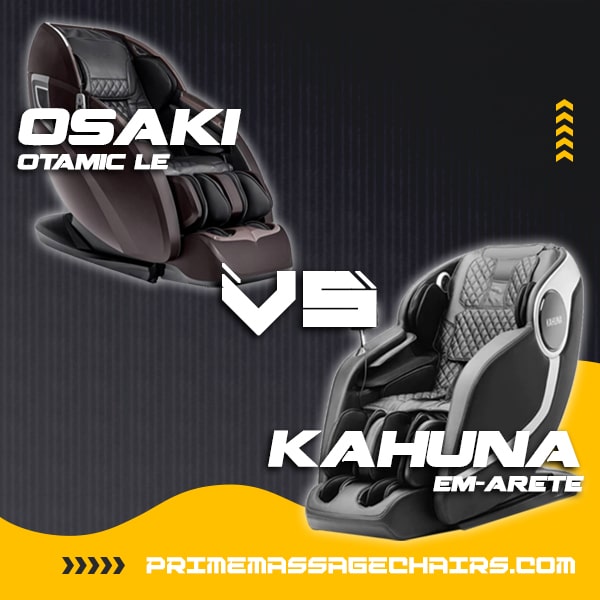 Massage Chair Comparison: Osaki Otamic LE vs Kahuna EM-Arete
The Osaki OS 3D Otamic LE massage chair offers superior performance and a lot of great features at a very affordable price point. It features the contoured fifty-three-inch SL-track system to ensure complete massage coverage. The Kahuna EM-Arete massage chair is a great mid-level chair that comes loaded with a host of ergonomic design features and twenty-four auto massage programs.

Both massage chairs offer great value and are a very cost-effective way to enjoy a stress-relieving massage experience any time you want. Here's a head-to-head comparison between the Otamic LE and the Kahuna Arete to help you make an informed decision.
What Features Does the Osaki OS 3D Otamic LE Massage Chair Offer?
SL-Track
The Osaki 3D Otamic LE features an ergonomically contoured track designed to match the shape of your back.

The rollers move along the track from your neck and work their way down to your hamstrings.
Airbag Massage
The chair includes thirty compression airbags located near common pressure points. The airbags will target trouble areas in your spine and lower back and provide additional dimensions of compression.
Advanced Body Scan Technology
Each massage will begin with a computerized full-body scan to further customize your massage to your body's natural dimensions. The chair can accommodate users from 5'0" - 6'3" in height and up to a maximum weight of 270 pounds.
Auto Extendable Footrest
After the massage chair is in the fully reclined position, the footrest will adjust to accommodate the length of your legs. The footrest also includes heat for your feet which can help enhance your massage.
Adjustable 3D Massage Rollers
This is a nice feature that some other massage chairs just don't have. The Otamic LE by Osaki offers you the choice of five different roller depths (pressure adjustments), and you can make adjustments manually while your massage is in progress.
Zero Gravity & Space-Saving Design
The Otamic LE features a zero gravity design to simulate weightlessness during your massage. Elevating your legs can help stimulate blood flow and improve your circulation, and the chair offers you the choice of two zero gravity settings.
You will also only need three inches of clearance from the from the headrest to the wall to set up your chair and position it into the reclined zero gravity position.
Bluetooth Speakers
The Otamic LE features Bluetooth-enabled speakers for an immersive audio experience.
Whether you want to listen to music or ambient audio during your massage, once you've connected your compatible smart device you can listen to whatever you like.
Which Programs Come with the OS 3D Otamic LE Massage Chair?
The Otamic LE features a combination of airbags and rollers that come together to provide the user a therapeutic massage. This chair comes with 9 auto massage programs and 5 massage styles.
The 9 auto programs are Recover, Deep Tissue, Chinese, Midday Nap, Thai, Rejuvenate, Relax, Neck/Shoulder, and Strengthen. The 5 massage styles are Kneading, Tapping, Shiatsu, Clapping, and Rolling.
Osaki OS 3D Otamic LE Pros and Cons
Pros
3D massage rollers
Ergonomic SL-Track
Zero gravity positioning
Space saving technology
Heat therapy
Handheld & side panel controller
Bluetooth capable speakers
Auto extendable footrest
User Height Range: 5'0" - 6'3"
User Maximum Weight: 270 lbs
Cons
Maximum User Foot Size: US Men's Size 13
User cannot be taller than 6'3" or shorter than 5'0"
User cannot weigh more than 270 lbs.
What Features Does the Kahuna EM-Arete Massage Chair Offer?
The Kahuna EM-Arete massage chair offers a next-level immersive relaxation experience for discerning professionals on a budget. With superior craftsmanship and comfort, it comes luxuriously appointed with elegant synthetic leather. The chair is ready to use right out the box, and it includes several great relaxation and comfort features.
3D Massage
The EM-Arete features 3D massage rollers that roll on an SL-track designed to accommodate your spine's natural curvature. You can also manually adjust the position, movement, and intensity of your massage rollers on the fly as you relax.
Heated Massage
Applying heat to trouble areas can help you ease muscle tension, muscle spasms, and pain.
It can also improve circulation and increase blood flow to the affected area.
Auto Leg Extension
The EM-Arete massage chair will extend to accommodate your legs. The chair will adjust to fit users anywhere between 5'1" - 6'3 in height.
Multiple Zero Gravity Settings
The Kahuna EM-Arete elevates your legs and features three different zero gravity positions. Designed to make you feel like you're floating on air, and raising your legs can also help you to reduce tension and improve your blood circulation.
Touch Screen Tablet Remote
The Arete comes standard with a touch screen tablet remote that makes using the functions much easier.
You can easily browse through all your massage programs from your touch screen controls as you relax.
Bluetooth Capable Speakers
The massage chair features a built-in Bluetooth speakers so you can connect your Bluetooth-capable smart device. You'll be able to listen to your favorite podcast or drift off to sleep to ambient music.
Which Programs Come with the Kahuna EM-Arete Massage Chair?
The EM-Arete features twenty-four auto programs grouped into three categories.
Classic - Renew, Refresh, Recovery, Stretch, Morning, Night, Anti-Stress & Energize.
Specialty - Salesman, House Wife, Office Clerk, Game Player, Driver, Sports Man, Server & Senior.
Elite Target - Neck, Neck & Shoulder, Back Relief, Waist, Waist & Hip, Leg Feet, Upper Body & Lower Body.
Kahuna EM-Arete Pros and Cons
Pros
Arrives fully assembled
SL-track design
3D Massage Rollers
Three zero gravity positions
Touchscreen tablet remote
Reflexology foot rollers
Heat therapy
Auto leg extension
USB charging station
Bluetooth capable speakers
User Height Range: 5'1" - 6'3"
Maximum User Weight: 280 lbs.
Cons
User cannot be taller than 6'3" or shorter than 5'1"
User cannot weigh more than 280 lbs.
Conclusion
The Osaki OS 3D Otamic LE Massage Chair offers its users a nice massage experience as well as great value for the price. We like the looks of both of these chairs as well.
The Kahuna EM-Arete is a great buy for consumers who are seeking premium massage chair features at a mid-level price point. The EM-Arete's multiple zero gravity settings and its wide assortment of presets offer great convenience for busy users who never know how they will feel at the end of a busy day at the office.
Both massage chairs are a solid investment, and your final purchasing decision should ultimately be influenced by your own personal needs and preferences. The Arete includes more preset comfort programs, but also costs more.
We hope you enjoyed this comparison and found it helpful. If you have any questions feel free to call us at 800-566-2798. Thank you for reading!