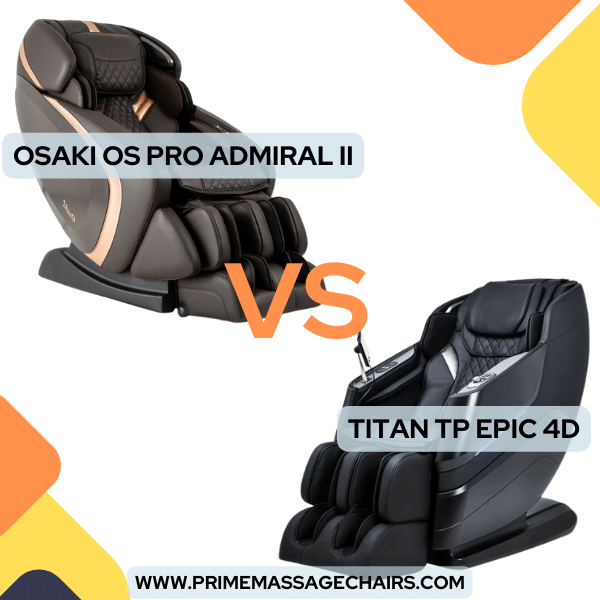 Massage Chair Comparison: Osaki OS Pro Admiral II vs Titan TP Epic 4D
Choosing the right massage chair can be a daunting task with so many models available, in today's article we're going to compare two popular models: the Osaki OS Pro Admiral II and the Titan TP Epic 4D.
In this comparison, we'll highlight the key features of each chair, their similarities, and differences, to help you make an informed decision on which massage chair is the best fit for you.
Table of Contents:
Top Features of Osaki OS Pro Admiral II
3D Massage
Experience the next level of relaxation with the Osaki OS Pro Admiral II's 3D massage feature. Its rollers have a broad range and can flex, giving a massage that feels like real hands. The key feature is the 3D technology, which lets you control how far the rollers stick out from the backrest.
This means you can adjust how deep the massage goes. Plus, it has five intensity levels, so you can choose how hard or soft the massage is.
L-Track Massage
Experience full-body relaxation with the L-Track Massage feature. The rollers start from the neck area and smoothly move down to your lower back to your glutes and upper hamstrings.
This feature ensures that even the hard-to-reach areas of your body get the soothing touch they need.
Zero Gravity Recline
The zero gravity position aligns your back with your thighs, creating a posture that reduces stress on your body. It's like floating in space, hence the name "Zero Gravity." This position allows for maximum comfort as it evenly distributes your body weight, reducing pressure points.
It's perfect for those who spend a lot of time on their feet or sitting at a desk. The Zero Gravity Recline is not just about comfort, it's about giving your body the rest it truly deserves.
Heated Lumbar
Experience the added comfort of the Heated Lumbar feature. This feature includes heating pads in the lumbar area, which can be turned on or off according to your preference. The mild warmth from the pads soothes your lower back, potentially providing relief from tension and stiffness.
Massage chairs with heat are known to offer a more enjoyable experience, as the heat helps to relax your muscles, making the massage more effective. So, whether it's cold outside or you've just had a long day, the Heated Lumbar feature adds an extra layer of relaxation to your massage chair experience.
USB Charging Port
Enjoy the convenience of the USB Charging Port feature. This handy addition means you can charge your electronic device while relaxing with a massage. No need to worry about your phone or tablet running out of battery while you're taking time for yourself. 
Just plug in your device and let it charge while you unwind. This feature ensures that you can stay connected, even while you're taking a break. It's just one more way that the Admiral 2 is designed to make your relaxation time as stress-free and enjoyable as possible.
Pros and Cons of Osaki OS Pro Admiral II
Pros:
3D Massage Rollers
L-Track Design
Full Body Airbag Massage
Auto Body Scan
Space Saving Technology
Foot Rollers
Zero Gravity Recline
Heated Lumbar
Automatic Leg Extend
15 Auto Programs
6 Massage Styles
USB Charging Port
Bluetooth Speakers
Multi-Language Support
LCD Remote
User Height Range: 5'0" - 6'3"
Max. User Weight: 220 lbs.
Cons:
Only 3 colors available (black, brown, or taupe)
User cannot be taller than 

6'3" or shorter than 5'0"

User cannot weigh more than 

220 lbs.
Takes approx. one hour to assemble
Top Features of Titan TP Epic 4D
4D Massage
Experience the future of relaxation with the 4D Massage feature. This advanced system is specially designed to target the neck and shoulder areas - parts of the body that often hold the most stress.
The deep tissue technology goes beyond surface-level relief, reaching into your muscles to ease tension.
This unique massage experience revitalizes your body, providing relief from the stress and strain that can build up in these areas. So, after a long day, let the 4D Massage feature work its magic, leaving you feeling refreshed, relaxed, and ready to face a new day.
SL-Track
Titan has carefully designed the SL-track to ensure the chair's rollers glide smoothly from your neck's base to your hamstrings.
The SL-track follows your body's natural curve, ensuring your body gets the attention it deserves.
This thorough and all-encompassing massage is tailored to your body's needs. Whether you've had a long day at work or an intense workout, the SL-Track feature can leave you feeling relaxed, and relieved.
Infrared Heat
You'll appreciate the relaxing mild warmth of the Infrared Heat feature on the Titan TP Epic 4D massage chair. This integrated heating system uses two infrared heating coils to warm your lower back effectively.
This mild warmth eases tension in the muscles, providing a comforting sensation that helps you relax.
Wireless Charging
Experience the convenience of the Wireless Charging feature. Just place your compatible smartphone in the designated spot, and it will charge wirelessly while you enjoy your massage.
This smart feature combines technology and relaxation in a seamless way. You can keep your phone's battery full while you sit back and relax.
Space Saver
Enjoy the smart design of the Space Saver feature on the Titan TP Epic. This thoughtful feature allows you to save space in your home.
The Epic only needs a mere 6 inches from the back of the headrest to the wall to fully recline.
It's perfect for smaller spaces or rooms where every inch counts. With the Space Saver feature, you can enjoy the full benefits of a relaxing massage without taking up too much room in your home.
Pros and Cons of Titan TP Epic 4D
Pros:
Voice Control
Touchscreen Controller
4D Massage
Body Scan
SL-Track
Zero Gravity Reclining
Full Body Air Massage
Foot & Calf Rollers
Dual Heating Zones
12 Auto Programs
6 Manual Modes
Extendable Footrest
Quick Access Panel
Bluetooth Speakers
Space Saving Technology
LED Lighting
User Height Range: 5'0" - 6'4"
Max. Weight Capacity: 260 lbs.
Cons:
Only 3 colors available (black, brown, or taupe)
User cannot be taller than

6'4

" or shorter than 5'0"

User cannot weigh more than 260 

lbs.
Similarities and Differences
The Osaki OS Pro Admiral II and the Titan TP Epic massage chairs both offer a range of advanced features designed to provide a relaxing and rejuvenating massage experience.
Both have massage rollers that allow you to control the in and out motion intensity, which is great if you want a more or less intense massage.
However, there are some differences between the two. The Titan Epic offers wireless charging for compatible smartphones, a feature the Admiral lacks. The Admiral does have a USB charging port though, allowing you to charge your electronic devices while enjoying your massage.
Both chairs offer different features that cater to different needs, but both aim to provide a superior massage experience.
User Height Range and Max Weight Capacity
The Osaki OS-Pro Admiral II accommodates users ranging in height from 5'0" to 6'3" and can support a maximum weight of 220 lbs.
On the other hand, the Titan TP Epic 4D is slightly more accommodating, with a height range from 5'0 to 6'4 and a higher maximum weight capacity of 260 lbs.
Conclusion
In conclusion, both the Osaki OS Pro Admiral II and the Titan TP Epic 4D massage chairs offer an array of advanced features aimed at providing a superior massage experience.
They both excel in delivering a personalized massage with their 3D and 4D massage features and offer the added comfort of heat in the lower back area.
Ultimately, the choice between the Osaki Admiral 2 and the Titan Epic 4D would depend on your personal preferences, space considerations, and specific needs. Regardless of the choice, both chairs promise a relaxing and rejuvenating massage experience.