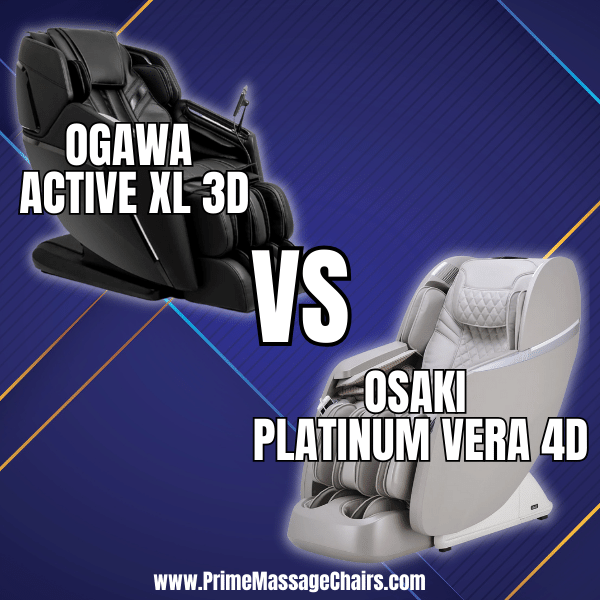 Massage Chair Comparison: Ogawa Active XL 3D vs Osaki Platinum Vera 4D
Welcome to our comparison of two nicely-equipped massage chairs: the Ogawa Active XL 3D and the Osaki Platinum Vera 4D. Both of these chairs aim to bring the luxury and benefits of a professional massage right into your home.
The Ogawa Active XL 3D is praised for its extended SL track and 2 Stage Zero Gravity feature, offering full-body coverage and a unique, weightless relaxation experience. The Osaki Platinum Vera 4D, on the other hand, boasts an Intelligent Health Detector and graphene heating, providing a personalized massage experience and soothing heat therapy.
While they share some similarities, each chair also has its own unique features that make it stand out. Let's dive into the specifics of each chair to help you decide which one might be the perfect fit for your relaxation needs.
Table of Contents:
Top Features of Ogawa XL 3D
SL Track
The Ogawa XL 3D Massage Chair has a roller track that's shaped to fit your body. This chair's track is longer than usual. Why is that good? Because it means the chair can massage you from your neck all the way down to your bottom and upper thighs.
2 Stage Zero Gravity
The Active XL 3D massage chair has a useful called 2 Stage Zero Gravity reclining. This feature reclines the chair and lifts your knees higher than your heart. This position is great for taking pressure off your lower back. It also potentially helps blood flow better and may even lower your blood pressure.
When you're in this Zero Gravity position, you feel near-weightless. Because you're reclined, the chair's rollers can press harder on your body. That means your massage will be even deeper and more satisfying.
3D IntelliGlide™
The advanced 3D IntelliGlide™ feature in this chair is truly next-level. It uses 3D rollers that act just like human hands. They move and change speed just like a real masseuse would, giving you a truly relaxing massage.
The 3D IntelliGlide™ rollers have been updated for even more accuracy. They're made of medical-grade silicone, which feels just like skin. So, it's not just a regular massage - it's a lifelike experience.
Reflexology Massage
The Reflexology Massage feature on this chair is all about your feet. It uses special foot rollers that focus on certain areas. These rollers knead your feet, helping to get rid of any tension. The result? Your feet may feel better and super relaxed.
Heat Therapy
The Heat Therapy feature of this chair brings you soothing warmth right where you need it. You can enjoy this heat in the lower back area, the seat, and even your legs.
Heat is known to enhance the overall massage experience and help relax tense muscles.
Pros and Cons of Ogawa Active XL 3D
Pros:
L-Track
3D Massage Rollers
Wider Seat
Zero Gravity Recline
Air Compression Technology
Reflexology Foot Massage
Touch Screen Tablet
16 Pre-Programmed Massages
Patented Stretch Techniques
Quick Access Controls
Body Scanning
Space Saving Technology
Heat Therapy
Automatic Ottoman
Quiet Technology
Bluetooth Speakers
User Height Range: 

5'0" - 6'4"

Max. Weight Capacity: 320 lbs.
Cons:
The chair might be too large for smaller living spaces.
Due to its features and construction, the chair could be heavy and difficult to move.
User cannot weigh more than 320 lbs.
User cannot be taller than 

6'4" or shorter than 5'0"
Top Features of Osaki Platinum Vera 4D
Intelligent Health Detector
The Osaki Platinum Vera 4D massage chair comes with a smart feature called the Intelligent Health Detector. This feature uses AI, or artificial intelligence, to adjust the chair's massage techniques. It can change the intensity of the massage and even focus on different areas of your body, all based on your body's current state.
This means every massage you get from this chair is tailored just for you. It's like having a personal masseuse who knows exactly what your body needs.
4D Massage
The 4D Massage feature in the Osaki Vera is something to experience. It uses a special mechanism that, along with smart sensors, gives a massage that feels just like human hands. It can focus on each muscle group in your body with amazing precision.
So, whether you have sore shoulders, a tight back, or tired legs, this chair knows just what to do. With the 4D Massage feature, you get a massage that's not just good - it's precise and personalized.
User-Friendly Touchscreen Controller
The Osaki Vera 4D massage chair makes it easy to choose your massage with its user-friendly touchscreen controller. This isn't just any controller. It's a touchscreen, so using it is as simple as tapping on what you want. You can easily go through all the different programs this chair offers.
Want to adjust the settings? No problem! With this controller, you can change things up in a snap. So, you don't have to worry about complicated buttons or confusing controls. With this chair, getting your ideal massage is as easy as a tap on a screen.
Zero Gravity Reclining and Space Saving Technology
The Osaki Vera 4D massage chair has two cool features - Zero Gravity Technology and Space Saving Technology. With Zero Gravity, the chair reclines you into a position that makes you feel almost weightless. This helps take pressure off your body, making you feel super relaxed.
But what about space? The Space Saving Technology lets you put the chair just 9 inches from the wall and still fully recline. So, even if you don't have a lot of room, you can still enjoy a full, relaxing massage.
Heated Lumbar and Calves
The Osaki Vera massage chair brings warmth and comfort to your lower back and calves. It uses a carbon coil with graphene heating. Why is this special? Because graphene is a super-efficient heat conductor. This means it warms up fast and keeps a steady temperature.
So, your lower back and calves get a nice, even heat that can help ease soreness. Imagine coming home after a long day and letting this chair soothe your tired muscles with its gentle heat, helping to melt away the day's stress.
Pros and Cons of Osaki Platinum Vera 4D
Pros:
Intelligent Health Detector
4D Massage
SL-Track
Touchscreen Controller
Zero Gravity Recline
Space Saving Technology
Heated Lumbar & Calves
12 Auto Massage Modes
9 Manual Modes
Foot Rollers
Auto Extendable Footrest
Extended Calf Rest
Removable Headrest
LED Lighting
Bluetooth Speakers
Phone Pocket and Controller Holder
User Height Range: 5'0" - 6'4"
Max. Weight Capacity: 260 lbs.
Cons: 
Only 3 colors to choose from.
Some users may find the multitude of features and settings overwhelming or difficult to use.
User cannot weigh more than 260 lbs.
User cannot be taller than 

6'4" or shorter than 5'0"
Similarities and Differences
Both the Osaki Platinum Vera 4D and the Ogawa Active XL 3D massage chairs offer advanced features to give you a relaxing, personalized massage experience. They both use advanced technology to mimic the feel of human hands, targeting specific muscle groups with precision. Each chair also incorporates heat therapy for added relaxation and relief from muscle tension.

However, there are some key differences between the two. The Osaki Vera 4D chair uses an Intelligent Health Detector, which uses AI to adapt the massage techniques to your body's current condition. On the other hand, the Ogawa Active XL 3D chair features an extended SL track that offers a full-body massage, from your neck down to your thighs and glutes.

The Osaki Vera 4D chair also includes graphene heating in the lumbar and calf areas, while the Ogawa Active XL 3D chair offers the 2 Stage Zero Gravity feature. So, while both chairs offer high-quality massage experiences, they each have unique features that set them apart.
User Height Range and Max Weight Capacity
The Osaki Platinum Vera 4D Massage Chair is for people between 5'0" and 6'4" tall. It can hold up to 260 lbs. Then there's the Ogawa Active XL 3D Massage Chair. It also fits people between 5'0" and 6'4". But this chair can hold more weight, up to 320 lbs. So, both chairs are great for a range of sizes, offering a relaxing massage for many people.
Conclusion
In conclusion, both the Ogawa Active XL 3D and the Osaki Platinum Vera 4D massage chairs offer impressive features that can transform your relaxation time into a spa-like experience.
The Ogawa Active XL 3D is a great choice for those seeking a full-body massage experience with the added bonus of a zero gravity feature. Meanwhile, the Osaki Platinum Vera 4D stands out with its intelligent AI system that adapts to your body's needs, providing a truly personalized experience.
Ultimately, the decision between the two will depend on your personal preferences, space considerations, and budget.
Remember, a good massage chair is an investment in your health and well-being. So, take the time to consider which features are most important to you.
That's all for this massage chair comparison. We hope you've found it helpful and if you have any questions give us a call at 800-566-2798. Thank you for reading!