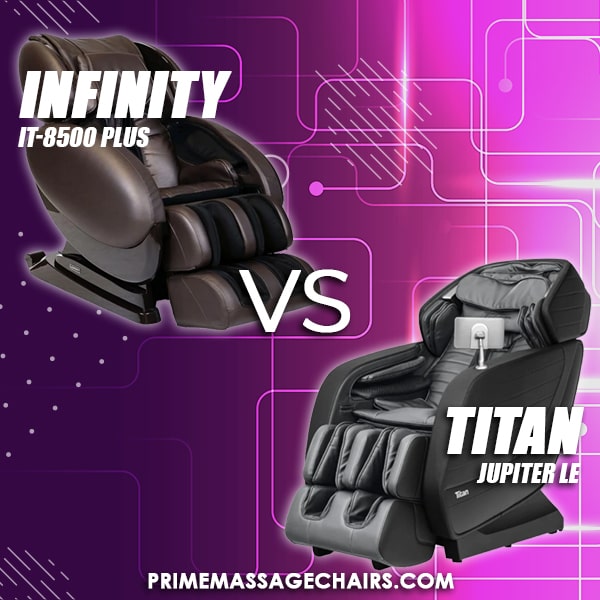 Massage Chair Comparison: Infinity IT-8500 Plus vs Titan Jupiter LE
Today we're comparing the Titan Jupiter LE and Infinity IT-8500 Plus massage chairs. The Titan Jupiter LE massage chair features voice control, an L-shaped massage roller track, and has space-saving technology. The Infinity IT-8500 Plus massage chair features an S-shaped massage roller track, decompression stretch, and an available Apple & Android app.
Both chairs combine massage rollers and airbags for a really nice massage experience. Below is our comparison of the Jupiter LE and IT-8500 Plus to help you make an informed buying decision.
What are some Top Features of the Infinity IT-8500 Plus Massage Chair?
Body Scanning
Each time you sit down in the Infinity IT-8500 Plus massage chair, you'll be automatically scanned for a custom fit. The scan doesn't take long and the chair can accommodate users from four foot eleven inches in height up to six foot six inches.
S-Track Design
The IT-8500 Plus by Infinity features an S-track design that's engineered to conform to your spine's natural curvature. The massage rollers will remain in contact with your body to apply an even massage from your neck down to your lower back.
Decompression Stretch Feature
This full-body stretch is designed to grip your shoulders and legs and pull you in both directions at once. Gravity takes its toll on all of us on a daily basis, and this feature can be a great way to stretch out and feel refreshed.
Lumbar Heating Modules
Heat therapy is a great way to ease muscular tension, and the IT-8500 Plus features lumbar heating modules that deliver gentle heat to your lower back during your massage.
Spinal Correction and Waist Twist
If you have issues with your core, you may enjoy the spinal correction feature that uses firm pressure to extend and decompress your spine. Waist twisting is also available to help reduce your back pain.
Acupressure Therapy
The IT-8500 Plus features airbags that inflate and deflate and work well with the massage rollers to provide a relaxing experience.
Reflexology Foot Rollers
The IT-8500 Plus is equipped with reflexology foot rollers. The foot rollers target your feet's natural pressure points to improve circulation and help relieve your built up tension.
Zero Gravity Positioning
The IT-8500 Plus offers a zero-gravity mode that elevates your knees above your heart to counteract the harmful effects of gravity and improve circulation. When you recline into the zero gravity position you may end up falling asleep as the rollers and airbags relax your tired body.
Smartphone Connectivity
You can connect your iPhone or Android device directly to the built-in surround sound system using Bluetooth connectivity, and enjoy your favorite music as you relax. You can even use the rhythm technique that syncs your massage to the rhythm of your favorite music.
Ambient Audio Programs
The IT-8500 massage chair also includes several sounds, including nature sounds, for meditation and relaxation.
Which Programs Come With the Infinity IT-8500 Plus Massage Chair?
Sports Refresh
Extension
Rest and Sleep
Working Relief
Neck and Shoulder
Waist and Spine
Demo
Infinity IT-8500 Plus Pros and Cons
Pros:
Automatic body scanning technology
Lumbar heating
Zero gravity reclining
Bluetooth connectivity
Spinal correction & waist twist
Apple & android app functionality
S-track design
Airbag massage
Reflexology foot rollers
User Height Range: 4'11" - 6'6"
Maximum Weight Capacity: 300 lbs.
Cons:
2D massage rollers
Only 2 colors to choose from
Not really a space-saver design
User cannot be taller than 6'6" or shorter than 4'11"
User cannot weigh more than 300 lbs.
Takes approximately one hour to assemble

What are some Top Features of the Titan Jupiter LE Massage Chair?
Body Scan
The Titan Jupiter LE can accommodate users from five foot two inches in height all the way up to six feet six inches. The chair will scan your size and automatically adjust to your natural dimensions and curvature.
Zero Gravity Setting
Zero gravity mode will raise your knees above your heart to improve your circulation and counter the effects of gravity during your massage. The zero gravity reclined position is generally thought to be the most desirable position to enjoy a massage.
3D Massage Therapy
With the Jupiter LE by Titan, you can adjust the massage roller speed, width, and strength. This is ideal because your body will likely get used to a certain massage intensity over time and it's always nice to have the option if needed.
Ergonomic L-Track Engineering
The Jupiter LE features an L-track to guide the massage rollers smoothly and naturally along your body. The shape of the track allows for the rollers to travel a farther distance down your body, all the way down to your glutes.
An L-track is generally preferred unless you need a good stretch, in that case most of the time an S-track chair gives a better stretch.
Leg Extension
The leg extension allows for users with different leg lengths. The leg extension will extend out and then just apply pressure with your toes to tell it to stop once it's at the desired position.
Heat Therapy
Another nice feature of the Jupiter LE is all of the heat it's equipped with. The back rollers are heated, and so is the waist area, the seat, and the legs as well. Heat is a great compliment to a massage as it helps your muscles and tensions fade away.
Built-in Bluetooth Audio System
You can easily connect your smartphone to the bluetooth-compatible speakers in seconds for an immersive audio experience.
Which Programs Come With the Jupiter LE Massage Chair?
The Jupiter LE massage chair includes 10 massage auto programs:
Vitality
Senior
Power
Recovery
Pain Relief
Burmese Massage
Sleep
Blood Circulate
Waist Massage
Stretch
Titan Jupiter LE Pros and Cons
Pros:
3D massage
10 automatic massage programs
L-track design
Body scanning
Infrared heat therapy
Zero gravity recline
Space saving technology
Foot roller massage
Extendable footrest
Tablet remote
Bluetooth-compatible speakers
Voice control
User Height Range: 5'2" - 6'6"
Maximum User Weight: 280 lbs.
Cons:
Only a few colors to choose from
Cannot accommodate users over six feet six inches tall
Cannot accommodate users over 280 pounds
Takes approximately one hour to assemble
Conclusion
Both of these massage chairs are well-equipped with a lot of comfort features. The Jupiter LE cannot accommodate users over 280 pounds, so heavier consumers might want to give the Infinity IT-8500 Plus a closer look, as it has a larger weight capacity of 300 pounds.
On the other hand, the Jupiter LE has 10 massage presets, which is more than the seven presets available on the IT-8500. The Jupiter LE also has space-saving technology and is heated in more places.
As mentioned previously, IT-8500 Plus is an S-track chair while the Jupiter LE is an L-track chair. The S-track gives a better stretch but the L-track provides more roller massage coverage.
Depending on what you're looking for, either massage chair models can be a smart buy, so be sure to review all features carefully and let us know if you have any questions.
We hope you enjoyed this massage chair comparison and found it useful. If you have any questions give us a call at 800-566-2798. As always, thank you for reading!