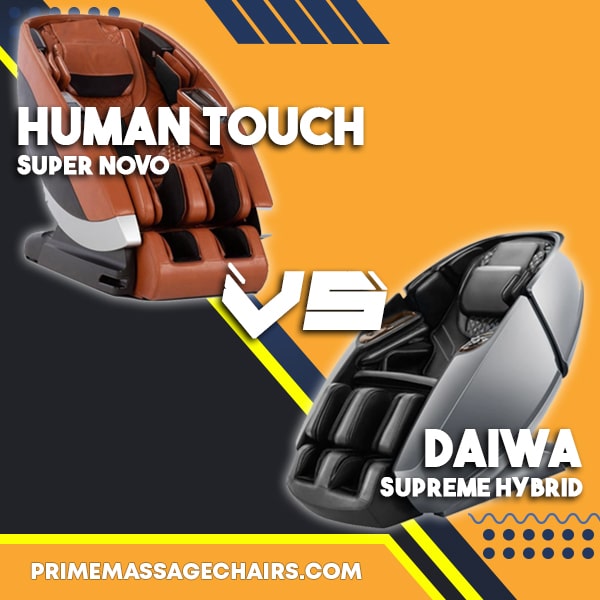 Massage Chair Comparison: Human Touch Super Novo vs Daiwa Supreme Hybrid
The Daiwa Supreme Hybrid massage chair is Daiwa's top-of-the-line massage chair, and it comes loaded with a host of elegant design features. The chair offers an immersive therapy experience from start to finish, and it includes six massage rollers and an innovative flexible track.
The Human Touch Super Novo massage chair comes equipped with both 3D and 4D massage programs, and gives you the option for the innovative Virtual Therapist.
Both massage chairs are ideal for a seasoned consumer who insists on quality, but you should take some time to familiarize yourself with the features of both massage chairs before you make your purchase. Here's a head-to-head comparison.
Top Features of the Human Touch Super Novo Massage Chair
Virtual Therapist
To make the Virtual Therapist and Alexa work, you would need to request the Virtual Therapist Bridge which is free of charge. You would also need to have or purchase an Amazon Echo, Google Home or similar device for Alexa to work with the Super Novo.
The proprietary Virtual Therapist feature is a lot like having your very own massage therapist on call. The virtual therapist will begin by asking you some questions, and then it will provide you with a targeted massage in your trouble areas. It will also store your preferences and make automatic suggestions as you begin each therapy session.
3D and 4D Massage
The 4D massage technology can actually simulate the feel of real human hands. You can also utilize traditional 3D massage settings for a more conventional massage experience.
SL-Track Massage
The Human Touch Super Novo's SL-track is ergonomically engineered to your spine's natural curvature. Unlike a straight track, the SL-track will apply seamless pressure from your shoulders to your thighs.
Extending Leg Massager
The Super Novo from Human Touch features heated foot, calf, and knee areas in its extendable leg rest.
You'll receive complete treatment from your feet to your knees, and you can adjust the intensity of your leg massage..
Altec Lansing Sound System
No massage is ever truly complete without some relaxing music, and you can connect your smart device to the premium sound system via Bluetooth.
Altec Lansing is a brand well-known for innovative speaker design sure to provide a great audio experience as you enjoy your massage.

Space-Saving Design
If you live in a small home or apartment, you'll enjoy the convenience of the Human Touch Super Novo's space-saving design. You'll only need two inches of clearance from the wall to set up your Super Novo massage chair.
Which Programs Come with the Human Touch Super Novo Massage Chair?
The Human Touch Super Novo includes thirty-eight programs to choose from, including full-body immersion, deep tissue, and a collection of therapeutic relaxation and recovery programs.
Human Touch Super Novo Pros and Cons
Pros
Optional voice-activated Virtual Therapist & Alexa
Altec Lansing sound system
Space-saver
Zero gravity positioning
SL-track
Easy to use remote control
Dual lumbar heat
Bluetooth capable
USB port
User Height Range: 5'0" - 6'5"
Maximum User Weight: 285 lbs.
Cons
Weighs approximately 300 lbs, which isn't necessarily a bad thing
User cannot be taller than 6'5" and shorter than 5'0"
User cannot weigh more than 285 lbs.
Top Features of the Daiwa Supreme Hybrid Massage Chair
FullBodyReach System
The innovative FullBodyReach Six-Roller System is like having two massage therapists at once. The multistroke system separates the upper and lower massaging arms for a targeted full-body massage.
The top arm has 3D massage rollers that offer twenty-five inches of coverage for your upper back, shoulders, and neck. The bottom arm offers thirty-five inches of coverage for the lower back and legs.

HybriFlex Massage Track
The Supreme Hybrid by Daiwa features the proprietary HybriFlex, a bendable massage track, that offers a deep stretch. The Supreme Hybrid's L-shaped track runs from the shoulders to the lower body.

The inversion stretch feature can help ease muscle tension and improve flexibility.
Automatic Body-Scanning Technology
When you sit in your Supreme Hybrid, the chair will scan your body and prepare you for a custom massage experience. This is important because everyone is built differently and an accurate body scan will bring more beneficial results.

Full-Body Airbag Compression Massage
The Supreme Hybrid features fifty built-in airbags to rhythmically inflate and deflate for advanced compression technology. The airbags will target and massage the arms, shoulders, waist, legs, and feet.

Extendable Leg Rest
The leg rest offers a heated holistic treatment that combines stretching, compression, and reflexology throughout the knees, calves, ankles, and feet.
The leg rest also includes a foot massager that provides reflexology to pressure points on the soles of the feet.

Bluetooth Speakers and Touch Screen Remote
The touch-display remote is easy to use, and you'll also be able to access quick controls in a built-in console remote.
You have the ability to connect your smart device to the Bluetooth-compatible speakers and charge it during your massage session with the built-in USB port or the wireless charging port.

Space-Saver Design
You'll only need two inches of wall clearance to set up your Supreme Hybrid massage chair in the fully reclined position. The base of the chair swivels as you recline which helps to save space.

Zero Gravity Operation
On your Supreme Hybrid, you'll be able to slip into a horizontal position to distribute your weight evenly during your massage. Elevating your feet is also great for circulation and blood flow.
Which Programs Come with the Daiwa Supreme Hybrid Massage Chair?
The Daiwa Supreme Hybrid offers thirty-six auto massage programs organized into three main categories:
Mood-based programs - At the end of your day, you can give yourself the royal treatment, or you can enjoy stress relief and recovery programs.
Targeted body part massage programs - You can get right to work on key trouble areas, including the neck and shoulders, the back and spine, and the lower body. You can also get deep Shiatsu tissue work.
Time of day massage programs - You can enjoy programs to wake you up in the morning, set you up for a great night's sleep, or sneak in a quick midday nap.
Daiwa Supreme Hybrid Pros and Cons
Pros
Automatic body scan provides users with a custom massage experience
Flexible L-shaped track features six massage rollers
Bluetooth capable speakers
Space saver design
Zero gravity positioning
Heated lumbar & knee areas
Foot rollers
Wireless and USB charging station
Quick access arm console
Tablet Remote
Fifty airbags for immersive compression massage
User Height Range: 4'8" - 6'6"
Maximum User Weight: 300 lbs.
Cons
Weighs well over 300 lbs. Again, this isn't necessarily a bad thing but is worth noting.
Not as many color options
User cannot be taller than 6'6" or shorter than 4'8" 
User cannot weigh more than 300 lbs.
Conclusion
Both massage chair models are premium products and offer superior craftsmanship and a lot of great features. The Super Novo has the option for the innovative Virtual Therapist, 4D massage, and several premium technology features.
The Daiwa Supreme Hybrid features the HybriFlex track that provides a different therapy experience than most other comparable massage chair models. The Supreme Hybrid also accommodates a broader user height range and has a slightly larger maximum user weight.
The Super Novo is available at a lower price tag, but it's by no means inferior to the Supreme Hybrid. Both chairs are top of the line massage chair models, and user preference should ultimately influence your final decision.
Thank you for taking the time to read this comparison, we really do appreciate you. If you have any questions feel free to call us at 800-566-2798. Thank you for reading and we hope you found this article helpful!