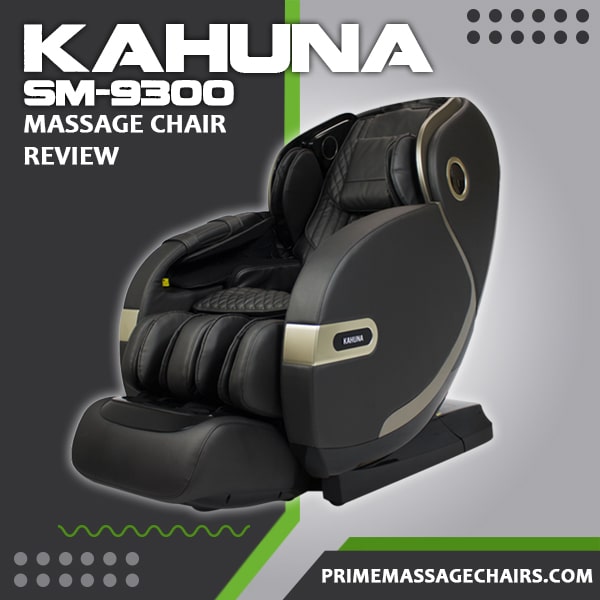 Kahuna SM-9300 Massage Chair Review
If you're in the market for a high end massage chair that gives a great massage the Kahuna SM-9300 doesn't disappoint. We've laid out some of the top features and benefits as well as some of the pros and cons in this Kahuna SM-9300 massage chair review. From Bluetooth speakers to 4D massage rollers, it's hard to deny the this chair's appeal.
Top Features of the Kahuna SM-9300 Massage Chair
The Kahuna SM-9300 massage chair comes with a lengthy list of features that you can use and enjoy. This chair deserves high marks for the 4D massage rollers, the multiple zero gravity positions, voice recognition software, and the heated foot roller massage.
4D Massage Rollers
At the height of massage chair technology is 4D massage. The Kahuna SM-9300 massage chair comes equipped with these rollers, which allow users the ultimate in adjustability. These rollers let you find the right pressure and speed to fit your body's unique needs.
There are a total of 8 rollers and the infrared heating mechanisms that simulate acupuncture points and help to improve blood circulation throughout the body seem to really make a difference in the overall massage experience.
Zero Gravity Positioning
You can get into the most comfortable position with the SM-9300's multiple zero gravity positions. Reclined positions tend to be the most comfortable and beneficial for massage chair therapy, improving circulation and fighting off swelling in the calves, ankles, and feet.
Getting into any of the zero gravity positions is easy, as is getting back out of them. You can also switch positions as needed in order to get the most from your massage.
Bluetooth Speakers
Want to enjoy some relaxing music while you get your massage? Simply connect your smart device to the Bluetooth speakers and enjoy.
The Kahuna SM-9300 also has a music sync program that will allow you to enjoy a massage to the beat of your favorite songs!
Voice Recognition
Another high-end feature found on the SM-9300 is voice recognition. You can issue specific commands to the chair, such as "Heat On" or "Heat Off." You can also power the chair on by saying "Activate Kahuna", then wait for the chair to respond with "Ready for Massage".
This handy, hands-free feature is helpful when you need to make a quick adjustment during a massage but do not want to fumble around with the physical controls. Learning the voice recognition controls has a short learning curve, so you can start utilizing them right away.
Heated Foot Massage
Another nice feature of the SM-9300 is the heated foot massage which is a higher end benefit not found in most other massage chairs.
From your toes back to the heels of your feet, the heated foot roller massage covers the areas you'll appreciate most. With the heat on it can help alleviate stiff, sore muscles in your feet as well as contribute to a more pleasant massage experience overall.
Which Programs Come With the Kahuna SM-9300 Massage Chair?
The Kahuna SM-9300 lets you choose between six different massage techniques: Kneading, Kneading + Knocking, Shiatsu, Tapping, Knocking, and Rolling. What's more, while you are sitting there getting your massage, you can turn on the chair's infrared heating on the rollers and upper back, lower back, calf, and feet. The airbags have 5 adjustable intensity levels.
There are a grand total of 12 automatic programs equipped on the Kahuna SM-9300 massage chair. You can select from Recovery, Relief, Yoga Stretching, Renew, Music Sync, End of Day, Special - Office Person, Powerful Day, Golfer Mode, Senior Mode, Dynamic Sports, and Healing.
There are also manual massage options you can utilize. Not to mention, this chair comes equipped with Automatic Body Scan. This feature will scan for your body's shape and size in order to give you the most accurate massage.
Also, take note that the Kahuna SM-9300 is designed with space-saving technology. You can put the back of this chair 3 inches or more from the closest wall, and it can fully recline for maximum comfort. This is helpful if you are limited on space but works well even if you have plenty of room to spare.
You can get a full-body air massage on the Kahuna SM-9300. Select between five different pressure levels, and the numerous airbags placed throughout the chair will activate in order to give you the most tailored and comfortable massage possible. There is even an arm massage that utilizes acupuncture techniques to help stimulate blood flow through the hands, wrists, and lower arms.
Kahuna SM-9300 Massage Chair Pros and Cons
Pros:
4D massage rollers provide the utmost in relaxation
Auto body scan
8 Rollers included with infrared ray heating mechanism
Multiple zero gravity positions
Space saving technology
Bluetooth speakers
Voice recognition
Removable headrest
Heated foot rollers
User Height Range: 5' 1" to 6'3"
Maximum User Weight: Under 350 lbs.
Cons:
Only 2 colors to choose from
User cannot be taller than 6'3" or shorter than 5' 1"
More expensive than most chairs on the market
Conclusion
As you can see from reading through this Kahuna SM-9300 massage chair review, this high-end chair offers many benefits. It saves on space, comes equipped with a lot of high-tech features, and caters as precisely as possible to your body's own unique massage needs.
There are quite a few automatic and manual programs to select from, and the 4D massage rollers represent top-of-the-line massage chair capabilities. The 8 rollers really make a big difference on this chair as well and enhance the massage experience.
With a number of high-tech features and massage options, the Kahuna SM-9300 is a great chair to consider for your home. You can also see where this chair ranks on our list of Best Massage Chairs.
If you'd like to talk to us about the Kahuna SM-9300 (or any other chair) feel free to give us a call at 800-566-2798.

We hope you've enjoyed this article and thank you for reading!