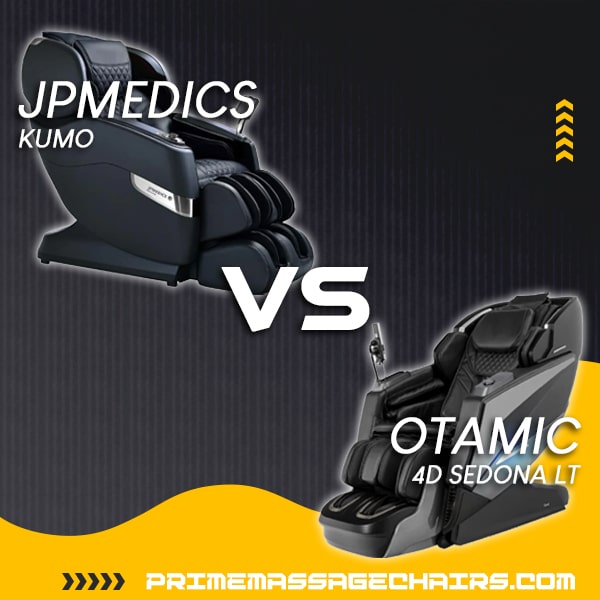 Massage Chair Comparison: JPMedics Kumo vs Otamic 4D Sedona LT
Massage chairs can be an excellent way to find stress relief in our fast-paced world. Choosing the right model can be tricky when you have great options like the JPMedics Kumo massage chair and the Otamic 4D Sedona LT massage chair.
To help make the decision easier, we've put together an in-depth comparison guide. Now let's dive in and discuss the similarities and differences between these two full body massage chairs.
JPMedics Kumo Massage Chair: an Overview
This Japanese-made massage chair has an array of fabulous features, including L-Track full-back coverage, 4D heated rollers, and voice activation, which was added to the Kumo in May 2021. The chair makes it easy for you to sit back, relax, and relieve pain and tension in your back, knees, and calves.

The JPMedics Kumo is designed with your home in mind, and it's perfect for those who have limited space to work with. It can fit in many rooms and needs only five inches of space behind the backrest. That's a great improvement on old-school massage chairs, which usually require two to two and a half feet of space behind them in order to recline.

The touchscreen panel and multi-language controller ensure that mastering this massage chair is fast and easy.
Pros and Cons of the JPMedics Kumo
When choosing between two massage chairs, hearing the pros and cons can make your decision easier. With that in mind, here are the pros and cons of the Kumo.
Pros:
The pros of the Kumo include the following:
The Kumo provides a 44-inch roller track.
It is equipped with roller intensity adjustments so that you can find your comfort zone.
The chair contains high-tech body scan technology.
It comes with relaxing foot rollers.
The Kumo is equipped with zero gravity technology that's thought to take pressure off of your spine.
It optimizes your available room space by fitting easily into different types of rooms.
The Kumo is upholstered in synthetic leather for a stylish look and easy cleanup.
It accommodates heights between 5-feet and 6-feet-2-inches tall.
The chair can handle weights up to 265 pounds.
The Kumo offers air compression massages.
It has 11 auto massage programs and 500 customizable options for you to investigate.
Free shipping is available if you live in any of the lower 48 states.
The Kumo has a smart dial for your convenience.
Cons:
This chair does have a few cons for you to consider to ensure you know exactly what you're getting:
This chair isn't an option for those who weigh over 265 pounds.
If you're shorter than five feet or taller than 6-feet-2-inches, this chair isn't for you.
The chair requires approximately one hour of assembly time if you don't opt for setup.
Free and extended warranties aren't available if you're purchasing the chair for your business; you'll need a commercial policy.

A commercial warranty, if needed, is available for $199 a year if you want coverage.
Otamic 4D Sedona LT Massage Chair: an Overview
The Otamic 4D is a top-of-the-line massage chair. It comes with state-of-the-art features like adjustable 4D massages, body scan technology, and heat therapy. This chair is perfect for those looking to relieve pressure on their spine and joints or apply soothing pressure to their feet and calves.

This massage chair also comes with convenient technological features for your enjoyment. It has a built-in USB and wireless phone charger, Bluetooth speakers, and an auto-clamping remote holder. These advancements ensure that you can enjoy music, podcasts, or any other entertainment you like to consume on your phone, all while receiving a fantastic massage.

While traditional massage chairs take up lots of space, the Otamic is designed with space-saving in mind. It requires minimal space to fully recline and can be used on many surfaces.
Pros and Cons of the Otamic 4D Sedona LT
Now, here's an overview of the pros and cons of the Otamic Sedona LT.

Pros:
The Sedona LT has many pros, including the following.
The Sedona massage chair has a 52-inch roller length.
It provides roller intensity adjustments.
The Sedona comes with foot rollers and body scan technology.
It includes zero-gravity technology without taking up tons of space.
It has 12 automatic program options.
The chair offers a timer setting, in increments of 10, 20, or 30 minutes.
The Sedona includes a handy USB charging port for your phone or other device.
This massage chair provides wireless charging and is Bluetooth compatible.
It accommodates users of heights between 5 feet and 6-feet-3-inches who weigh up to 280 pounds.
The Sedona will ship for free if you live in any of the lower 48 state
Cons:
The notable cons of this massage chair include:
It takes approximately one hour of assembly time if you opt to put it together yourself.
The chair isn't suitable for those under 5 feet or over 6-feet-3-inches.
It can only accommodate users who weigh under 280 pounds.
Key Similarities and Differences
There are a lot of pros and cons to consider when making such an important purchasing decision. To make it easier for you to compare the qualities of these two massage chairs, let's highlight the important similarities and differences.
Similarities
The JPMedics Kumo and Otamic Sedona LT both offer their users:
A free warranty when purchased from an authorized dealer
Free shipping to the lower 48 states
4D rollers to ensure a stellar massage
Excellent air massage technology
Automatic and manual programs to give you more massage options
Body scan technology to customize your experience
Foot rollers that roll along the bottoms of your feet
Zero gravity technology that is said to take pressure off of your spine
Space-saving technology so the chair can go where you need it to
Bluetooth capabilities that allow you to connect your smartphone or other devices
Differences
The following are the key differences between the JPMedics Kumo and the Otamic Sedona Lt.
The Sedona offers a USB port for convenient phone charging.
The Kumo has only 11 auto programs while the Sedona LT has 12.
The Sedona LT has wireless charging capabilities, so you can recharge your device while recharging yourself.
The Kumo has a user weight limit of 265 pounds while the Sedona LT goes all the way up to 280.
The Sedona is heavier than the Kumo: 335 pounds vs. 275 pounds.
The Sedona offers an extra inch of height availability to accommodate slightly taller users.
The Kumo offers heated lumbar and knees, while the Sedona LT has a heated lumbar area.
Comparison Conclusion
Each of these high-quality massage chairs offers you an array of fabulous features. Either one could make for an excellent addition to your life and provide a relaxing massage experience.
That being said, there are a few key differences between them. Consider the differences carefully before making your decision and remember to keep your unique personal needs in mind. Pay careful attention to specifics like height and weight limits when making your decision to ensure you have the best experience with your new massage chair.