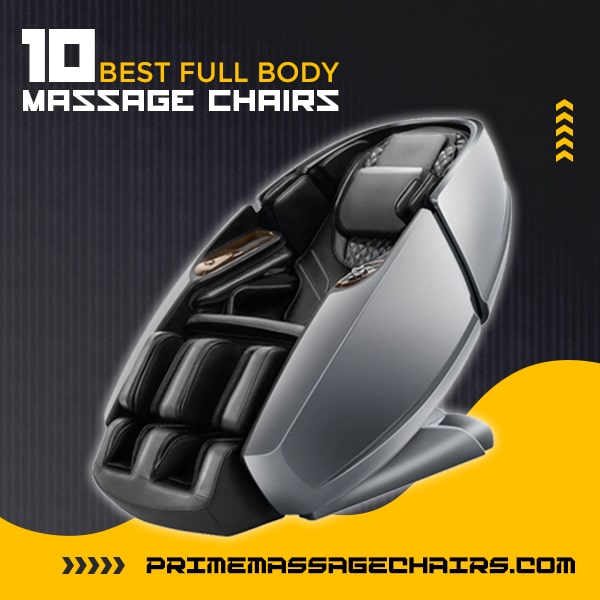 10 Best Full Body Massage Chairs of 2022
A full body massage chair can be an ideal way to de-stress in the comfort of your home. If you struggle to manage stress or have a condition that causes chronic or frequent pain, regular massage sessions could possibly provide the relief you need.  
Massage therapy is known to provide relief from various aches and pains, reduce stress, and improve our mood. The benefits of massage are widely accepted now, but not everyone has the time or the money to get a professional massage therapist to relieve their pain or alleviate stress on a regular basis. This is where a massage chair can be of help.
Full body massage chairs will typically massage your neck, shoulders, back, arms, seat, calves, and feet, depending on the model. The price you pay can widely vary, but as with anything in life you get what you pay for.
Contents:
Best Full Body Massage Chairs
A top quality massage chair can help ease your pain, relieve stress, and help you relax when you don't have time to go to the spa or drive to your local masseuse. Additionally, it can save you money and time in the long run. Instead of having to leave home and spend hours at a spa, you can sit down at home and reap the benefits of your very own massage chair.
If you're looking for relief and want a great way to unwind at the end of a long day in the comfort of your home, then you'll want to take a look at some of our best full body massage chairs below.
(Click any link below to jump to that chair)
Full Body Massage Chair Reviews
There are many massage chairs available on the market and the features can vary widely. Below we discuss some of our favorite chairs that offer a full body massage experience.
The Infinity Dynasty 4D massage chair includes four rollers that provide a long, comfortable massage stroke. In addition, this chair offers many air bags to provide a sense of compressing hands working down your sore muscles.

This chair also has chromotherapy lighting, which is most effective in a darker setting, to help set a calming mood while you enjoy a massage. This chair also comes with an air ionizer. Ionized air intake can be important and aid in relaxation.

From decompression stretching to the targeted foot roller reflexology massage, you can enjoy a relaxing massage to make your days easier and more comfortable. The lumbar heat, adjustable shoulder air bags, zero gravity, & intelligent voice-control system are more of the many benefits of the Infinity Dynasty massage chair.
The Kyota Yosei M868 is equipped with 4D massage technology which can basically give you more control over your massage experience. You can enjoy 9 automatic massage programs which will give you a variety of techniques to choose from.
The back of the chair only needs a 2-inch gap between it and the wall to successfully recline and provide you with a zero-gravity position which is said to be the most comfortable position to enjoy a massage.

This chair offers heat therapy to your lower back to reduce the risk of muscle discomfort. As your back relaxes, you can enjoy compression therapy from the airbags.

You can easily use the controller to select your massage program as well as make adjustments. No matter your need, the programmable options can target sore joints, help you relax and wind down for sleep or boost your energy as you face your day.
The Titan 4D Fleetwood LE can help soothe your body from your neck and shoulders to the bottoms of your feet. This chair offers heat in the lumbar and calf areas that you can turn on or off. Heat can be a great compliment to massage and can help loosen tight muscles.

You'll enjoy a full body massage via airbags & massage rollers, and this chair can recline back until you're in the zero-gravity position, which will intensify the value and experience of your massage. In essence, this position will help take the pressure off of your body and help make your massage more enjoyable.

The Fleetwood LE also features triple foot rollers to help you unwind at the end of a long day. You can also charge your smartphone via the USB port while you enjoy your massage.

Overall this a very nice massage chair with features such as easy to use controller, bluetooth-capable speakers, auto body scan, & much more.
Made in Japan, the JPMedics Kumo offers users a careful body scan prior to the application of the heated roller technology. In addition, you can enjoy the music of your choice with the Bluetooth speakers as you lie back and relax with a customized massage just for you.

The JPMedics Kumo needs only 5 inches from the back of your wall to be able to fully recline, which helps to maximize your living space. 

You can manage your chair in multiple languages via the touch screen and the smart armrest technology. Customize everything you want from this chair from the temperature at your lower back to roller intensity along the spine to vibration intensity to compression of the multiple air bags that will compress and release.

There are 11 auto programs to choose from as well as many manual options. The Kumo offers 6 massage techniques to help find the best massage for you.
An Osaki Maestro LE can calm and soothe irritated muscles from your neck all the way down to your feet. Located on both sides of your head, you will find Bluetooth speakers that can play calming music or sounds that drown out the noises around you once paired to your smart device.
Your Osaki Maestro LE will not take up much space; you can set the back of this chair within 5 inches of the wall and ignore it until you're ready to lie back and enjoy a massage.

The air bags in the calf region will keep your lower legs stretched and wonderfully loose. Even better, as your calves relax under the air massage, you can turn on the foot rollers and intensify the massage and the relaxation of your lower legs, ankles and feet.

This Osaki chair also offers a zero-gravity setting which will allow you to recline and get the most out of your massage. The pressure on the spine gets reduced when you've got your chair set in the zero gravity position.
The Maestro LE is full of useful features such as heated rollers, wireless phone charger, USB charging port, body scan technology, touch screen remote, and so much more.
If you're looking for an excellent massage in your home, the Human Touch Super Novo is a great choice to help keep your body refreshed and relaxed. In addition, this chair is also Alexa-compatible with a feature appropriately named "Virtual Therapist". When enabled the Virtual Therapist will ask you some questions regarding your preferences that should ultimately result in your ideal massage experience.


You can pair your smart device via Bluetooth and relax with your favorite music through the Altec Lansing Premium Sound System.

If you have space limitations in your home, the Super Novo is an ideal choice as it slides back with space-saving technology. In fact, as long as the back is at least 2 inches from the wall, you can enjoy a relaxing, reclined massage.

If the battery on your phone is running low, you can charge it via the USB charger as you enjoy your massage. The super novo also has 3D & 4D massage programs as well as battery backup, downloadable Android or IOS app, easy to use remote and fingertip controls. This is a very nice massage chair, is nicely built, and has a wide user height range.
The Daiwa Pegasus 2 Smart massage chair offers a wide variety of massage programming options that are voice-controlled. From the top down, you can enjoy a gentle shoulder massage with a compression and release function that includes 48 air bags. These will help you relieve stress from your neck to your feet.
For those who spend a lot of time on their feet, the addition of the Shiatsu Wave™ Calf Massage technology can make sitting down at the end of the day a real treat. You can customize your chair sizing for shoulders from 26 to 32 inches wide, and those with longer legs can enjoy more than 5.5 inches of extension as they settle in for a long stretch and massage.

The Daiwa Pegasus 2 offers a wall hugger feature as you recline back and stretch out. Lumbar heat allows your lower back to release, relaxing stiff and sore muscles.
This chair also features 3D massage rollers which are useful for customizing your massage intensity, and it's also outfitted with an L-track which means more massage roller coverage.
Do you have memories of being rocked to sleep as a child? The Pegasus 2 Smart can also simulate a rocking chair due to the rocking rotation technology. Can you think of a better way to relax at the end of a long day?
The Kahuna SM-9300 massage chair includes eight rollers outfitted with infrared heat that travel up and down the L-shaped track to provide maximum massage coverage and help relieve your sore or tired muscles.
Since there are several automatic programs and several manual options, Kahuna has made it easy to find your ideal massage.
This massage chair also features several airbags that provide compression and help relieve sore, tired muscles. You can also choose from five different intensity levels for customization.
Once you activate the zero gravity recline, you'll get to lay back and let your cares drift away as your body is immersed in a soothing massage session.
You'll also likely appreciate the space saving feature this chair has to offer, as it doesn't take up much additional room when reclining.

The auto leg extension feature extends the footrest to make sure your calf & foot massage hit the right targets as you sit in the chair. In addition, the body scan technology will help ensure the rollers hit the right targets to maximize your massage experience.
Luraco is currently the only brand we carry that qualifies for the Made in the USA badge. The i9 comes loaded with several strategically placed air bags to provide a soothing massage to release tension and sore muscles. You'll likely enjoy the adjustability of this chair, as it features 3D massage rollers and several intensity adjustments as well.

This chair also offers heat as well as massage to your feet. In total the iRobotics 9 is heated in the hand, lower back, and feet areas. If circulation is a problem for you or if constantly cold feet make you miserable, this may be the chair for you. There are rollers for massaging your calves as well as the bottoms of your feet.
The arm rollers can help relieve tension and you can use the zero-gravity setting to recline and help take pressure off your spine for even more relaxation.

This chair also features genuine car-quality leather, bluetooth capabilities, touchscreen remote, 5 personal memory settings, noise reduction, voice response, and so much more.
If you're looking for a reclining heated full body massage chair that will massage and stretch your muscles, and your budget is on the higher side, you should take a good look at the Daiwa Supreme Hybrid.


The Daiwa Supreme Hybrid features a full body scan which will help ensure you get the proper treatment on the areas that matter most.
Once you are fully laid back and the heat, air bags, & massage rollers have had a chance to loosen your muscles, you can enjoy the inversion stretch feature.
The Supreme Hybrid also has a bendable L-track. Most L-track massage chairs can't give a great stretch because of the limitations of the shape of the track, but the flexible track of the Supreme Hybrid helps solve this issue and is a great feature.

The heated lumbar will help to warm and loosen your lower back. Rollers will work to loosen up the bottoms of your feet, which is thought to boost circulation and improve blood flow.
Other nice features include bluetooth, space-saving technology, 6 massage roller system, tablet touch display remote, 50 airbags, and many massage programs. If you're looking for top of the line, the Daiwa Supreme Hybrid should be seriously considered.
Zero Gravity Full Body Massage Chair
Zero gravity reclining is basically a must have for many consumers when shopping for a new massage chair. The ability to recline and enjoy a refreshing massage when you want to has helped many people recharge at the end of a long day.
The zero gravity position is meant to mimic the feeling of weightlessness and is generally thought to be the most effective position to relax and enjoy a massage. Not all full body massage chairs are built with zero gravity positioning, but most do recline to some degree.
Final thoughts on Full Body Massage Chairs
There are many different brands and types of full body massage chairs available in the market today, which makes it difficult for us to choose one that will be best for you. We can give you the information but it's ultimately up to you to decide on the right chair for you. Remember, there's no substitute for physically sitting in a chair and trying it for yourself, and that's what we always recommend.
Massage chairs can help provide a great way to reduce stress at the end of your day. If you suffer from chronic pain, these reclining full body massage chairs can help alleviate some of your problem areas, but you'll want to get approval from your doctor before using any massage chair to be safe if you have pre-existing medical conditions.
Before purchasing you should consider things like warranty length & coverage, if you'll comfortably fit in the chair, as well as think about the features that are most important to you.
If you need help deciding on a chair feel free to give us a call at 800-566-2798. We hope you enjoyed this article and found it useful. Thank you for reading!