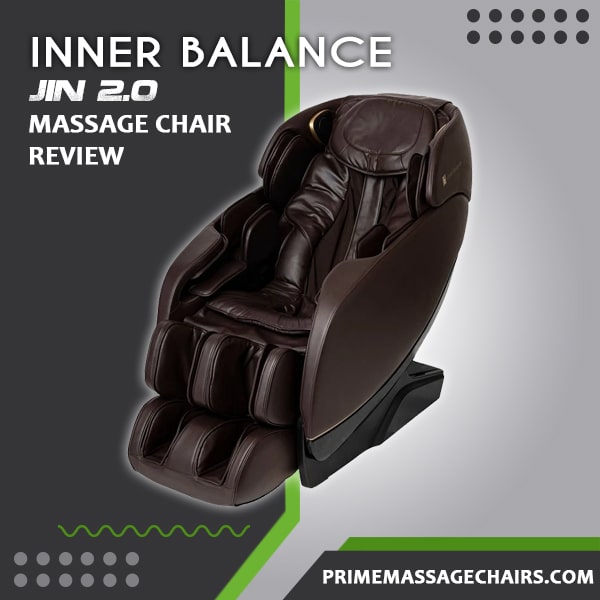 Inner Balance Jin 2.0 Massage Chair Review
The Inner Balance Jin 2.0 is a nicely equipped massage chair and will compliment most decor. For the massage itself, this chair scans your body to ensure that the SL track rollers hit your muscles and pressure points. You can also adjust the leg rests and shoulder widths to make sure that you get the most comfortable experience.
Essentially, you can customize your massage without a lot of work on your part. Those are just a few of the features that you'll learn about in this Inner Balance Jin 2.0 massage chair review.
Some massage chairs take up a lot of space, but the Inner Balance Jin 2.0 only needs two inches behind the chair to enter zero gravity mode. You'll also get lumbar heating, Bluetooth speakers, and other features that you need to enjoy your massage chair.
This chair doesn't necessarily provide the most advanced massage on the market since it only has 2D rollers, which means you won't be able to adjust the rollers in and out for a firmer or lighter massage. But if you're looking for an efficient chair that's within your price range, our Inner Balance Jin 2.0 review might help you decide.
What Are the Main Features of the Inner Balance Jin 2.0?
The Inner Balance Jin 2.0 massage chair is a simple but effective chair with a mix of popular features. Here's a rundown of what you can expect if you decide to order this chair.
Space-Saving Technology
Some people avoid buying massage chairs because they simply don't have the room. Even if they can fit the chair in their home, they don't have an extra six inches for the chair to recline.

The Inner Balance Jin 2.0 solves this problem by requiring only two inches of space behind it to enter into zero gravity mode. You'll be able to position this chair near the wall without worrying about scraping the paint.
Zero Gravity Mode
Inspired by NASA technology, zero gravity mode reclines the chair backward and makes you feel like you're floating when you enjoy your massage.
This might not sound like an important feature, but after you've tried it for the first time, you'll find yourself wondering why you ever sat upright in your massage chair. You might even enjoy a much-needed nap in this position.
Bluetooth Speakers
Now you don't have to worry about turning up the volume on your phone. The Bluetooth speakers can play music, ambient sounds, guided meditations, soundscapes, or whatever you'd like directly from your smart device.
You'll enjoy crystal-clear audio that comes from the Bluetooth speakers.
Extending Leg Rest
Are you too tall for the default position? You can extend the leg rest to ensure that you're comfortable while you enjoy a massage. This chair can seat people who are up to six feet, three inches tall, so you'll likely have plenty of room.
Take advantage of the leg and foot massage system to massage some of the most-used and often-neglected parts of your body.
Adjustable Shoulder Widths
For even more comfort, you can adjust the Jin 2.0 by Inner Balance so it will accommodate your shoulder width.
The Inner Balance Jin 2.0 has three settings to massage both broad and narrow shoulders.
Inner Balance Jin 2.0 Pros and Cons
Pros:
Comes with Bluetooth speakers
Zero gravity positioning
Uses lumbar heat to relieve muscle tension in your lower back
Space saving technology
SL-track technology
Uses body-scan technology to make sure that the massage conforms to your body type
Offers foot rollers to massage the muscles on the soles of your feet
Foot and calf massage
Offers six auto programs
User Height Range: 5'0" - 6'3"
Maximum User Weight: 297 lbs.
Cons:
2D massage rollers
User cannot be taller than 6'3" or shorter than 5'0"
Takes approx. 1 hour to assemble
Conclusion
Even if you're the only person who's going to use your massage chair, you need a chair that adjusts to your height, and body type. This becomes even more important if your whole family wants to use the new chair.
The Inner Balance Jin 2.0 offers extending leg rests, adjustable shoulder widths, and other useful features. Better yet, this chair only needs two inches of space behind it to enter zero gravity mode—some chairs need upwards of six inches or more.
With lumbar heating, Bluetooth speakers, and more, the Inner Balance Jin 2.0 was built to provide great value for consumers. This chair isn't particularly advanced or innovative, so you won't find specialty features like air ionization or heated massage rollers.
It's just a basic, quality massage chair that provides relaxation and entertainment for anyone who uses it. You might want to look elsewhere if you need the latest features. But if you need a massage chair and don't want to spend a lot of money, this chair could be the one for you. It can be a great option for single people, large families, and everyone in between.
We hope you've enjoyed our Inner Balance Jin 2.0 massage chair review and found it helpful. If you have any questions you can reach us at 800-566-2798. Thank you for reading!