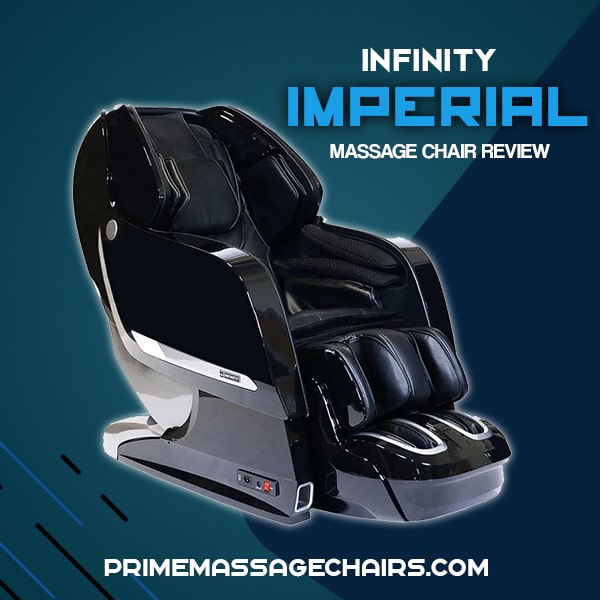 Infinity Imperial Massage Chair Review

Looking for the right massage chair can take quite a while since there are so many on the market. One of the most comprehensive models available is the Infinity Imperial massage chair.
Since this chair offers such an abundance of features and programs, reading this Infinity Imperial massage chair review might help you in your decision-making process.

Equipped with high-tech features like an air ionizer, zero gravity, and 3D/4D massage functionality, the Infinity Imperial is one well-equipped massage chair.
Some Top Features of the Infinity Imperial Massage Chair
Many top of the line massage chairs offer a respectable number of features, but the Infinity Imperial goes all out, giving you a lot of value. Below are just some of the top features that stand out on this model.
Air Ionizer
Not too many massage chairs come equipped with an air ionizer. It is not exactly the most physically therapeutic function on the chair, but it is one that enhances the overall experience.

The Infinity Imperial comes equipped with several small air vents located inside of the headrest that assist with oxygen intake. It essentially filters the air coming through the vents and steadily blows it across your face, providing you with a more relaxing experience.
3D/4D Massage Technology
The Infinity Imperial's 3D/4D massage technology includes five different intensity levels that can give you a truly deep neck massage courtesy of the auto-extend neck feature.
With the 4D technology, you can vary the 3D motion's speed. The 3D auto programs are easy to select from, but the 4D technology really enhances your overall experience in the chair.
Chromotherapy
This is a minor feature of the Infinity Imperial massage chair that really helps it stand out from the competition. Chromotherapy is a psychological and physiological tool meant to help you relax.
Certain color tones have their own unique attributes. For example, some find that blue or violet can alleviate symptoms caused by inflammation.

The chair has chromotherapy lights on each side. When you turn the program on, the lights will glow in a soft blue tone to help you relax. Just dim the lights of the room you are in, turn on the chromotherapy lights, and relax.
Waist Twist
The chair's waist twist function might seem like an odd concept, but it's designed to be a less aggressive and gentler form of pain relief than the body stretch function. So, if you want a milder approach to alleviating spinal pain and making corrections, this might be your go-to feature.
Bluetooth Technology
The Infinity Imperial comes equipped with Bluetooth technology as well as smartphone app connectivity via Apple and Android. The chair comes outfitted with speakers built directly into the headrest, allowing you access to anything you would like to listen to, such as guided meditations, music, ambient noise, or any other type of sound that can help you relax and enjoy your massage.
Other Infinity Imperial Massage Chair Benefits
The Infinity Imperial massage chair comes loaded with different programs to help you relax and feel revitalized. There is a reflexology function that replicates the finger-and-thumb movements used in reflexology, applying pressure to different parts of the feet.
Foot and calf massages get delivered via a unique blend of massage rollers and airbags—something most other chairs don't have. The foot rollers give you a reflexology-style massage.

Another thing that makes the Infinity Imperial stand out is its three control methods: a wired remote, a wireless remote, or your smartphone. This is some game-changing technology that makes it easy to select your program. You'll be hard-pressed to find this feature on the average massage chair.
Infinity Imperial Massage Chair Pros and Cons
Pros:
Zero Gravity positioning
Space Saving technology
3D/4D massage roller technology
Airbag compression massage
49" L-track design
Body Scanning
Bluetooth and smartphone app connectivity
Air ionizer
Chromotherapy lights
Waist twist and body stretch
Heated lumbar
Fairly broad User Height Range of 5'2" - 6'3"
Maximum user weight of 300 pounds
Cons:
Requires assembly, which takes about an hour (unless white glove delivery is ordered)
Maximum user foot size of US Mens Size 13
Only 2 colors are available, black or brown
Conclusion
The Infinity Imperial massage chair makes for an excellent investment. As far as massage chairs go, this one offers a lot of features for a competitive price when compared to other luxury models. In fact, it is offers more features than most of its rivals.

We hope you've enjoyed our Infinity Imperial review and found it useful. If you have any questions you can reach us at 800-566-2798. Thank you for reading!