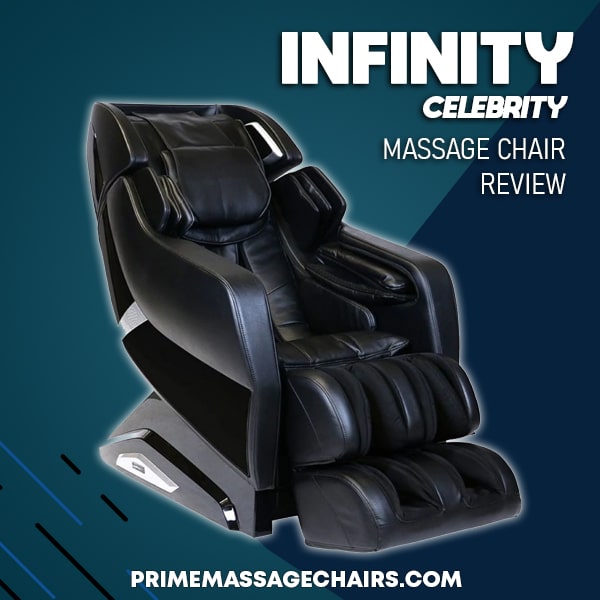 Infinity Celebrity Massage Chair Review
Today we're reviewing the Infinity Celebrity massage chair, this chair has modern looks and an impressive array of useful features, as you'll see below. When choosing a massage chair, you'll want to choose one that has the features that are most important to you, is within your price range, and will fit you comfortably.
This chair offers 3D massage rollers, is an L-track design, has lumbar heat, nine auto settings, Bluetooth capabilities, and more. Choosing a massage chair is an important decision. For help with that decision, check out our Infinity Celebrity massage chair review below as we discuss the top features, pros, and cons.
What are some Top Features of the Infinity Celebrity Massage Chair?
3D Massage Technology
The Celebrity comes equipped with 3D massage technology that will allow you to make adjustments when you need to.
You can adjust the width, length, and depth of the massage rollers. Over time your body will get used to a certain pressure and you may want to increase or decrease it.
49-Inch L Track
The Infinity Celebrity comes equipped with a 49-inch L track, which allows the chair's quad rollers to go from your neck down to your thighs. This gives each user a more complete body massage.
Zero Gravity
This impressive feature puts your body in a zero-gravity position, allowing your knees to rest at or above your heart level.
This replicates a weightless effect and helps your spine to decompress. This feature also allows the 3D rollers to easily reach maximum effectiveness.
Lumbar Heat
Heat helps to enhance the massage and the Celebrity massage chair has heat located in the lumbar area to further relax your muscles. A heated massage sounds good at the end of a long day doesn't it?
Spinal Correction and Waist Twist
Another nice feature this chair offers is the spinal correction and waist twist feature. The spinal correction feature uses stretching techniques which allow the spine to extend and decompress, meant to help relieve pain. For a milder experience, the waist twist feature is another option that may help relieve back pain.
Reflexology
The Infinity Celebrity is equipped with reflexology foot rollers. This feature allows the rollers of the chair to utilize reflexology points on your feet. 
Doing so replicates thumb and finger techniques and may have a wide variety of benefits to multiple points on the body.
Bluetooth Technology
Most luxurious products feature Bluetooth capabilities, and the Infinity Celebrity is no exception to this. With immersive speakers nestled within the headrest, users can connect their Apple or Android devices via Bluetooth.
This allows users to listen to ambient noises, music, meditations, or other audio of their choice during their massage.
Body Scanning
This technology allows the rollers of the Celebrity to hit the points of your body that need them most. Each body is different, and this feature means your massage can be tailored to your body by adjusting the position of the rollers automatically.
Airbag Massage
The airbag compression massage allows multiple airbags within the chair to inflate and deflate, giving the user the sensation of actual hands, making the massage feel more natural and comfortable.
The airbags work together with the massage rollers to provide a luxurious full body massage experience that's ready when you are.
Automatic Footrest Extension
This feature allows for the footrest to automatically be adjusted to your height. This yields a more effective massage while also ensuring that each user has maximum comfort during the massage.
What to Consider About the Infinity Celebrity Massage Chair
There are plenty of things one should consider about this massage chair before deciding if it is the right choice. Are you too tall or short? Do you have enough space in your home? Is it the right style of chair for you? This chair offers a great value compared to other chairs in the same price range.
It's also essential to consider that this massage chair is suitable for users up to 300 pounds and users from 4'6" - 6'4" in height. The Celebrity boasts plenty of great features and is highly suitable for most massage chair users.
Infinity Celebrity Pros and Cons
Pros:
Utilizes 3D roller technology, allowing for an enhanced, life-like massage experience
L-track design
Lumbar heating, allowing your muscles to relax
Offers body-scan technology to allow for a more personalized massage experience
Features rocking technology (think rocking chair)
Zero gravity positioning
Bluetooth capable speakers
Reflexology foot rollers
Automatic footrest extension
Apple & android app functionality
User Height Range: 4'6" - 6'4"
Maximum User Weight: 300 lbs.
Cons:
Only 2 colors to choose from, black or brown
User cannot be taller than 6'4" or shorter than 4'6"
User cannot weigh more than 300 lbs.
Conclusion
The Infinity Celebrity offers a lot of features, most of which are sufficient for the average massage chair user. The fact that it accommodates such a wide variety of body types is impressive. The lack of color choices is disappointing, however, but if black or brown is what you're looking for then it's not an issue.
If you've been looking for a quality massage chair with the 3D/L-track combination, the Celebrity may be right up your alley. Made by one of the most well-known massage chair brands, this chair was built with user satisfaction and longevity in mind.
We always recommend to try before you buy if at all possible, and it usually is. Also, if you have any pre-existing medical conditions you'll want to get approval from your doctor before using any massage chair.
We hope you've enjoyed this Infinity Celebrity Massage Chair review. If you have any questions feel free to give us a call at 800-566-2798. Thank you for reading!