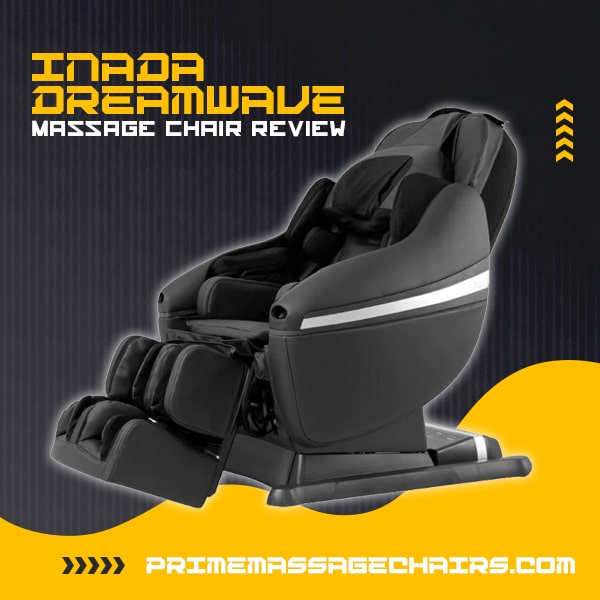 Inada Dreamwave Massage Chair Review

The Inada Dreamwave massage chair is made in Japan and is equipped with many useful and beneficial features. The Dreamwave allows you to choose from multiple different settings that massage your body with a combination of rollers, airbags, vibration, and heat treatments.
Well built and stylishly designed, this chair was built to provide the ultimate in-home massage. Now let's get into our Inada Dreamwave massage chair review and discuss some of the best features.
What Features Does the Dreamwave Massage Chair Offer?

When you order an Inada Dreamwave, you are not getting a standard massage chair with a few features. The Dreamwave has been among the very best massage chairs for years and rightfully so. You are getting a full set of massage tools that work together to create a full-body experience. Here is what sets the Dreamwave aside from the competition:
Roller Units
The Inada Dreamwave features multiple roller units that mimic the sensation of a massage therapist kneading your back.
These rollers can pinpoint areas in your back, shoulders, and neck, easing sore muscles and helping you relax after a long day.
Heat Therapy
If your car has heated seats, you know how comfortable it is to enjoy a heated seat on a cold winter's day. The Inada Dreamwave features built-in heaters in the lumbar and seat area that provide your body with a pleasant warmth while you enjoy your massage.
The heat also helps you relax by reducing your muscle tension or soreness.
Vibration
The Inada Dreamwave can also vibrate during your massage session to create a soothing, relaxing sensation. Enjoy the heat and vibration as the roller units knead your sore, aching muscles.
Air Bag Technology
Each Inada Dreamwave chair contains 100 air bags that are strategically placed for maximum comfort and relaxation.
The airbags inflate then release to give a gentle massage. The "full arm" air press section has twenty airbags that massage the shoulder joint, upper arm, forearm, and fingertips.
Reclining Capabilities
If you feel like you cannot truly relax without lying down, you can recline the Inada Dreamwave until the chair is horizontal.
You'll appreciate the massage a little more in the near lay flat reclined position.
Patented Shiatsu Point Detection
The first in the industry to combine neck and shoulder work. This feature lifts the neck on both sides, while air pads apply Shiatsu pressure straight down. This is designed to help relieve stiffness.
Swing-Style Aire Pressing Mechanism
This feature allows the rollers to move out as far as approximately 7cm. Using air to press the rollers allow for a mild and comfortable kneading massage.
Which Programs Come with the Dreamwave Massage Chair?
The Inada Dreamwave comes preinstalled with eight different massage programs. If you are looking for a comprehensive, deep-tissue massage after a long day at work, you can select the full-body massage. The Dreamwave also comes with a full-body air massage that uses air bags to massage sore joints.
The Dreamwave also offers specialized massages for morning and night so you can start your day off right and end the evening on a high note. The stretch massage helps you stretch your muscles for greater flexibility. Finally, choose the Dreamwave massage for a calm, soothing experience.
Inada Dreamwave Pros and Cons
Pros: 
Comes with 8 different auto massage programs
Body scan for maximum effectiveness and accuracy
Offers 100 air bags for maximum comfort and adjustability
Comes in three different colors: black, beige or brown
Can recline backward, allowing you to lie in a horizontal position
Includes Lumbar & Seat heat
Oscillating & Vibration massage
Comes with a remote that's easy to use
Uses roller units to massage your shoulders, neck and lower back
User height range of 5'0" - 6'5"
Maximum weight capacity of 300 pounds

Cons:
No option to connect the chair to your smartphone or tablet
Doesn't come with zero gravity mode (but does recline)
Assembly is required (unless you order white glove delivery)
No smartphone charging stations

Conclusion
One of the few downsides of the Inada Dreamwave is that it does not offer much in the way of smartphone technology. Unlike other chairs, you cannot connect the Dreamwave to your smartphone to access the settings and options from anywhere. The Dreamwave does not offer a charging station, so you will have to charge your devices separately while you are enjoying your massage.

Fortunately, the Inada Dreamwave makes up for these drawbacks by offering heat therapy and roller units that provide a deeply relaxing massage. To make it even easier, you can choose one of the chair's preprogrammed massages designed with different lifestyles in mind.
If you like to unwind at the end of the day, sit back and relax with the night massage program. Enjoy a full-body massage when you are feeling exhausted and try a quick massage when you need to take a short break.
If you'd like to talk to us regarding the Inada Dreamwave or any other massage chair you can reach us at 800-566-2798. Thank you for reading!