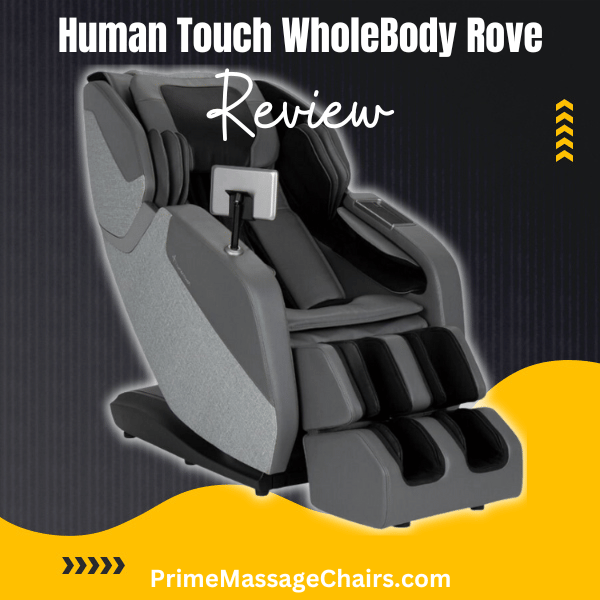 Human Touch WholeBody Rove Massage Chair Review
Welcome to our review of the Human Touch WholeBody Rove massage chair! If you're on a wellness journey and looking for a remarkable way to relax and recover, this massage chair is designed to make your experience smooth and rejuvenating.
With its high-performance L-track system, robust features, and user-friendly design, the WholeBody Rove massage chair offers an exceptional massage experience for individuals of various heights and sizes. 
Say goodbye to muscle tension and fatigue as the WholeBody Rove massage chair takes care of your well-being. Let's dive deeper into its top features, user height range, and maximum weight capacity to understand why this massage chair stands out from the rest.
 Table of Contents:
Top Features of the WholeBody Rove Massage Chair
SL-Track System
The unique L-track system extends massage coverage from your neck and shoulders down to your glutes and thighs, providing a comprehensive massage experience. It targets key areas of your body, ensuring that every muscle receives the attention it needs for complete relaxation and recovery.
The advanced multi-dimensional massage technology of the WholeBody Rove massage chair incorporates both S- and L-track systems. The S-track focuses on the natural curvature of your spine, providing targeted relief along your back. Meanwhile, the L-track extends coverage from your shoulders down to your thighs, ensuring more areas of your body receives a revitalizing massage.
AcuPoint Detection
The AcuPoint detection system of the WholeBody Rove massage chair scans your back and maps your body's specific acupressure points. By identifying these points, the chair can tailor the massage programs to target and address them effectively.
This personalized approach enhances the effectiveness of the massage, providing a more customized and satisfying experience.
Cloud Touch Acupressure
Strategically placed targeted air cells deliver pressure to specific healing points in your body, which helps to stimulate and stretch your muscles.
The Cloud Touch Acupressure feature of the WholeBody Rove massage chair utilizes these air cells to manipulate your body, improving muscle flexibility and providing a soothing stretch during your massage sessions.
Extendable Foot Rest
The WholeBody Rove features an extendable foot and calf massager. With under-foot rollers for optimized reflexology and adjustable intensity for calves and feet, you can customize the massage to suit your comfort level. This feature is especially beneficial after a long day on your feet or an intense workout.
8 Auto Wellness Programs
Choose from eight auto-wellness programs, including Full-Body, Stretch, and Recovery modes. These programs are designed to cater to different relaxation and recovery needs, offering a variety of massage techniques and intensities to help you unwind and rejuvenate.
Tablet Remote
Managing the chair's functions is incredibly easy with the intuitive tablet control panel. You can adjust the massage settings, switch between modes, and control the intensity with just a few taps on the tablet.
The user-friendly interface ensures that you can personalize your massage experience effortlessly.
Zero Gravity Recline
Indulge in the zero gravity position, which cradles your back and elevates your legs above your heart. This position is recommended by doctors as the healthiest way to sit, as it allows for optimal relaxation and weight distribution. Experience a weightless sensation as you drift into a state of bliss during your massage session.
Dual Heat Lumbar
Say goodbye to tight muscles as the WholeBody Rove massage chair comes equipped with dual-lumbar heating elements.
The targeted heat gently soothes your back, providing a soothing relief that helps to alleviate tension and promote muscle relaxation.
Space-Saving Design
Worried about fitting a massage chair in your room? The WholeBody Rove massage chair features a space-saving design that requires only 3" of wall clearance.
This enables the chair to pivot seamlessly from an upright to a reclined position without taking up too much space, making it suitable for smaller rooms as well.
Bluetooth Speakers
Enhance your relaxation experience by connecting your phone or music device to the built-in Bluetooth speakers.
Immerse yourself in soothing music while enjoying a comforting massage, creating a perfect ambiance for ultimate relaxation.
USB Port
The chair comes with a convenient built-in USB port, allowing you to charge your favorite handheld device while indulging in your massage session. Keep your phone or tablet powered up without the need for additional outlets or chargers.
Wireless Charging
Bid farewell to charging cable clutter. The WholeBody Rove massage chair is equipped with wireless charging capability, allowing you to conveniently charge your compatible phone wirelessly.
Simply place your compatible smartphone on the designated charging area and let it recharge while you unwind.
User Height Range & Maximum Weight Capacity
When it comes to accommodating users of different heights and sizes, the WholeBody Rove massage chair doesn't disappoint. Below are the specifications for the user height range and maximum weight capacity:
User Height Range
The chair is suitable for individuals with a height range between 5'0" and 6'4". This broad range ensures that most individuals can find a comfortable position and enjoy the benefits of the massage chair.
Max Weight Capacity
With a maximum weight capacity of 285 lbs, the WholeBody Rove massage chair provides sturdy support for individuals within this weight range. This ensures that you can fully immerse yourself in the massage experience without any concerns.
Pros and Cons
Pros:
Comprehensive massage coverage with the SL-track system
Adjustable and extendable foot and calf massager for optimal comfort
Eight auto-wellness programs catering to various relaxation and recovery needs
Intuitive tablet remote for easy control and customization
Zero gravity seating position promoting relaxation and weight distribution
Dual-lumbar heat to soothe muscles and alleviate tension
Space-saving design for seamless integration into any room
Built-in Bluetooth speakers for a relaxing audio experience
Convenient USB port for device charging during the massage
Wireless charging capability for compatible smartphones, eliminating the hassle of charging cables 
Cons:
2D massage rollers
Limited height range and weight capacity may not accommodate all individuals
Conclusion
In conclusion, the Human Touch WholeBody Rove massage chair offers an impressive range of features designed to enhance the relaxation and recovery experience. With its advanced L-track system, extensive massage coverage, and customizable settings, this massage chair brings comfort and relief to your wellness journey.
While it may not accommodate individuals outside the specified height range and weight capacity, the WholeBody Rove aims to provide a thorough massage experience for a wide range of users. Its space-saving design, intuitive controls, and additional features like Bluetooth speakers and wireless charging contribute to an immersive and pleasurable massage session.
Investing in the Human Touch WholeBody Rove massage chair can improve your overall well-being and provide a sanctuary for relaxation and rejuvenation. Experience the benefits of this exceptional massage chair, and let it pave the way to a healthier, happier you.
Thank you for taking the time to read our Human Touch WholeBody Rove review and we hope you found it helpful. If you have any questions just give us a call at 800-566-2798.