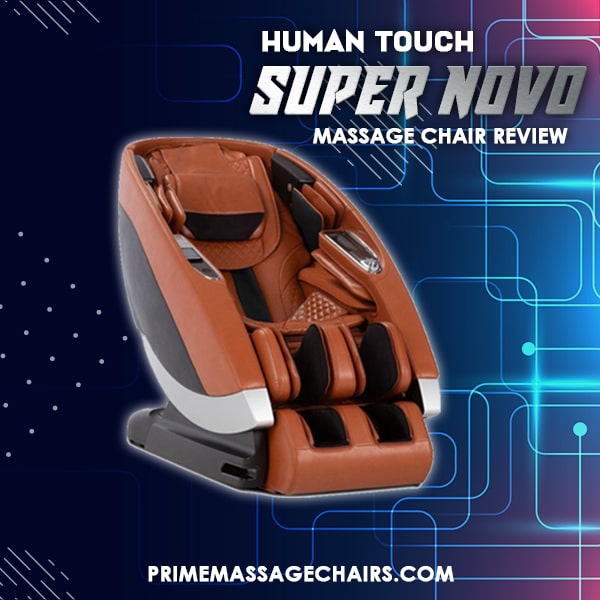 Human Touch Super Novo Massage Chair Review
Human Touch has surpassed all expectations with the Super Novo massage chair with its captivating design and robust features. Unlike other massage chairs on the market, the Super Novo uses a new technology called Virtual Therapist to offer an experience like no other.
You'll learn how this unique design delivers relaxation, reduces stress, and can help relieve pain in our Human Touch Super Novo massage chair review below.
Human Touch Super Novo Top Features
Virtual Therapist
Once enabled, the Virtual Therapist feature will ask you a series of questions like your physical requirements and massage preferences. Once the system receives your answers, it will store that information to make the next massage conveniently tailored to your exact wants and needs. You'll simply need to ask Alexa to request Novo to give you a massage.
Watch to see the Super Novo Virtual Therapist
Keep in mind that you will need to order a Virtual Therapist Bridge as it does not come included with the Human Touch Super Novo massage chair. Fortunately, this accessory is complimentary. You'll also need an alexa-compatible device such as Amazon Echo or something similar if you'd like to use the Virtual Therapist with your Super Novo massage chair.
Advanced Fingertip Controls
You can easily manage the controls thanks to the chair's key functions being conveniently located at your fingertips.
The control panel includes the power on, auto-program startup, speaker volume, adjust recline position, heat control, and restore chair to an upright position buttons.
Advanced LCD Remote
The Super Novo design has an intuitive remote control with a crystal-clear screen, perfect for when you are laid back in the ultimate relaxation position.
Easily adjust and move through the programs and features as you enjoy your massage session and store the control on the chair's magnetic remote dock, so it won't get lost when not in use.
3D and 4D Massage Programs
The Human Touch Super Novo reaches beyond the 3D massage by introducing the first 4D enhanced stroke speed massage capability. The 4D massage program offers variable speed, meaning each massage stroke automatically speeds up and slows down mid-stroke, replicating the technique of a professional massage therapist.
The features and versatility of the Super Novo firmly establishes it as one of the best full body massage chairs on the market today.
38 Auto-Wellness Programs
Auto modes are pre-programmed massage routines activated using a remote control source. These are ideal for those who are not quite sure how to personalize their massage sessions just yet. With 38 programs, it is simple to indulge yourself with a deep tissue massage, full-body immersion, and an assortment of other therapeutic relaxation and recovery programs.
SL-Track Massage
The Advanced Multi-Dimensional Massage Technology with S- and L-track extends the rollers to a farther distance, delivering more extensive massage coverage from the shoulders and spinal column down to the hamstrings.
Cloud Touch Acupressure
The air compression massage system is thought to rejuvenate, increases blood flow, flush the body of lactic acid buildup, and soothingly stretch  tendons and ligaments. The Cloud Touch Acupressure feature applies air compression to both upper and lower extremities at key healing points.
Dual-Lumbar Heat
The Super Novo Chair offers yet another innovation by adding adjustable heat to the back's lumbar region. Heat therapy is thought to cause the blood vessels to dilate, and, in turn, increases the blood flow and gently soothes the back to relax tight muscles and relieve pain.
Unibody Track
The striking unibody track design of the Human Touch Super Novo massage chair covers up to 60% of the back, much more than conventional chairs. The coverage extends from behind the neck and shoulders to your thighs.
Zero Gravity Setting
The zero-gravity position distributes the body weight throughout the chair, cradles the back, and places your legs above your heart, a position strongly recommended by professionals.
This position is believed to help alleviate stress on the body and enhance circulation.
Altec Lansing Premium Sound System
The Altec Lansing Premium Sound System is built into the Human Touch Super Novo so you can easily listen to eight different soothing nature sounds or narration of the features and benefits offered by the chair. The Super Novo is also Bluetooth-capable, so connect your smart device to enjoy your own music or favorite podcast through the sound system instead.
Human Touch Super Novo Massage Chair Pros and Cons
Pros:
38 auto massage modes
3D and 4D roller massage technology with SL-Track
Foot massage rollers
Advanced fingertip controls
Synthetic leather
Cloud Touch Acupressure
36 airbags
Virtual Therapist technology
Maximum weight capacity of 285 pounds
Broad user height range of 5'0" - 6'5"
Cons:
Higher price
Requires at least two people to move the 320-pound chair 
Conclusion
Overall we feel this is a great massage chair that can be used with or without the virtual therapist. Some people really enjoy Alexa, while others may not want to use that particular feature. Either way, this chair is loaded with useful enhancements and can provide an excellent massage in the comfort of your home.
In this Super Novo massage chair review, you've learned a lot about the technology and potential benefits. If you want to experience the kind of massage that only Human Touch products offer for yourself, consider getting in touch with us by calling 1-800-566-2798.