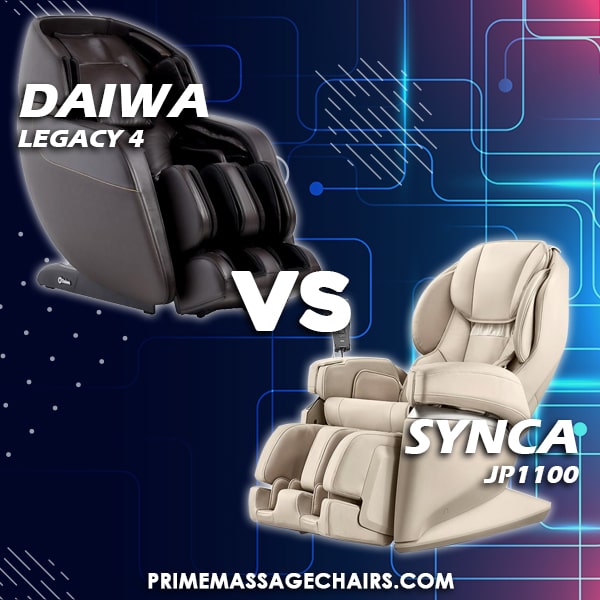 Massage Chair Comparison: Daiwa Legacy 4 vs Synca JP1100
Thinking about investing in a new massage chair and looking for quality? If so you're in luck because today we're comparing two high end massage chairs, the Daiwa Legacy 4 and the Synca JP1100.

The Daiwa Legacy 4 massage chair delivers high-tech features and a premium design that can leave you feeling refreshed. But how does it compare to the made in Japan Synca JP1100? Here's a breakdown of what each of these massage chairs has to offer so that you can make an informed buying decision.
What Features Does the Daiwa Legacy 4 Massage Chair Offer?
The Daiwa Legacy 4 has a slew of features that aim to create a customized massage experience and some of its most helpful features are as follows.
The Heated Compression Leg Massage
The Legacy 4's leg rest is one that is fully equipped with a thermal calf and knee massage function. Given that the knees and calves are some of the most prone-to-injury spots on the body and can develop a lot of joint pain or inflammation, this feature really does come in handy.
When using this form of automatic massage, the leg massager starts at the ankles and works up to the knees, all the while utilizing heat combined with gentle motions from the airbags that expand the tendons, reducing pain and inflammation.
Undulating Airbag Foot Massage & Foot Rollers
The Legacy 4 comes with a series of strong airbags that will inflate and deflate in a rotating fashion spanning from your calves down into your feet so as to alleviate tension and promote better bodily circulation.
There are a couple of built-in grips that will gently hold your ankles in place as the massage function runs. The Legacy 4 also comes with reflexology foot rollers to help relieve the stress of a long day.
Heat Therapy
The Therapeutic Heat function is a helpful one to use if you suffer from tension and sore muscles. The heat is located in the lumbar region, providing soothing relief from intense back pain built up by stress throughout the day.
This type of heat therapy is thought to encourage stress reduction, reduce arthritic pain, and relaxes and reinvigorates painful muscles. When muscles are warm, they are more flexible, which is what the Legacy 4 aims to do with this therapeutic function. Heat is found in most full body massage chairs and is a compliment to the massage.
An L-Shaped Massage Track
The Legacy 4 boasts an extra-long, L-shaped massage track that spans from the upper shoulders to the top of the thighs. The 3D SmartScan technology will map out your entire back prior to each massage. It does this to customize your massage experience, tailoring it to the unique curvature in your spine. Accuracy and efficiency are the two things this scan technology aims to provide the chair's users.
A Smartphone and Tablet + Charging Station
Sit and relax with your smartphone or tablet at your beck and call. The Legacy 4 has an app that wirelessly connects your phone. Inside of the app, you can access the controls, which include activating the chair's manual and automated massage programs.
You can also use it to have the massage focus on a specific area of your body or diversify the massage's intensity and type. Of course, you can plug in to the USB charging port to get your device all charged up when the battery gets low.
Which Programs Come With the Daiwa Legacy 4 Massage Chair?
Use the remote to access the auto programs or manual programs. You can choose from Refresh, Upper Body, Lower Body, Recovery, Extend, Gentle Care, Relax, Stress Relief, and Royal Treatment. Manual modes include Kneading up, Kneading down, Tapping, Knocking, Shiatsu, Sync, and Rhythm.
Daiwa Legacy 4 Pros and Cons
Pros:
3D Massage rollers
L-shaped massage track
Zero gravity reclining
Automatic leg extension
Triple reflexology foot rollers
Therapeutic heat therapy
Space saver design
Bluetooth-capable speakers
USB charging station
Multi-language controller
User Height Range: 4'8" - 6'6"
Maximum User Weight: 300 lbs.
 Cons:
Only 2 colors to choose from (black or brown)
Takes approximately one hour to assemble
User cannot weigh more than 300 lbs.
Can't accommodate user that are taller than 6'6" or shorter than 4'8"
What Features Does the Synca JP1100 Massage Chair Offer?
The Synca JP1100 massage chair isn't short on functions, either. Below we discuss some of the top features for you to consider.
A Massive Massage Ball
At 12.5 centimeters, the JP1100 has the largest massage ball in the industry. Which is thought to alleviate muscle soreness more profoundly than other chairs.
The two massage balls move up and down, back and forth, and from right to left in a smooth motion that generates a soft kneading sensation. This can help in reducing the most stubborn sore spots and re energize seriously tired muscles.
Double Detection
Two body sensors on the Synca JP1100 perform a full-body scan, allowing for a more effective and personalized massage each time you use the chair. This function provides the correct depth and pressure amount for each use.
Shiatsu Reflexology
The feet have functions connected to the rest of the body and that problems in the feet link to issues in these other areas. The Shiatsu Reflexology feature has a special roller and airbag system designed to hone in on the plantar fascia muscles located in the arch of your foot.
Shiatsu Reflexology embraces the special Shiatsu massage movements while your foot is securely held within the air compression area located near the insteps and ankles. When used with integrated foot heaters, it is thought to help improve blood circulation.
Flow Adjustment Technology
Flow adjustment is something that creates slow speed changes and high, instant bursts. The powerful airbags generate more flexibility with regard to controlling the pressure release and compression.
Near-Flat Reclining
If you need to take a snooze, simply recline back. This chair reclines to an almost 180-degree angle, promoting healthy blood flow and relaxation to get you the rest you need. If you want, you can select a longer massage time and recline back, closing your eyes as the chair works out all your sore spots.
How many Programs Come With the Synca JP1100 Massage Chair?
The JP1100 has a total of 21 automatic massage programs, so you'll likely find what you're looking for. 
Synca JP1100 Pros and Cons
Pros:
4D massage
S-shaped track
Made in Japan
Near-flat reclining
Double warm heater system
Shiatsu reflexology feature
28 massage airbags
Touchscreen controller
21 auto programs
Maximum Weight Capacity: 300 lbs.
User Height Range: 5'0" - 6'2"
Cons:
Only 3 colors to choose from (black, brown, or beige)
Takes approximately one hour to assemble
Not meant for those over 6'2" tall
Conclusion
Both the Daiwa Legacy 4 and the Synca JP1100 are well-constructed massage chairs that offer a premium experience. You can cater your massage to your body well with either one.
Ultimately these are two luxury massage chairs from reputable brands and these chairs were built to please. Take a good look at the features and specifications of each chair and if you have questions feel free to call us at 800-566-2798. Thank you for reading!