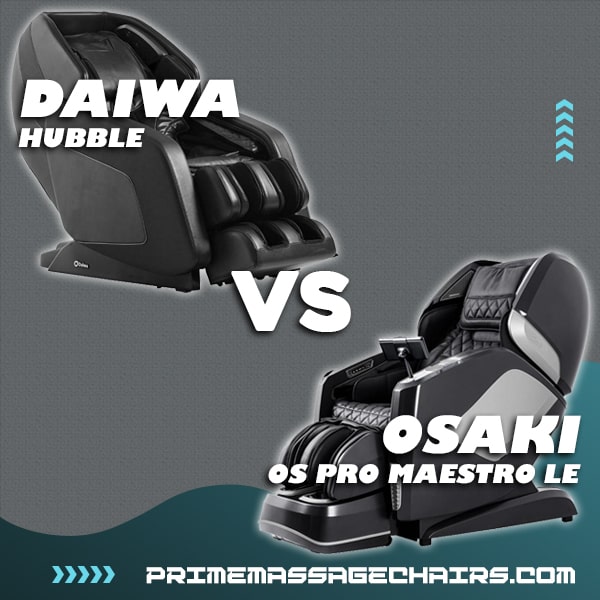 Massage Chair Comparison: Daiwa Hubble vs Osaki OS Pro Maestro LE
When it comes to high quality massage chairs, the Daiwa Hubble ranks right up there with the Osaki OS Pro Maestro LE. Both offer a lot of features that cater to your body's unique massage needs. But which one will present you with the overall best deal?

For the price, either one is going to offer you a lot of massage functions. The Daiwa Hubble offers 3D massage rollers and surround sound speakers, but the Osaki OS Pro Maestro comes with 4D massage and an S&L-shaped roller track. Which one is best for your needs? Here is how each full body massage chair stacks up against each other and we hope you enjoy this comparison.
What are some Top Features of the Daiwa Hubble?
The Daiwa Hubble massage chair delivers some exciting and helpful features. Some of the top features that you may find helpful are as follows:
3D Rollers
The Daiwa Hubble comes with 3D massage rollers. They can move in different directions, making it so that they move smoothly along the natural contours of your body via an extra plane of movement. To help you get the ultimate full-body massage, you can select from five intensity levels.
Having the right music playing can enhance your massage experience, no doubt about it. Easily and wirelessly connect with your compatible Bluetooth device for optimal listening. Bonus: If you choose the "Rhythm" manual massage mode, the chair will actually massage your muscles in sync with your music!
Smartphone and Tablet + Charging Station
The Hubble Massage Chair app lets you wirelessly connect your chair with your smartphone or tablet via built-in Bluetooth technology. All you have to do is download and utilize the app in order to access some of the chair's controls and automated massage programs, emphasizing the massaging function on a certain area of the body.
You can also use the app to switch the massage intensity and type. Of course, this charging station allows you to charge your device with the Hubble's handy USB charging port.
Triple Reflexology Foot Rollers
It is believed that one of the biggest fundamentals of reflexology is that the feet connect to all other parts of the body; it's important to treat your feet well by stimulating the their nerve endings.
The Hubble's foot rollers do this in order to provide soothing pressure that is thought to reinvigorate your vitality, and improve your bodily circulation. The Hubble's three varied foot rollers target specific areas of the feet.
An L-Shaped Massage Track
The Daiwa Hubble massage chair features an extra-long, L-shaped massage track that operates from your shoulders down to the top of your thighs. With the 3D SmartScan feature, you get a mapping of your entire spine before each massage. This gives you a more customized massage experience tailored to your unique spine.
In order to optimize massage efficiency and accuracy, use the Auto Body Scanning System to map out your entire back before you even start your massage. Doing so creates a massage that caters more directly to your spine's unique curvature.
Which Programs Come With the Daiwa Hubble?
The Daiwa Hubble has 27 automatic programs (9 programs x's 3 settings) and six customizable manual programs accessible via the remote. You can enjoy the Royal Treatment, Stress Relief, Gentle Care, Relax, Recovery, Extend, Lower Body, Upper Body, or Refresh. The remote is multi-language, and you can seamlessly transition between programs using the remote.
Daiwa Hubble Pros and Cons
Here are some pros and cons for the Daiwa Hubble.
Pros:
3D massage rollers
L track design
Bluetooth speakers
Comes with USB charging port
Triple reflexology foot rollers
Zero gravity reclining
Space-saving technology
Heat therapy
Easily transition between programs
User Height Range: 4'8" - 6'6"
Maximum User Weight: 300 lbs.
Cons:
Takes approximately one hour to assemble
User cannot be taller than 6'6" or shorter than 4'8"
Cant accommodate user that are over 300 lbs.
What are some Top Features of the Osaki Maestro LE?
Th Osaki OS Pro Maestro LE has quite a few desirable features as well. Here are the five you may find the most helpful.
4D Massage
With the 4D massage, the Osaki OS Pro Maestro LE massage chair offers you a deeper, wider, and more rhythmic massage than the traditional rollers that come with the average massage chair.

Furthermore, the Maestro LE gives you eight different levels of 4D adjustment, five strength adjustments, five intensity adjustments, and five speed adjustments. This makes it so that the massage rollers can give you a more customized massage.
A Full-Body Air Massage
Users often want a full-body massage. That is why the airbags placed throughout the Maestro LE are so ideal. You'll find these airbags at the shoulders, arms, the waist/pelvis, and in the areas around the calves.
A S&L Shaped Roller Track
Many chairs have only an S or an L roller track. This chair has both. The SL-Track begins working at the neck and flows down the curve of your back. It then comes to a stop underneath your thighs.
Auto Leg Scan and Leg Extension
The Osaki OS Pro Maestro LE's system will scan your legs to figure out their length. The ottoman will extend outward and inward, and all your need to do is apply pressure using your feet when the leg scanner makes it to the desired position; this will stop the scanner in place.
Foot and Calf Kneading Massage
The foot and calf kneading roller massages the sides and middle of your feet, creating a kneading massage. Osaki added even more parts in order to stretch and massage the bridge and heel of your feet.

Your calf area will get a kneading massage using the airbags that inflate to a proper pressure. On the upper part of the leg rest, there are air massagers that rotate in a circular fashion that lend even more to the calf massage.
Which Programs Come With the Osaki OS Pro Maestro LE?
In addition to the manual massage options, the Maestro LE comes with eight automatic programs. You can use these modes: Demo, Relax, Swing, Stretch, Scraping, Shiatsu, Gentle Relief, and Rejuvenate.

On top of that, there is a combination of manual massage styles. These let you customize the massage style. You can choose from two manual programs that will combine to carry out the two massage styles simultaneously.
Osaki OS Pro Maestro LE Pros and Cons
The following are some helpful pros and cons of the Osaki Maestro LE.
Pros:
4D massage technology
SL Track
Two-position zero gravity recline
Touch-screen remote
Space-saving design
Full body air massage
Body scan technology
Foot rollers
Auto leg scan and leg extension
Bluetooth-capable speakers
Wireless charging
USB charging port
User Height Range: 5'0" - 6'3"
Maximum User Weight: 260 lbs.
Cons:
User cannot be taller than 6'3" or shorter than 5'0" 
Only caters to those weighing up to 260 pounds
Takes approximately 1 hour to assemble
Conclusion
Both the Daiwa Hubble and the Osaki Maestro LE massage chairs are capable of giving you a relaxing and soothing massage. While the Maestro LE has 4D massage rollers and a plethora of other useful features, the Daiwa Hubble also is very well equipped and could be the right chair for you.
Thank you for taking the time to read this massage chair comparison and we hope you found it useful. If you have any questions feel free to give us a call at 800-566-2798.