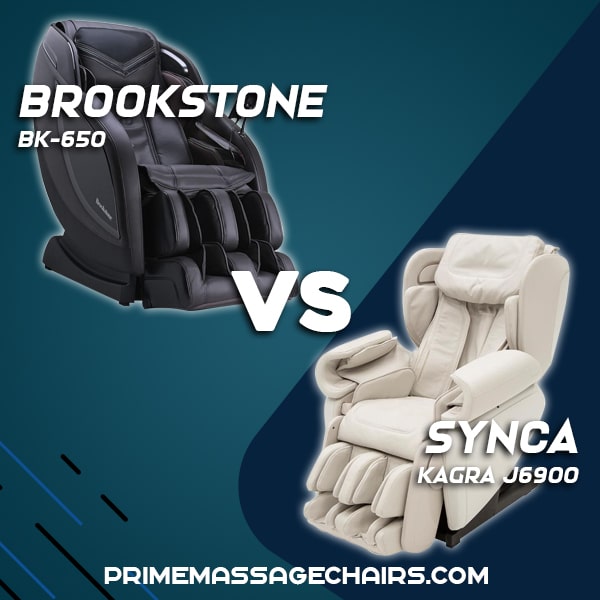 Massage Chair Comparison: Brookstone BK-650 vs Synca Kagra J6900
Today we're comparing two massage chairs from well-known and respected brands, the Brookstone BK-650 and Synca Kagra J6900. Both of these are very nice massage chairs but they do have some key differences between them as discussed below.
Not all massage chairs are the same, and the Brookstone BK-650 massage chair and Synca Kagra J6900 massage chair are proof of this. Both are similarly priced, but for the money, you get some big differences.
Depending on your personal preferences, one might work better for you than the other. Is the BK-650's L-track more to your liking, or will the S-shape design on the Kagra J6900 work better for you? Keep reading for our thoughts on each massage chair.
Brookstone BK-650 Massage Chair Top Features
What can you expect from the Brookstone BK-650? Well it has a lot to offer and this article will discuss some of the top features.
3D Massage Rollers
With 3D technology, the chair's massage rollers are able to move side to side, up and down, and in and out. This gives you more control over the massage's strength and depth - especially with four depth levels available to select from.
One-Touch Zero Gravity
With the touch of a button, this massage chair can recline back, bringing your feet above heart level. Why is this important? Poor blood circulation and fluid pooling in the feet and ankles play a role in chronic health conditions like lymphedema and lipedema.
It is believed that stimulating the flow of blood and fluids back toward the heart is essential for maintaining your health, and the zero-gravity positioning of this chair is thought to make it easy to do as you get your massage.
L-Track Design
There are normally two-track designs for massage chairs: L- or S-tracks (named for their shapes). The BK-650 has an L-track, which follows the curvature of your spine, using the 3D quad style roller mechanism to gently glide over you. It starts at the base of your neck and wraps around under your glutes for a full massage feeling.
Voice Control
You can go into the Google Play or Apple Store and search for Cozzia Voice Commands to find this app. Download and use it along with the speakers, which support both Alexa and Google.
The BK-650 features body scanning technology that will scan the entirety of your back, ensuring that the massage rollers hit all the critical points on your body.
Essentially, this tailors the massage to your body's unique shape. The result is consistent pressure and gentle rolling of the rollers.
Which Programs Come With the Brookstone BK-650 Massage Chair?
The Brookstone BK-650 has four main automatic programs: Relax, Stretch, Gentle, and Demo. Detailed programs that combine Shiatsu, Kneading, Clapping, Tapping, Swedish, Rolling, and Dual Action massage techniques.
Brookstone BK-650 Pros and Cons
Here are some of the pros and cons of the BK-650 massage chair.

Pros:
Zero gravity reclining made easy
Bluetooth technology
Body scan technology
A tablet-style touch-screen controller
Air compression massage
3D massage rollers
L-track technology
Voice control option
Chromotherapy lighting
User Height Range: 5'0" - 6'3"
Maximum User Weight: 320 lbs.
Cons:
Only 3 colors to choose from
Takes approximately one hour to assemble
Cannot accommodate user that weigh more than 320 lbs.
Synca Kagra J6900 Massage Chair Top Features
The Synca Kagra is a very well-equipped massage chair as you'll read more about below.
4D Precision Technology
The Kagra J6900 features 4D massage technology, which takes things a step further than 3D tech. This technology allows for pressure adjustments which can help with stress relief in core areas of the body that hold the most tension.
It operates in rhythmic horizontal, vertical, and depth motions, allowing you to devise your own custom massage experience. You can do this by choosing any of the manual or automatic massage techniques that you desire. Press the 'memory' button to save this massage for next time if you enjoy it.
Real Body Sensing
The J6900 uses high-performance dual-layer sensors to conduct real body sensing. The system will map out your body's unique contours and you can choose from any of the auto courses, foot massage, or a number of stretch options.
Built-In Bluetooth Speakers
The Synca Kagra boasts a set of integrated Bluetooth speakers that easily pair with your smartphone or tablet for a personalized listening experience during your massage. It can also play the sound from your smart TV, letting you stream your favorite shows or movies while you relax.
Ergonomic Massage Posturing
Posturing is key for a more impactful massage, and the Kagra J6900's ergonomic massage posturing comes from its adjustable backrest and footrest angles. The armrest will automatically position itself in sync with the backrest's recline in order to be as ergonomic as possible.
Heat Therapy
Heat is a massage essential since it relaxes the muscle groups. The chair's heat pad can stay positioned behind you so as to heat your back, in front of you in order to warm your chest and stomach, or even on your hands in the pocket hand warmers.
Which Programs Come With the Synca Kagra J6900 Massage Chair?
Some of the auto mode courses are as follows: Swedish, music, shiatsu, stretch, neck & shoulder, lower back & hip, ZG massage, quick, and stretch. The Synca Kagra J6900 offers a total of 78 massage techniques.
Synca Kagra J6900 Pros and Cons
Here are some of the pros and cons of the Kagra J6900 massage chair.
Pros:
4D massage technology
S-track design
Real body sensing
Triple region heat system
Zero gravity
Air massage
An easy-to-use controller
Multi functional footrest
Built-in Bluetooth speakers
User Height Range: 5'0" - 6'2"
Maximum Weight Capacity: 300 lbs.
Cons:
Only 3 colors to choose from
Not suitable for anyone over 6 feet, 2 inches tall
Takes approximately an hour to assemble
User cannot weigh more than 300 lbs.
Conclusion
Buying a new massage chair shouldn't be a hassle. Picking the right one is all about finding one that physically conforms to your body the best and has the features you desire for the ultimate massage experience.
Since you will likely spend several thousand dollars of your hard-earned money on a full body massage chair, you should ensure that you are getting all of the features and programs that you need to help you relax and rejuvenate.
The Brookstone BK-650 might not have the same 4D tech as the Synca Kagra chair, but it delivers an otherwise well-rounded massage and has a high-tech, contemporary feel to it. Its L-track design and zero-gravity recline ensure a good degree of adjustability.
The Synca Kagra J6900 massage chair delivers well with its 4D tech, triple region heat system, and zero gravity reclining. This chair gives a nice massage and the styling would likely be a welcome addition to just about any living area.
If you're interested in either of these chairs, take a good look at the features, specifications, and warranty to see if either will be a good choice for you.
We hope you enjoyed this comparison and found it helpful. If you have any questions feel free to call us at 800-566-2798. Thank you for reading!