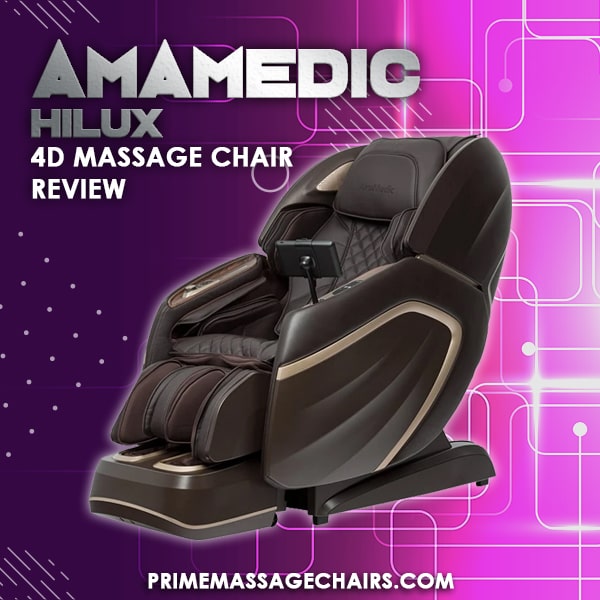 AmaMedic Hilux 4D Massage Chair Review
The AmaMedic Hilux 4D caters to the reasons you might want a massage chair in the first place, a nice massage with advanced features you can enjoy in the comfort of your home. This chair offers superior massage technology and good looks that will compliment just about any decor.
With high-tech 4D rollers and eight automatic programs, this chair has everything you need to relieve stress, tension, and soreness. The Hilux by AmaMedic also comes with eighteen airbags that compress your muscles during your session.
Read this AmaMedic Hilux 4D massage chair review for a full rundown of what makes this chair one of the best massage chairs for people looking for an upper-mid to high end chair.
The AmaMedic Hilux 4D might focus on massage technology, but that doesn't mean that you won't get additional features. In addition to the advanced roller technology, you'll get a shoulder massager, two zero gravity modes, a wireless smartphone charger, and more.
Plus, this chair comes in three different colors so you can match the rest of your furniture. If you're still trying to make a decision, this AmaMedic Hilux review will touch on several points that may help you decide if this is the right massage chair for you.
What Features Does the AmaMedic Hilux 4D Offer?
The AmaMedic Hilux 4D comes with an impressive suite of features. Here's a rundown of the features that make this chair a hot item on the market.
Heated 4D Rollers
The chair features 4D rollers, the most sought-after rollers on the market. Instead of the usual heating pad, the AmaMedic Hilux 4D comes with heated rollers that relax your muscles and massage your back at the same time.
This chair uses infrared heat that penetrates your muscles instead of heating the surface.
Touchscreen Digital Controller
Some massage chairs come with small remotes that are hard to see and even harder to use. The AmaMedic Hilux 4D offers a full-size tablet controller that you can use just like a regular tablet.
The touch screen places all of the chair's settings at your fingertips. When you're not using the controller, you can place it on the magnetic holder, so you don't lose it.
Eight Massage Programs
The AmaMedic Hilux 4D comes with eight massage programs that have different features. For example, you could choose the stretch massage if you want to stretch your muscles or the scraping massage for a pleasant scraping sensation.
If this is your first time using this chair, you might want to check out the demo so you can try every program at once.
Two Zero Gravity Modes
When you enter zero gravity mode, you can use one of the pre-installed modes or adjust the chair manually with the controller.
This mode is perfect for people who prefer to lie down when they enjoy a massage.
Shoulder Massager
Give your shoulders a squeeze with the included adjustable shoulder massager. If it's not in the right position, you can adjust the massager so that it fits your body type.
The massager has three different settings, plus a default mode. You can reset the position to default by pushing on the sides.


AmaMedic Hilux 4D Pros and Cons
Pros:
Uses heated rollers to target your muscles directly and replicate the feeling of a mildly warm massage
Comes with 4D rollers that offer the most advanced massage in the industry
Offers two zero gravity modes
Comes with a wireless charger
Comes with a USB charging port
Uses foot rollers to massage your legs and feet
Side panel controller
Touchscreen remote tablet
Comes with a shoulder massager that you can adjust to your body type
Comes with HD Bluetooth speakers for a crystal-clear audio experience
User Height Range: 5'0" - 6'3"
Maximum User Weight: 270 lbs.
Cons:
Maximum User Foot Size: US Men's Size 13
Requires at least a 32" doorway
Takes approx. 1 hour to assemble
User cannot be taller than 6'3" or shorter than 5'0"
Conclusion
The AmaMedic Hilux 4D is a luxurious massage chair that combines exciting features with a high-tech massage experience. This chair isn't the first massage chair to offer heat, but it's one of a select group of massage chairs to offer heated rollers instead of a heating pad.
This applies the mild heat directly to your sore muscles to help soothe your body. Even better, this chair comes with 4D rollers that offer a relaxing, deep-tissue massage that you just won't get with older outdated 2D rollers.
This chair doesn't have every advanced feature—for example, it lacks the chromotherapy lighting that you find in a lot of newer massage chairs. However, you'd be hard-pressed to find a chair that includes every feature on the market.
The AmaMedic Hilux 4D comes with all the essentials and upgrades them so they exceed your expectations. Whether you're looking to relax, stretch your muscles, relieve tension, or try a demo of all the programs, you'll find it all with the AmaMedic Hilux 4D massage chair.
If you'd like to talk to us about the AmaMedic Hilux (or any other chair) feel free to give us a call at 800-566-2798.
We hope you've enjoyed this article and thank you for reading!