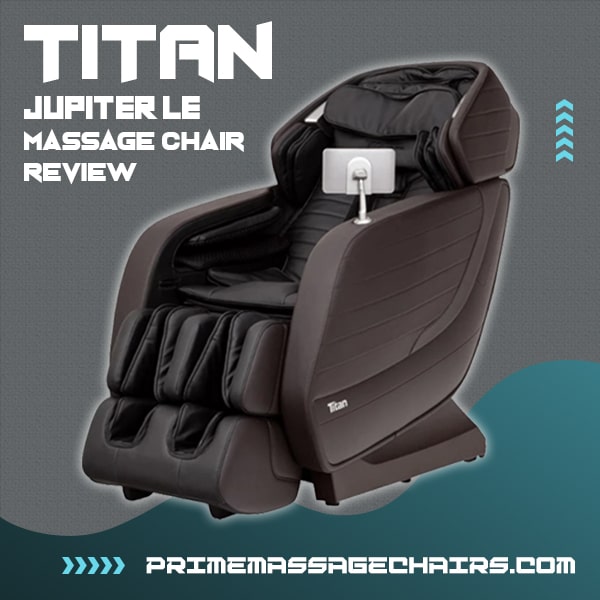 Titan Jupiter LE Massage Chair Review
In this article we review the new Titan Jupiter LE massage chair. We talk about some of the best features including the chairs ability to fit a broader range of body sizes than a lot of other massage chairs on the market. 
The Jupiter LE will accommodate users from 5'2" to 6'6" in height and has a weight limit of 280 pounds, which is great for people that want a chair for the whole family.
In this Titan Jupiter LE review, we will go over some key characteristics that make the chair a smart purchase. From its L-track massage design to its dual action foot massage, the Jupiter LE has a little something for everyone. 
This chair is equipped with some very nice features and is priced reasonably. Now let's take a look at some of the top features and benefits.
What are some Top Features of the Titan Jupiter LE?
L-Track Massage Design
The L-track massage design is what truly provides users with a well-rounded massage experience. This model also includes an auto body scan—an advanced feature that will scan your entire body in order to figure out where you need a massage the most.
It can find out how and where to apply optimal amounts of pressure during the massage. Since this is an L-track design, you get a massage that extends all the way from your neck down into those seemingly always tight glute muscles.
There are a total of eighty airbag cells built into this massage chair, which means you get to reap the benefit of more airbags applying pressure to core muscle groups that get tired after a long day. As you can see already, the Jupiter LE was built to compete with some much more expensive massage chairs without the sting of the higher cost.
Infrared Heating
Applying heat relaxes tight, sore muscles and generally makes the massage more enjoyable.
On the Titan Jupiter LE, heated is included in four key areas: the back rollers, the waist, the seat, and the legs.
All four of these are core components in the chair's massage programs, so having them all be equipped with infrared heating is a huge bonus. Just kick back, relax, and let the heat enhance your blood circulation and loosen up those tight muscles.
The extendable footrest can really come in handy for taller users. To extend the footrest, simply apply pressure with your feet so you can enjoy more space.
Space-Saving Technology
The Jupiter LE is an attractive chair and its space-saving design makes it ideal for almost any room in your home.
It maxes out at thirty-two inches in width when assembled, so be sure you get it in the room you want before you put the chair together. Unassembled, it comes in at twenty-nine inches, which means it can fit through most doorways without a hassle.
When you have it in your selected room, you only need to set the chair 3.2 inches away from the wall in order for it to fully recline. The seat slides forward so you only need a small amount of clearance space.
Reclining in the zero gravity position is helpful since it can improve your blood flow and help you feel more relaxed during your massage.
Bluetooth Compatibility
Want to mellow out to your favorite tunes or ambient sounds? You can simply sync your smartphone up with the Titan Jupiter LE's built-in Bluetooth technology. The system's speakers are embedded into the headrest for optimal listening.
Just browse through and play anything you want, whether it is some quiet reiki music or the latest episode of your favorite podcast. Connecting to the speakers takes hardly any time at all and provides endless entertainment while you get your massage.
Easy-to-Use Controls
While we are on the topic of technology, the Titan Jupiter LE also offers a handy touch screen remote and intelligent voice control. The touch screen is placed within reach so it is easily accessible during your massage. The remote is intuitive and easy to use.
Would you like to control your massage by voice commands? You can do so with intelligent voice control. Just saying a simple "Hello, Kiri" will wake the system up and enable you to choose your massage program by using more specific commands.
Just bear in mind that you will need to review the commands programmed into this chair as outlined in the user's manual. You must use very specific prompts for each function.
Which Programs Come with the Titan Jupiter
LE Massage Chair?
The Titan Jupiter LE comes with ten automatic programs: Vitality, Senior, Power, Recovery, Pain Relief, Burmese Massage, Sleep, Blood Circulate, Waist Massage, and Stretch.
There are also six massage styles to choose from: Knead, Tap, Knock, Shiatsu, Knead/Tap, and Knead/Knock.
Titan Jupiter LE Massage Chair Pros and Cons
Pros:
3D massage
L-Track
Foot Massage Rollers
Infrared heating for the back, waist, seat, and legs
Space saving technology
Auto body scan
Zero gravity positioning
Bluetooth capable speakers
Easy-to-use touch screen technology and voice control commands
User Height Range: 5'2" - 6'6"
Maximum User Weight: 280 lbs.
Cons:
Only a few colors to choose from.
User cannot weigh more than 280 lbs.
Conclusion
Overall this chair offers a lot of value for the price point. With features such as 3D Massage, L-Shaped Track, Bluetooth, Heat Therapy, and Foot Rollers, as well as the broad user height range this chair offers, it really is a very nicely equipped massage chair.
With plenty of programs to choose from, great tech features, and attractive price, the Jupiter LE can not only give you a great massage but will enhance any home with its modern good looks.
We hope you enjoyed this Titan Jupiter LE Massage Chair Review and found it useful. If you have any questions feel free to call us at 800-566-2798.