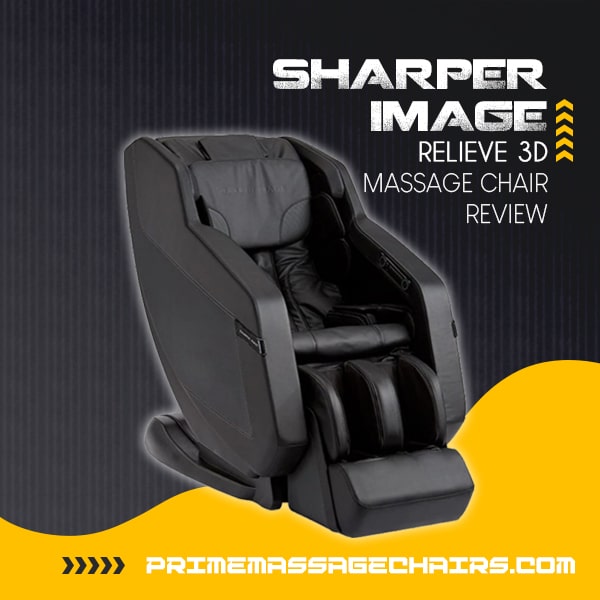 Sharper Image Relieve 3D Massage Chair Review
Today we're reviewing a massage chair from Sharper Image, the Relieve 3D. The Sharper Image Relieve 3D comes equipped with many impressive features that we'll discuss below.
This is a nice looking chair that features an L-track design, heat, zero gravity reclining, bluetooth speakers, and more. Whenever shopping for a massage chair it's always important to pay attention to the user height range (5'4" - 6'7") and maximum weight capacity (300 pounds). As you can see, the Relieve 3D supports a wide range of body types.
Our Sharper Image Relieve 3D review will discuss some of the top features, as well as the pros and cons.
What are some Top Features of the Sharper Image Relieve 3D Massage Chair?
Body Scanning
The Sharper Image Relieve 3D features body scanning technology that will scan your body to ensure you get a custom massage experience tailored to your body's natural size and contours.
The Sharper Image Relieve features a 49-inch L-track to gently guide the quad roller assembly around your body's natural curvature. The chair cradles the user comfortably and ensures that the rollers stay in continuous contact from your neck to your upper thighs.
Dual-Action Massage
The Sharper Image Relieve 3D massage chair features three-dimensional massage rollers with five levels of deep tissue massage. Airbag compression therapy combines with the massage rollers to maximize the effectiveness of your massage. The combination of rollers and airbags can help provide relief for your hard-to-reach muscle groups.
Heat Therapy
Heated massage offers a lot of benefits, and the Relieve 3D applies gentle heat to your lower back and your calves.
The warmth can help relax your muscles to help them loosen up, and could also stimulate better circulation and blood flow.
Calf and Leg Massage
Using the Sharper Image Relieve 3D massage chair can be a great way to work off some of the stiffness and tightness that you encounter from standing and walking all day. You'll enjoy kneading massage on the calves, airbag compression, and foot rollers to provide reflexology for the bottoms of your feet.
Zero-Gravity Mode
This chair also offers zero-gravity reclining to simulate the sensation of weightlessness. Raising your knees above your heart is one possible way to improve your circulation and blood flow.
The zero gravity reclined position is generally considered to be the most comfortable position to enjoy a massage.
Space-Saving Design
The Relieve 3D massage chair is an excellent option for consumers in small homes, apartments, or condos. You'll only need 2 inches of clearance (from the back of the headrest to the wall) to slip into fully reclined zero-gravity operation.
Bluetooth Audio System
The Relieve 3D massage chair features Bluetooth-compatible speakers. You can connect your smartphone or compatible mobile device using the Bluetooth connection and enjoy your favorite music, podcast or audiobook as you relax.
Magnetic Remote Holder
The Relieve 3D features a magnetic holder for convenient placement of your remote control.
The Relieve 3D app can help you control your massage chair using your iPhone or Android mobile device. You can download the app for free from the App Store or Google Play.
Quick Access Panel
If you're too relaxed to reach for the remote, you'll have a quick access panel by the armrest that enables you to adjust settings on the fly during your massage.
Which Programs Come With the Sharper Image Relieve 3D Massage Chair?
When you sit in the Relieve 3D you have the following 20 auto programs to choose from:
Relieve
Vigor
Renew
Zen
Calm
Bedtime
Rise & Shine
Air Only
Zero G
Extend
Yoga
Stretch
Athlete
Stress Free
Mid Body
Total Body
Upper Body
Lower Body
Neck & Shoulder
Quick
Sharper Image Relieve 3D Pros and Cons
Pros:
3D massage rollers
Body scan
Bluetooth-capable speakers
L-track design
Heat therapy for lumbar and calves
Calf and leg massage
Zero gravity positioning
Space saving design
Easy to use controller
Magnetic remote holder
Smartphone app controls
Quick access panel
User Height Range: 5'4" - 6'7"
Maximum User Weight: 300 lbs.
Cons:
Only 1 color currently available
Mid to higher price point
User cannot be taller than 6'7" or shorter than 5'4"
User cannot weigh more than 300 lbs.
Conclusion
As previously mentioned, the Sharper Image Relieve features 3D massage rollers that work with the massage airbags to give users a relaxing and therapeutic massage experience.
Once paired with your compatible smart device, the Bluetooth speakers will let you enjoy your choice of music during your massage session, and you also have 20 auto massage programs to choose from.
Don't forget about the zero gravity reclining and space saving technology this chair has to offer. We feel this is a well equipped massage chair for a good mid-level budget. Is it right for you? The only way to know for sure is to find a showroom and sit in and try the chair for yourself.
We hope you've enjoyed this Sharper Image Relieve 3D review and gained some insight. If you have any questions feel free to give us a call at 800-566-2798. Thank you for reading!