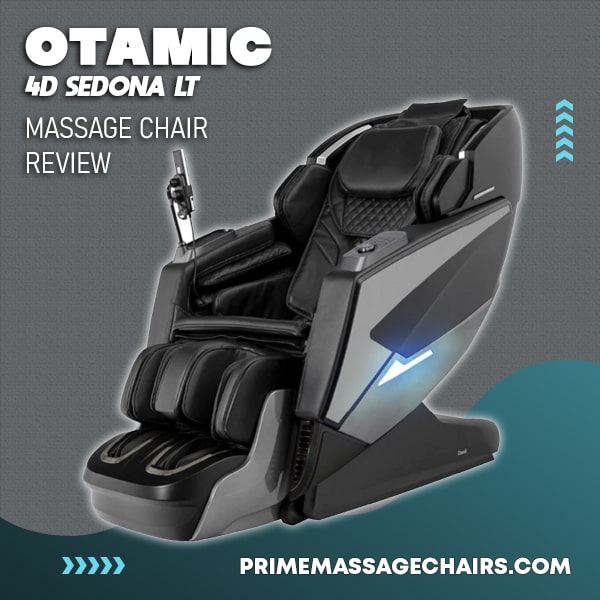 Otamic 4D Sedona LT Massage Chair Review
Today we're reviewing the Otamic 4D Sedona LT massage chair. As discussed below, the Sedona LT offers a lot of value for customers looking for a state-of-the-art on-demand massage experience in their homes. The Otamic Sedona includes a host of next-generation comfort features, including advanced body scanning technology, an ergonomic SL track design, and Bluetooth-compatible speakers.
The Sedona LT features full-body 4D massage technology that closely resembles the sensation of actual human touch and 12 automatic massage presets. The Otamic Sedona is available in your choice of black, brown, or taupe colors.

This Otamic 4D Sedona LT review will show you some of the chair's features and some reasons why it could be a smart buy.
What are the Top Features of the Otamic 4D Sedona LT Massage Chair?
Automatic Body Scan Technology
Each time that you sit down in the Otamic 4D Sedona LT, it performs an automatic body scan to provide a custom massage experience. The chair will detect your shoulder height and map out your body's pressure points to tailor-fit your massage to your body's dimensions.
Ergonomic SL Track Design
The 4D Sedona LT features a 52-inch SL track that cradles your spine and guides the 4D massage rollers along your natural contours.
The SL track keeps the 4D quad roller mechanism in consistent contact with your body from your neck all the way to the back of your thighs throughout your massage therapy session.
4D Massage Technology
The Sedona LT includes a 4D quad roller assembly that offers three roller widths, five intensity levels, and six speeds. This is ideal because you'll likely need to make adjustments over time as your body gets used to the chair.
Full-Body Compression Air Massage Therapy
The massage chair features airbags to help increase blood circulation and relieve muscular tension. The air massage bags offer five different intensity levels, and they combine with the 4D massage rollers to offer a massage experience that simulates actual human touch.
Lumbar Heat Therapy
Looking to loosen those sore muscles? The Sedona LT offers lumbar heating and users have their choice of three heat settings. If you ask us, massage is always better when heat is involved.
Zero Gravity Operation
The Sedona LT massage chair includes two levels of zero gravity reclining for your comfort and relaxation.
Elevating the feet above your heart can help improve blood flow, and zero gravity operation distributes your weight more evenly in order to counter the effects of gravity.
Space-Saving Design
The Sedona was designed so you will only need minimal wall clearance from the back of the headrest to the wall to set up the chair, which makes it a great option for users in smaller homes or condominiums.
Automatic Extendable Footrest
The Sedona LT can accommodate users from 5 feet to 6 feet 3 inches in height with an adjustable footrest. The footrest extends automatically to a length of up to 6.7 inches to accommodate taller users.
Foot & Calf Massage
The Sedona LT includes three foot reflexology rollers, and the calf portion of the footrest also features compression airbags to deliver a kneading massage for your feet and your legs.
Reflexology is an ancient healing art designed to improve the function of your internal organs by delivering targeted massage to pressure points on your feet.
Bluetooth Speakers
The Sedona LT comes with built-in Bluetooth speakers so that you can enjoy a fully immersive audio experience. You can connect your smartphone or mobile device to your massage chair and enjoy your favorite music or audiobook as you relax.
Armrest Control Panel
For your convenience you can make adjustments on the fly using the side panel controller. Use the controller to quickly adjust massage intensity, zero gravity position, heat settings, and massage programs.
USB Port & Wireless Charger
The massage chair includes both a USB port and a wireless charging receptacle so that you can charge up your smartphone during your massage therapy session.
Touchscreen Remote Control Holder
The touchscreen remote features a cradle that will automatically grip and hold your remote when you're done adjusting your massage settings.
Which Programs Come With the Otamic 4D Sedona LT Massage Chair?
The Sedona LT includes six modes of manual operation, and you can use several massage techniques for a custom massage experience. The massage chair also includes 12 automatic massage presets:
Chair Yoga
Gentle Yoga
Power Yoga
Royal Treatment
Stress Relief
Gentle Care
Neck & Shoulder
Back & Spine
Waist & Hip
Morning Buzz
Refreshing Nap
Sweet Dreams
Otamic 4D Sedona LT Assembly Video
Otamic 4D Sedona LT Pros and Cons
Pros:
4D massage therapy that combines massage rollers and airbags to simulate real human touch
Foot rollers
Calf rollers
Bluetooth speakers
Wireless smartphone charging
Automatic body scanning technology
Adjustable extending footrest to ensure a custom massage experience for users between 5 feet and 6 feet 3 inches in height
Manual operation and 12 automatic massage preset programs
USB charging port
Heated lumbar
Space-saving technology
Easy to use controller
Cons:
Higher price point
Maximum user foot size is US men's size 13
Only 3 colors to choose from
Cannot accommodate users over 280 pounds
Cannot accommodate users under 5'0" or over 6'3" in height
Conclusion
Overall, the Otamic 4D Sedona LT massage chair is a very nice model that offers exceptional value at an attractive price point, even though it's at a higher price than most people may want to spend.
Its 4D massage rollers and compression airbags work together to maximize your massage experience. The roller assembly is guided by a 52-inch SL track designed to cradle your body and contour to your natural curvature.
Lastly, the Otamic Sedona is from the same company that produces the Osaki, Titan, and AmaMedic line of massage chairs, and they know how to design an effective massage chair.

We hope our Otamic 4D Sedona LT massage chair review helped with your research. Thank you for reading and as always if you have any questions give us a call at 800-566-2798.