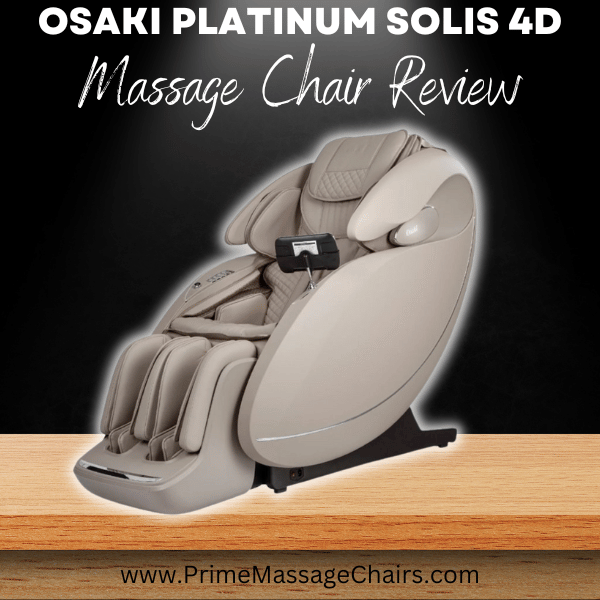 Osaki Platinum Solis 4D Massage Chair Review
Welcome to our Osaki Platinum Solis 4D massage chair review! This incredible chair is packed with features that promise to give you the ultimate relaxation experience. From its flexible track system that allows the chair to recline beyond 180°, to the advanced 4D massage technology that provides a variety of massage styles and intensities, the Solis is a game-changer.
It doesn't stop at massages though. With lumbar heating therapy, a user-friendly touchscreen controller, and intelligent voice recognition, it's easy to see why the Solis is a top pick for many.
The chair even includes HD Bluetooth speakers for you to enjoy your favorite tunes while getting a massage. Built to accommodate a wide range of sizes, from 5'0" to 6'5" and up to 280 lbs, the Solis is a chair for many types of people. Keep reading to find out more about what makes this massage chair so special.
 Table of Contents:
Flexible Track System
By utilizing new innovation of a flexible track system, the Solis breaks the boundaries of the standard SL-Track where the base of the chair can be at a fixed angle relative to the backrest.
The Solis' flexible track system allows the chair to recline beyond 180°, while its advanced 4D massage technology offers precise control over the intensity and depth of the massage.
Dual Mechanism Technology
The Solis has a special feature called a 4D massage mechanism. It's designed to focus on different parts of your body. The best part? The back gets the full 4D treatment. This means you can enjoy many kinds of massages with different strengths.
It's just like having a real massage expert working on your back. The Solis can copy the complex moves a pro masseuse would do. So, even if you're just sitting at home, you can feel like you're in a fancy spa. The Solis is truly amazing!
Zero Gravity Reclining and Space-Saving Technology
The Solis also features Zero Gravity reclining. When you sit in a Zero Gravity position, you kind of feel like you're floating This helps take pressure off your body and lets you relax fully. But that's not all. The Solis has a smart thing called Space Saving Technology from Osaki.
This means you can put the headrest just 10 inches from a wall and it can still lean back all the way. So, you can enjoy a full recline without needing a lot of room. 
Lumbar Heating Therapy
The Solis is also equipped with mild lumbar heating therapy. It uses something called graphene heating. This is used to warm up your back and help ease any aches or pains you might have.
Graphene is a super thin material that's great at conducting heat. So, it can make your back feel warm and comfy. This can help potentially reduce soreness in your back. So, not only does the Solis give you a great massage, but it can also help your back feel better with its heating feature.
Touchscreen Controller
The Solis comes with a touchscreen controller. This makes it super easy to change settings and find your way around. You don't need to be a tech wizard to use it! With just a few taps on the screen, you can adjust how the chair works to make it perfect for you.
Want a softer massage? Just tap a few buttons. Need to change the heat? It's just a few more taps away. This touchscreen controller makes the Solis really easy and fun to use.
Intelligent Voice Recognition
The Solis has a smart feature called intelligent voice recognition. This means it can understand what you say! It makes using the massage chair even easier. You just need to say the right words that are listed in the manual, and the chair will do what you ask. It reacts quickly, too. So, you don't have to wait around.
You just tell it what you want, and it does it for you. This makes the Solis a super convenient massage chair to use.
54 Air Cell Compression Massage
The Solis is built to be super effective. It has a whopping 54 airbags built into the chair! These airbags give you a massage by squeezing gently, and they cover a lot of your body. They can massage your shoulders, arms, hips, calves, and even your feet. So, from top to bottom, the Solis has you covered.
It's like having dozens of tiny hands giving you a massage all at once. It's a great way to relax and feel good. The Solis really knows how to give a top-notch massage.
HD Bluetooth Surround Speakers
The Solis gives you more than just a great massage. It also has HD Bluetooth speakers built in. This means you can listen to your favorite tunes while you relax. All you have to do is connect your smart device to the chair using Bluetooth. Then you can play any song you want.
The speakers are high quality, so your music will sound great. So, you can sit back, enjoy a wonderful massage, and listen to your favorite songs all at the same time.
User Height Range and Max Weight Capacity
The Solis is built for people of different sizes. If you're between 5'0" and 6'5" tall, the Solis may be for you. The maximum weight capacity is 280 pounds so it has a pretty broad range of users that can fit in the chair. The Solis is made to be comfy and relaxing for a wide range of people.
Pros and Cons of Osaki Platinum Solis 4D Massage Chair
Pros:
Flexible Track System: The chair can recline more than 180°, offering a variety of comfortable positions.
4D Massage Mechanism: It gives a range of massage styles, mimicking a professional masseuse.
Zero Gravity Reclining: This feature, inspired by NASA, provides ultimate relaxation.
Lumbar Heating Therapy: It can help you relax more and compliments the massage.
User-Friendly Touchscreen Controller: Makes it easy to adjust settings.
Intelligent Voice Recognition: Adds convenience to its use.
54 Air Cell Compression Massage: Covers a lot of the body for a full massage.
Bluetooth Speakers: Allows you to enjoy your favorite music during a massage.
Accommodates a Wide Range of Sizes: Fits people from 5'0" to 6'5" and can hold up to 280 lbs.
Cons:
Potential Learning Curve: The intelligent voice recognition may require some time to learn the correct commands.
Space Requirement: Even with space-saving technology, you still need a certain amount of space to accommodate the chair.
Limited Height Range: Will not fit people who are shorter than 5'0" or taller than 6'5".
Weight Limit: May not accommodate individuals weighing more than 280 lbs.
Conclusion
To wrap up this Osaki Platinum Solis 4D review, it's clear that this massage chair is fully-equipped and ready to serve. With a plethora of advanced features, it caters to a wide range of relaxation and therapeutic needs. From the flexible track system that allows a recline of over 180°, to the 4D massage mechanism that mimics the techniques of a professional masseuse, the Solis offers a truly personalized experience.
The addition of lumbar heating therapy and zero gravity reclining enhances the comfort level, turning your home into a personal spa. The user-friendly touchscreen controller and intelligent voice recognition make it a breeze to adjust settings, while the built-in Bluetooth speakers let you indulge in your favorite music.
Despite its advanced technology, the Solis is accommodating to people of various sizes, proving its versatility. The Space Saving Technology is a thoughtful touch, making it suitable for different living spaces.
In conclusion, we feel the Osaki Platinum Solis 4D massage chair is an exciting new chair that you should take a good look at. Thank you for reading and if you have any questions give us a call at 800-566-2798.