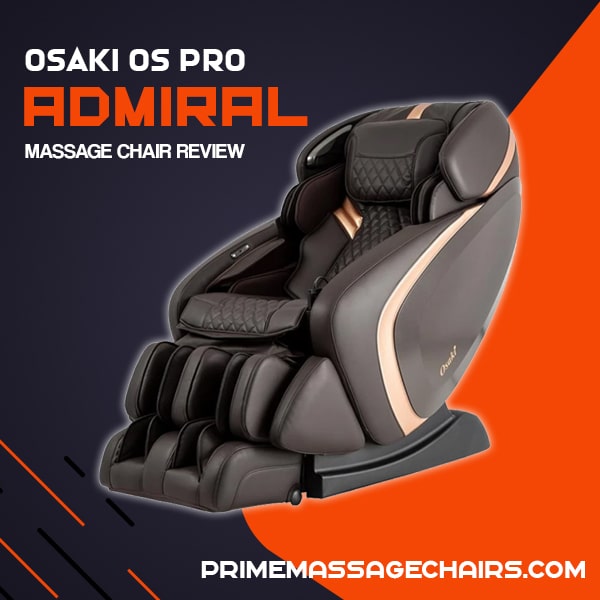 Osaki OS Pro Admiral Massage Chair Review
The Osaki OS Pro Admiral massage chair has a modern design that's easy to appreciate and helps provide relief and comfort through the use of rollers, airbags, and heat therapy. This Osaki OS Pro Admiral massage chair review will shed some insight into its features to help you determine if it's the right chair for your needs.
The Admiral is a nice mid-level massage chair and incorporates some of the latest and most advanced bells and whistles found in some of our more expensive massage chairs. 
Now let's take a look at some of the reasons the Admiral is a customer favorite.
Osaki OS Pro Admiral Features
The Osaki OS Pro Admiral massage chair boasts many advanced features offering great functionality and delivering impressive results. The chair has advanced 3D features and zero gravity mode for those who want to try some of the latest technology. The Osaki OS Pro Admiral has six different massage styles to accommodate users who have different needs.
Watch the Osaki OS Pro Admiral Video
 
3D Massage with L-Track
The Admiral is one of the most popular Osaki massage chairs and is equipped with 3D massage rollers that ride on an L-track for maximum coverage. The rollers start at your neck and work their way down to your glutes & upper hamstrings.
You can control the length of the rollers as they extend out from the backrest. The rollers offer five levels of intensity to accommodate your preference.
Zero Gravity Positioning
The zero gravity position is meant to mimic weightlessness and is thought to be the most comfortable and effective position to sit and enjoy a massage.
Charge your Phone or Tablet
The USB charging port on the chair allows you to hook up your smartphone or tablet to charge and use it while the chair is operating.
Bluetooth Capable Speakers
The built-in Bluetooth speakers on the headrest help to block out surrounding noise and also comes with preloaded relaxing and soothing sounds, making it easier to unwind and feel at ease. You can also listen to your favorite music or whatever you like while enjoying your massage.
Massage Airbags
The airbags provide one of the best features of the Osaki Pro Admiral; these air bags gently but firmly apply pressure to different areas of the body to soothe sore muscles and reduce aches and pains.
Heat Therapy
The Pro Admiral comes equipped with lumbar heat which helps loosen sore and tense muscles and seems to make the massage more enjoyable overall.
The heat is believed to help relax your muscles, alleviate strain, & assist with pain relief.
Auto Body Scan
The auto body scan allows the chair to deliver consistent pressure and map out specific areas on your back and neck. It can measure the height of your shoulders, but you can adjust this height measurement for more accuracy after you complete the scan.
Foot Rollers & Leg Extension
The foot roller massage soothes your feet after spending time exercising or standing all day. 
The Osaki OS Pro Admiral also has an auto leg extension up to 7.1 inches.
LCD Remote
Operating the chair is also convenient and easy to learn because it comes with an LCD remote attached to it. This remote features a large easy-to-read screen and simple controls.
The remote also offers multi-language support & you'll have the freedom to easily adjust the settings without having to get out of the chair.

Massage Programs
Since the chair comes with 15 auto massage programs, you'll have plenty of options. Whether you want something relaxing and soothing or prefer to knead out the knots in your back, the Osaki Admiral can perform almost every type of massage you can imagine.
Multiple adults in your family can use the Admiral, saving you from having to purchase multiple chairs offering only one or a few programs. If you are not totally comfortable with the massage you've chosen, you can easily change it to have the chair give you as much or as little pressure as you need.
Space Saver
The Osaki OS Pro Admiral also features a space-saving design that keeps from taking up too much room and overpowering your living area. As it reclines backward the chair slides forward requiring little space between the wall and the back of the chair.
The Osaki OS Pro Admiral Design
The sleek exterior design of the Osaki Admiral gives it much appeal; no matter where you place it, it will look great in any setting. It will become a focal point of the room and a conversation starter with its futuristic look, upscale appeal and premium materials.
The Admiral is available in several stylish colors as well, giving you enough options to make an easy decision.
Osaki OS Pro Admiral Pros and Cons
Pros: 
3D Massage Rollers with L-Track
Heat in Lumbar area
Auto Body Scan
Many Massage Programs
Space Saver Design
Zero Gravity Positioning
Bluetooth Speakers
Foot Rollers
LCD Remote
Stylish Design
Includes 24 Airbags
Leg Component adjusts with the Remote
USB Charging Port
Cons:
Doesn't fit through doorways less than 31 inches wide
Requires assembly out of the box (approx. 1 hour to assemble)
Maximum user weight of 220 pounds 
Conclusion
If you're looking to improve your overall quality of life, the Osaki Admiral massage chair is moderately priced and packed with features, making it a great option for many consumers.
The variety of settings also provides you with a customized experience to ensure you can target specific areas of discomfort or strain and help reduce or eliminate your visits to the chiropractor or massage therapist.
Please note that if you have pre-existing medical conditions you'll want to consult your doctor and get approval before using any massage chair.

If you're looking for a quality chair that comes with plenty of features to keep you relaxed and help alleviate your stress, consider the Osaki Admiral massage chair.
If you would like to talk to us regarding the Osaki Admiral please give us a call at 800-566-2798. Thank you for reading!