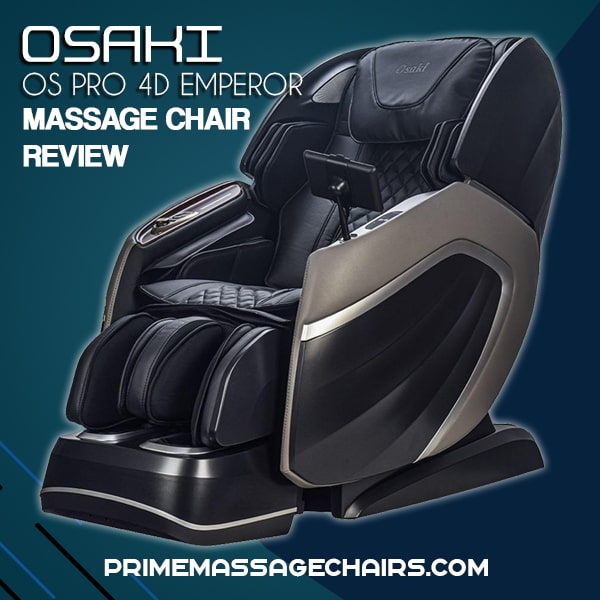 Osaki OS Pro 4D Emperor Massage Chair Review
The Osaki OS Pro 4D Emperor is a luxury massage chair and offers an impressive array of features that you expect from a high end chair.
This massage chair includes state-of-the-art body scanning for a custom fit massage with multiple intensity levels delivered by a combination of heated massage rollers and massage airbags.
The Osaki Emperor features a 52-inch SL-Track designed to guide the massage rollers along your body's natural contours and 8 automatic massage programs to choose from.
The Osaki Emperor massage chair is an excellent value for people who are interested in enjoying a premium massage experience after a tough day at work or play.
Now let's get into the details of our Osaki Emperor review and go over some of the top features.
What are the Top Features of the Osaki Emperor Massage Chair?
Advanced 4D Massage
The Osaki OS-Pro 4D Emperor features 4D massage technology that can recreate the sensation of real human hands. Heated massage rollers and acupressure airbags all work together to offer you great comfort with multiple levels of intensity from your neck down to your hamstrings.
Computer Body Scan
Each time you sit down in the 4D Emperor massage chair, it will perform a complete body scan to detect your height and ensure a comfortable fit. After the scan is complete, you'll get a massage experience tailored to your size.
Ergonomic SL-Track Design
The 52-inch SL-Track is engineered to cradle your spine and pelvis and guide the 4D massage rollers along your body's natural contours. The massage rollers will remain in constant contact with your body and apply gentle and even pressure to massage away your tension and anxiety.
Compression Airbag Massage
The Osaki Emperor includes 18 airbags located at pressure points in the shoulders, arms, waist, pelvis, and calves. The airbags will inflate and deflate to add gentle and even compression to your muscles.
Adjustable Shoulder Massager
The adjustable shoulder massager comes with three settings, which can be easily changed by pushing the massagers inwards or outwards. At the end of your massage, you simply need to push in on both sides of the shoulder massager and it will return to the default setting.
Side Panel Controls
When you enjoy your massage in the Osaki Emperor, you can make changes using the convenient side panel controller armrest. You can also connect and charge your smartphone wirelessly or through a built-in USB connection.
Touchscreen Controller
The touchscreen remote tablet features an easy and intuitive interface so that you can browse through the available massage presets and adjust the settings if you decide to.
Zero Gravity Operation
The Emperor includes two stages of zero gravity operation to help you elevate your feet above your heart and to create the sensation of weightlessness.
The zero gravity reclined position is thought to be the most effective position to enjoy a massage.
Space Saving Technology
The Emperor 4D only needs about five inches of wall clearance, from the backrest to the wall, to slip into the zero gravity reclined position. This space saving feature is ideal for anyone that wants to utilize their living space effectively and still enjoy a massage chair.
Auto Adjustable Footrest
After your body scan is complete, the footrest will extend into position to customize your massage to your height. The leg rest delivers kneading massage for your calves and spinning reflexology rollers for your feet.
Reflexology is an ancient healing art that stimulates the pressure points on your feet connected to other parts of your body to improve organ health and functions.
Bluetooth HD Speakers
The Osaki Emperor comes equipped with Bluetooth technology so that you can connect your smartphone or mobile device. You'll enjoy your favorite music or audiobooks in surround sound audio as you relax.
Which Programs Come With the Osaki OS Pro 4D Emperor Massage Chair?
The Osaki OS-Pro 4D Emperor includes 8 auto massage programs:
Demo- Preview all the different massage programs.
Relax- A light and even massage to help you relieve tension at the end of a busy day.
Swing- This unique program rocks users back and forth in the chair during the massage to recreate the calming sensation of relaxing in your favorite porch swing.
Stretch- The Emperor will secure the user using the compression airbags and gently stretch the body.
Scraping- This program is great for stretching muscles in targeted areas. The scraping program presses in and releases in an upward and downward motion.
Shiatsu- Shiatsu is an ancient Japanese massage therapy technique that uses pressure to release tension and restore balance to the body. The targeted back massage focuses on the back's key pressure points to make you feel relaxed and enhance your mood.
Gentle Relief- Gentle tapping action designed for both relaxation and stimulation.
Rejuvenate- This is a more intense program to help wake up the body.
Osaki Emperor Pros and Cons
Pros
Advanced 4D massage
Computer body scan
Ergonomic SL-track
Adjustable shoulder massager
Side panel controller
2-Stage zero gravity
Space saving technology
USB charging and wireless charging
Touchscreen controller
Bluetooth HD speakers
User Height Range: 4'9" - 6'4"
Maximum User Weight: 260 lbs.
Cons
The Emperor cannot accommodate users that are taller than 6'4" or shorter than 4'9".
User cannot weigh more than 260 lbs.
Enclosed foot massager cannot accommodate users with a shoe size larger than US men's size 13
Conclusion
The Osaki OS Pro 4D Emperor massage chair features advanced body scanning technology, 8 auto programs for your enjoyment and relaxation, and an easy-to-use touchscreen remote control tablet.
The 4D massage technology can simulate the sensation of human touch, and you can choose from different intensity settings. The Emperor is a great massage chair for users who want to be able to enjoy a professional-quality massage at home.
The Osaki Emperor is a good option for users as tall as six feet four inches in height and up to 260 pounds. If you're in the market for a high end chair and don't mind spending the money, you should take this impressive chair into consideration before pulling the trigger on your next massage chair purchase.
We hope you've enjoyed our Osaki OS Pro 4D Emperor massage chair review and found it useful. If you have any questions feel free to call us at 800-566-2798. Thank you for reading!