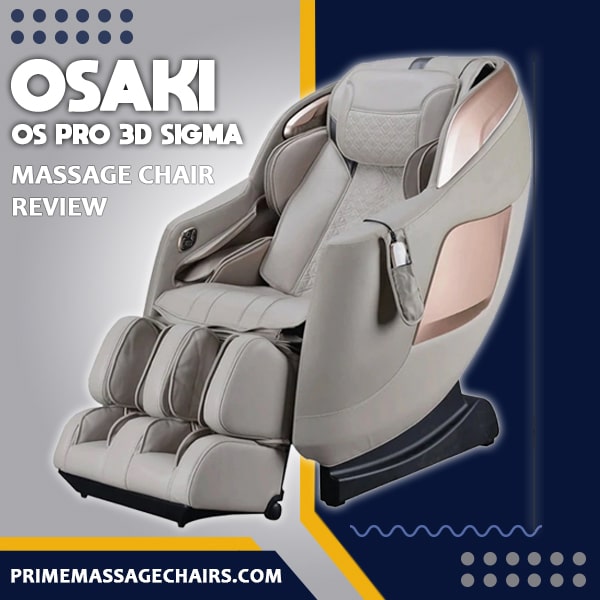 Osaki OS Pro 3D Sigma Massage Chair Review
If you've been searching for something affordable to help melt the stress of a long day away, you're in luck because today we're reviewing the Osaki OS Pro 3D Sigma massage chair.
The Osaki Sigma massage chair has that contemporary yet modern look that will compliment any living space. But that's not why you would want to buy this chair, good looks are great but how does it perform?
We can talk about features with you all day but nothing will take the place of you sitting in the chair and trying it out for yourself. For the sake of this review we're going to pretend you don't have a local showroom and do our best to convey what this chair can potentially do for you.
Ultimately, the Osaki Sigma stands out for offering a robust set of desirable features, including 3D massage technology and SL-track design, at a reasonable price. You'll get several auto massage programs and a full body massage without paying a small fortune.
Our Osaki OS Pro 3D Sigma review below will cover the features and benefits this chair has to offer and we'll touch on the pros and cons as well.
What Features Does the Osaki OS Pro 3D Sigma Massage Chair Offer?
Compared to other chairs in the Osaki Pro line, the Sigma is at a midway price point. This makes it a great option for those who want a lot of features but don't need the extras that come with a more expensive massage chair.
An SL-Track Design
The Osaki OS Pro 3D Sigma massage chair is designed with an SL track, which can target from the back of the neck and shoulders down to your hamstrings. It also comes with air compression technology that can target the arms, hips, legs, and feet.
This means that the massage rollers can reach more areas of your body and get more in-depth with the massage, as the SL-track can cover a wider area than a comparable S-track model.
Zero-Gravity Reclining
The Osaki Sigma features zero gravity reclining that effectively takes the weight off your spine. This position simulates weightlessness and allows one to get the most out of their massage experience.
Since the Sigma is made with Osaki's Space Saving Technology, you only need a few inches of space between a wall and the back of the headrest of the chair. The chair achieves this by sliding forward as you recline.
A Full Body Airbag Massage
The Sigma gives you a full-body air massage. The 38 cell airbags placed throughout the chair help by providing compression to relax your muscles. These airbags will work your shoulders, arms, waist, hips, calves, and feet at the same time for a comprehensive massage experience.
The airbags will work with the massage rollers to give you the full body massage experience you're looking for.
The Foot Roller Massage
After a long day a good foot massage can help with relieving that built up stress. These foot massages are particularly nice, combining compression and acupuncture to help you unwind.
Also, the footrest is extendable up to 7.1 inches for taller users. The auto scan feature can determine your ideal leg length and adjust the chair accordingly.
Lower Lumbar Heat Therapy
The Osaki Sigma massage chair's lower lumbar heat therapy can help relieve your sore muscles. This system targets your lower back with mild infrared heat, gently enhancing the quality of your massage by loosening up tight, achy muscles.
The Osaki Sigma massage chair comes with 15 automatic massage chair programs, which is quite a large selection at this price point. It's nice to try out each program to find the best match for your needs.
Additionally, the Sigma comes with six manual massage styles (kneading, tapping, shiatsu, swedish, rolling, and clapping).
Watch the Osaki OS Pro 3D Sigma Video
Osaki OS Pro 3D Sigma Pros and Cons
Pros:
Has an impressive 15 auto massage programs
3-Dimensional massage rollers
Full body airbag massage
An automatically extendable footrest
Easy to use controller
Quick control panel on the side of the chair
SL-track technology
Space saving technology
Zero Gravity recline
Bluetooth-capable speakers
Lumbar heating
Foot rollers
USB charging port
User Height Range: 5'0" - 6'3"
Cons:
Only comes in three colors (black, brown, or taupe)
Can only accommodate users weighing up to 220 pounds
User cannot be taller than 6'3" or shorter than 

5'0"
Conclusion
Now that you've read through our Osaki Sigma review, you know there are a lot of things this chair can do, and if you click the "check price" button above you'll see it's at a reasonable price point too. While it isn't meant for larger users, the Sigma can accommodate a lot of different people with its variety of massage therapy programs.
Whether you use one of the automatic programs or prefer to customize a bit more with the manual programs, your body's unique needs can be addressed with the Osaki OS Pro 3D Sigma massage chair's SL-track design.
As with any Osaki massage chair, the Sigma has different warranty options for you to choose from. So you can use this chair in your home or in your place of business, just be sure to choose the commercial warranty if you'll be using it in your place of business.
We hope you've enjoyed our Osaki Sigma massage chair review and picked up some good value from it. If you have any questions feel free to live chat or give us a call at 800-566-2798. Thank you for reading and we really appreciate your consideration for your next massage chair purchase!