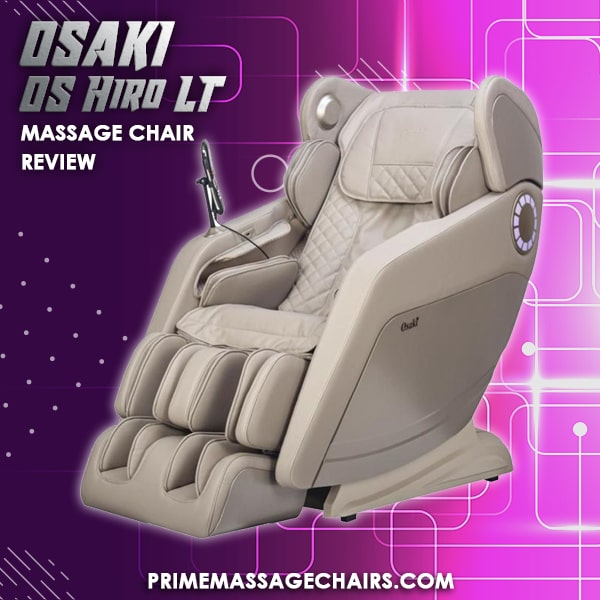 Osaki OS Hiro LT Massage Chair Review
The Osaki OS Hiro LT massage chair features the perfect combination of functionality and style. It features an L-track for its 3D massage rollers as well as airbags for relaxation from head to toe.
It includes brushless motors to ensure smooth and quiet operation as well as a host of great comfort features that are usually only available in high-end massage chairs. This chair features a space-saving design and zero gravity positioning, as well as a host of other useful benefits 
The Hiro LT offers exceptional value at a very affordable price point. In this Osaki Hiro review we'll go over some of the top features of this nicely-equipped massage chair.
What are some Top Features of the Osaki OS Hiro LT?
Ergonomic L-Track
The Hiro LT features an L-track designed ergonomically to cradle and conform to your spine's natural curvature and contours. The L-track provides a thorough massage from your neck, down your back, and all the way to your glutes and hamstrings.
The roller depth can be adjusted in both manual and automatic mode and will apply your favorite massage with firm and even pressure.
Brushless Motors
The Hiro LT features Japanese-designed brushless motors for quieter operation and more reliable performance.
Airbag Massage
Airbag technology combined with the 3D massage rollers offers a dual-action massage experience. The massage chair utilizes the strategically placed airbags at fourteen different points on the body to improve circulation and blood flow while relieving tension.
Tri-Core Processor
The powerful Tri-Core processor enables the massage chair to respond to your commands in near real-time.
Computer Body Scan
The Osaki OS Hiro LT begins each massage with a complete body scan. The chair will detect the location of the key areas of your neck and back and calibrate the program to target your pressure points.
Retractable Massaging Leg Rest
The Hiro LT can accommodate users between 5'0" and 6'2" tall. The body scan will detect your height automatically, and the leg rest will extend or retract to ensure the optimal leg length for your height.
You just need to apply gentle and even foot pressure to activate the extension to the desired position.
Zero Gravity
The zero gravity position will shift the knees above the chest and is meant to mimic the sensation of floating on air.
Your weight will be evenly distributed from head to toe, and you can expect improved circulation and blood flow.
Space Saver
This massage chair is a great option for users in small homes and condos.
Even when the chair is fully reclined, the Hiro LT requires minimal wall clearance.
Foot Rollers
The ancient art of reflexology has uncovered pressure points on the feet that correspond to virtually every organ in the body. The Hiro LT's reflexology massage rollers provide a soothing kneading-style foot massage to stimulate these reflexology points and improve your body's functions.
Bluetooth Speakers and USB Connector
You can charge your smartphone or any USB device as you relax, and you can connect to the high-quality speakers in the headrest with Bluetooth connectivity.
The Hiro LT also includes chromotherapy lighting for an additional enhancement to your overall massage experience. As you relax, the walls in your room will be bathed in calming blue light.
Which Programs Come with the Osaki OS Hiro LT Massage Chair?
The Hiro LT features eight auto massage programs:
Gentle
Relax
Therapy
Vigorous
Swedish
Thai
Chinese
Demo
Osaki OS Hiro LT Pros and Cons
Pros
Features body-scan technology and the powerful Tri-Core processor
3D massage rollers
SL-track massage
Zero gravity positioning
Space saving technology
Foot rollers
Bluetooth speakers and USB connector
Chromotherapy lighting
User Height Range: 5'0" - 6'2"
Maximum User Weight: 260 lbs.
Cons
Takes approx. 1 hour to assemble
User cannot be taller than 6'2" or shorter than 5'0"
User cannot weigh more than 260 lbs.
Conclusion
The Osaki OS Hiro LT massage chair offers a host of great features typically only seen in more expensive massage chairs. As well as 3D massage rollers, the Hiro LT also offers airbags for users who enjoy a dual-action massage experience.
The chair does have a maximum weight limit of 260 pounds, which might not make it a good option for larger consumers. But the Hiro is a great option for customers looking for a nice step up from a bargain-priced massage chair for their home. There are more expensive massage chairs on the market, but the Hiro holds its own against most within the same price range.
We hope you've enjoyed our Osaki OS Hiro LT massage chair review and found it useful. If you have any questions feel free to give us a call at 800-566-2798, thank you for reading!