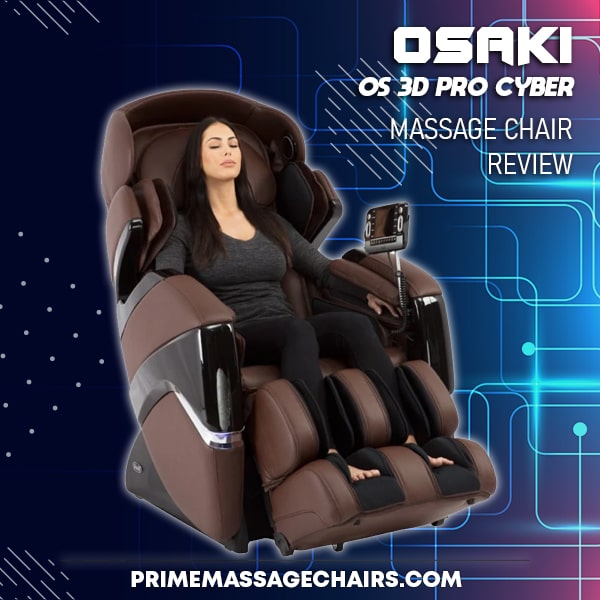 Osaki OS 3D Pro Cyber Massage Chair Review
Today we're reviewing the popular Osaki OS 3D Pro Cyber massage chair. The Osaki Pro Cyber was designed to relax the body from neck to toes with many desirable and soothing features. The unique shape and design cradles the body and allows you to unwind after a long day by reducing tension and relieving stress.

The popular features that come with the Osaki Cyber allow it to offer more value and a higher level of accommodation than some similar massage chairs on the market. Our Osaki Pro Cyber review offers insight into the various features of this chair and what it provides.
What are some Top Features of the Osaki OS-3D Pro Cyber Massage Chair?
Here are some of the main features that make the chair desirable to consumers and that may help address different pain points on the body.
The curvature of your body is scanned to ensure you can get a precise massage. This is important because every body is built differently.
This feature allows the chair to adjust to different body types while understanding where pressure needs to be applied.
If you have excess tension built up or even if you experience pain the advanced 3D massaging rollers can potentially provide some relief. The massage heads can extend out, allowing you to customize the length. This makes it possible to enjoy a deep tissue massage that offers greater intensity and potentially better results.
The LED lighting on the Osaki Pro Cyber can help you set a relaxing mood and create a soothing ambiance.
You can activate the lights each time you use the chair. They are located behind plexiglass and display onto other objects and walls in the room when it is darkened to create a stunning visual effect.
The Osaki Cyber massage chair comes with two different zero gravity recline settings. The backrest supports the weight of your body to increase the intensity of the massage rollers.
The zero gravity reclined position is generally thought to be the most comfortable, relaxing, and effective position to enjoy a massage.
The advanced LCD remote that is included is easy to use and has a large 5-inch screen. This is where you can adjust the settings and set the location, speed, and intensity of the rollers as well as the massage type each time you sit down.

With the remote in hand, you can also control the footrest, reclining position, and the use of the zero gravity feature. The remote is conveniently attached to the chair to make it easy to access and to avoid losing it.
While spending time in the chair, the MP3 audio connection feature allows you to play music to keep you entertained and set the tone. You can use the MP3 player to adjust the song and volume during each session. You will have to purchase an MP3 player separately if you do not already have one.
You can also enjoy the benefits of precision massage with this built-in technology that targets the hundreds of acupoints throughout the human body. This feature is designed to have a high level of accuracy and offers six massage types, including kneading, deep tissue, combination, palm style, Swedish, and Shiatsu massage.
The Osaki OS-3D Pro Cyber massage chair has been around for a while and has been a popular chair. As mentioned previously, it's equipped with an MP3 connection rather than a Bluetooth connection, which we prefer.
The Cyber is also an S-track chair, which means the massage rollers will start at the neck and work their way down to the lower back. We like the fact that it's a 3D chair, as that will allow you to adjust the intensity of the massage rollers. Your body will likely get used to a certain intensity or strength over time and you'll appreciate the ability to adjust the roller strength if you should need to.
The Osaki Cyber can also require two people to set up the chair due to the heavy weight of the chair. On average, it can take about an hour to assemble if you're taking your time.

The Cyber does have a broad user height range (from 5'2" - 6'4") and a maximum weight capacity of 270 pounds, so most people should be able to use the chair and fit in it comfortably.
Pros:
We really like the looks of this chair
Big, easy to use controller
Zero gravity recline
3D massage rollers
Full body airbag massage
Computer body scan
Ergonomic s-track design
Liberal amount of auto programs
Includes a squeeze and twist stretching feature
Heated lower back
Arm and Calf airbag massage
Foot rollers
Auto extendable footrest
LED Chromotherapy lighting
User Height Range: 5'2" - 6'4"
Maximum User Weight: 270 lbs.
Cons:
Only a few colors to choose from
MP3 connection instead of Bluetooth capabilities
User cannot be taller than 6'4" or shorter than 5'2"
User cannot weigh more than 270 lbs.
If you're looking for a massage chair that's reasonably priced, looks nice, and can help you unwind after a long day, you could do much worse than the Osaki Pro Cyber. The design of this chair is inviting and this has been a popular chair with consumers. 
The design and ability to accommodate different body types makes it ideal for many users. The big, easy to read controller is also a feature we appreciate and maybe you will too.
We hope you've enjoyed our Osaki OS 3D Pro Cyber review and found it useful. If you have any questions feel free to give us a call at 800-566-2798. Thank you for reading!