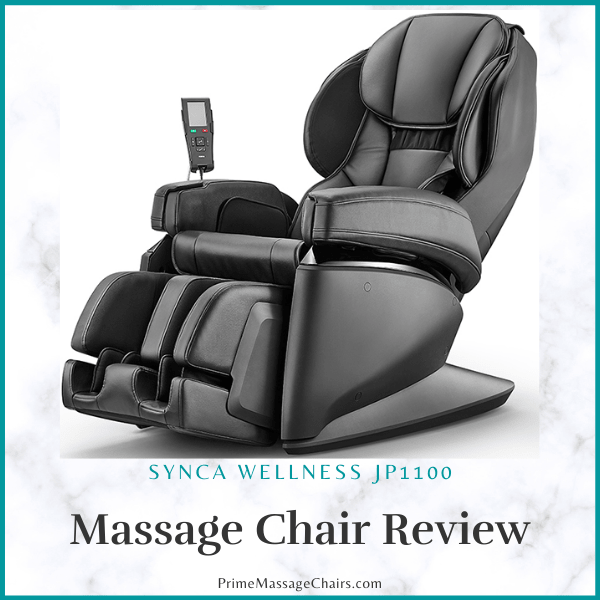 Massage Chair Review: Synca JP1100

The high-performance Synca JP1100 4D massage chair was expertly designed by Japanese master technicians and is the first Japanese massage chair to feature a foot roller. This chair was manufactured in collaboration with the company that first invented massage chairs in 1954.
The JP1100 features an innovative dual-layer body scan and a 4D-style massage robot. The chair will automatically sense the spine and shoulder's location to maximize the massage's depth and precise pressure points. It also provides an advanced touchscreen controller that takes a varied, world-class massage to your fingertips.
This is a chair with many desirable features and it's time we dive into our Synca JP1100 massage chair review.
Synca JP1100 Massage Chair Top Features: 
Foot Rollers with Shiatsu Reflexology
Shiatsu reflexology massage works with a mixture of compression and shiatsu reflexology rollers intended to reach the foot arch's plantar fascia muscles.
They are built rollers that specially match the foot arch for a penetrating massage—using shiatsu massage motions while keeping the foot still. At the same time, the air compression device is positioned between the ankles and insteps. It also thought to facilitate the increased movement of blood when combined with foot heaters. 
Advanced 4D Massage
The JP1100 claims the world's most advanced 4D deep tissue massage robot and most advanced dual-layer body scanning system, features like these are why the JP1100 is considered one of the best massage chairs on the market.
The industry-leading 3D depth system (approximately 5 in) targets deeper layers of muscles found in the back, neck, and lumbar. 
Dual sensors optimize the massage length and depth to ensure maximum performance. 
Power Stretch
This feature increases the performance of the massage because it's a new way to relax your muscles. Multiple new stretches that improve massage performance by hitting muscle groups that are hard to massage. 
The triple-mode improved air compression system is thought to enhance blood circulation and encourage cardiovascular wellbeing. The enhanced "variable compression system" allows the consumer to conveniently control the desired area's compression rate. 
Dual Heaters
"Dual heaters" warm-up around the spinal muscles and soles of the feet. The dual heaters work to help stimulate blood supply and bring blood to the skin's surface where massage rollers can stimulate tissue circulation.
These heaters also relax the stiff muscles to make for a more effective massage. The two heaters can be controlled independently of each other.
12 Body Part Specific Targeted Massage Courses
These seven-minute courses intensively and efficiently reduce stiffness and exhaustion caused by inadequate circulation, excessive sitting and standing, and muscle recovery. 
These 12 courses are provided with six forms of focused body part massages, three types of deep core kneading exercises, and three body part stretching types. 
21 Auto-Courses to Find your Ideal Massage 
21 auto-courses to discover your dream massage, satisfies the massage therapy requirements with expertly designed masterclasses using 81 exclusive massage techniques. Completely experience the highest level of luxury and participate in 4 types of 30 min. long course, and 17 types of 16 min. body part and specific courses.
These 12 courses are provided with six forms of focused body part massage, three types of deep core kneading exercises, and three body part stretching types. 
Nearly 180 degrees of Flat Recline
"Nearly 180 degree flat recline" is a high-quality sleeping posture that helps the person to spread out almost flat, exposing all the tissues of the back, maximizing the sensation of relaxation and massage.
The unique frame allows the user to obtain an almost flat sleeping posture. During a more extended massage, you should relax and allow your body tissues to open naturally, allowing the massage chair to massage the affected region more efficiently. 
Double Detection
The JP1100 from Synca is fitted with two body sensors that perform a full-body scan. This makes an optimized, personalized massage every time. Any time you sit in the chair, you'll get the right depth and pressure. 
Airbags
The JP1100 chair uses the proprietary "flow correction" technology to facilitate high-instant bursts and slow speed adjustments. Strong airbags allow you unparalleled ability to manage compression and relieve energy. 28 Airbags surround the entire body to alleviate pain with focused areas of concentration around the shoulders, sides, waist, calves, and legs.
Enjoy the variety of a triple-mode pneumatic system; choose between hand-rubbing mode, pulse mode, and standard mode for a genuine and relaxing massage experience. 
Full-Color Touchscreen Controls
The simple, colorful display and menu settings allow you to easily pick programs and monitor your massage's intensity and position.
Synca JP1100 Pros and Cons:
Pros:
Made in Japan


4D Massage

5 Year Parts & Labor Warranty

Faster Muscle Recovery Time because of Deep Tissue Massage

Life-like Massage Rollers

Power Stretching Features

Near Flat Recline

Reflexology Foot Rollers

Hitachi Components

Back & Feet Heat
Cons:
Reclines but not in the zero gravity position

Expensive for most people
Conclusion
A flagship of massage chair technology, the Synca JP1100 massage chair, uses 4D rollers for deep tissue massage and the rollers move up to 5 inches inwards.
Some massage chairs lack strength adjustments, especially for the neck and shoulders, with the JP1100 you can adjust the intensity for a stronger massage. The JP1100 offers a large variety of massage techniques and programs.
The Synca JP1100 is highly adjustable in speed and massage settings. It features an intuitive touchscreen controller, Shiatsu reflexology, Triple-mode improved air compression system, and lumbar and foot heat therapy. While the chair will recline to 180 degrees, it doesn't have a zero-gravity feature.
This is a luxury massage chair that you can feel in the smoothness and preciseness of the massage programs on this chair. Buyers choose this massage chair because it is full of features and because it comes with a 5-year parts and labor manufacturer warranty.
If you want the deepest tissue massage you have ever wanted to experience in a chair, go to manual massage and crank the intensity up to level 12. Yes, it has 12 levels of massage intensity and a powerful foot massager as well. Good luck in your search for your massage chair, but if you choose the Synca JP1100 you likely won't regret it.
If you'd like to talk to us about the Synca JP1100 or any other chair we carry, feel free to call us at 800-566-2798. Thank you for reading!